WDEL Blog: Rick Jensen's World Famous Thirsty Thursday Blog



Three Floyds, Allan Loudell & Milburn Orchards Granny Smith Cider!



Allan Loudell joined us on Thirsty Thursday this week and brought some GREAT beers from Munster, Indiana. Three Floyds is an American microbrewery founded in 1996 producing some pretty amazing and unique brews.

We began our Three Floyd journey with Robert The Bruce, a Scottish Nut Brown Ale that was oh, so tasty. On the nose, you immediately get a great, robust malt aroma. Laurie also pointed out the gorgeous caramel color, and ivy like lacing that hung to the side of the glass like a champ. Roasted and crystal malts lend to the complex, malty body of Robert the Bruce on the front end, but the Scottish Ale finishes with a well balanced peek-a-boo of bitter hop on the finish. If you can find this guy, buy him, buy a lot of him, because he goes well with almost every meal, would be a delicious beer to enjoy this fall season, and is a great Scottish Ale that will impress your friends. TT Fave! 6 out of a 6-pack.


Next up, we tried Three Floyds flagship beer, Alpha King Pale Ale. Rick and Gene agreed this one was very hoppy on the nose but the hops used (Centennial, Cascade, and Warrior) also gave it a strong citrus aroma. The way Alpha King behaved on our taste buds mirrored its "modest" name. It was difficult to see where this beer was taking you at first, as its light, citrus flavor coaxed you into thinking this was a drinkable, amicable beer. However, the more you let Alpha King in, the more his bitter, firey hops developed leaving you with a burning sensation in your chest. 5 out of a 6-pack

We transitioned from a king with a dominance complex, to an ale fit to accompany an AMC drama. Zombie Dust pours similar to a wheat beer with its cloudy orange color, which Gene aptly called, dusty. Laurie called out the citrus zest flavor, which Rick attributed to citra hops, which he also said was reponsible for the mango flavor in this pale ale as well.

Allan Loudell also pointed out the terrific and bizarre art work on Three Floyds brews.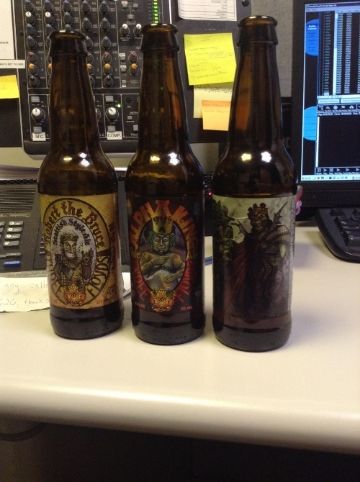 From left to right: Robert the Bruce, Alpha King Pale Ale, and Zombie Dust.

The soft drink section of the show was provided by WDEL's Sports Director Sean Greene, who brought a fresh batch of Granny Smith Apple Cider from Milburn Orchards in Elkton, MD. We all loved the apple cider, and Gene pointed out that it tastes just like a Granny Smith Dum Dum. This cider is filtered, which Laurie pointed out is not as benecial to the digestive system as the unfiltered cider, so buyer, beware.

~ Sabrina

Gene's Wicked Ale Trivia:
Q: What is the oldest brewery in the United States?
A: Yuengling


http://www.3floyds.com/

http://www.milburnorchards.com/

http://www.premierwinespirits.com/Limestone/Limestone-Home.html


Posted at 12:29pm on October 18, 2013 by Sabrina Sabia

<- Back to all Rick Jensen's World Famous Thirsty Thursday Blog posts



---
Comments on this post:
| | |
| --- | --- |
| EarlGrey | Fri, Oct 18, 2013 12:51pm |
And, since the Milburn's "soft drink" cider contains no preservatives you can also make your own hard cider...I've "brewed" up a batch or two using Milburn's cider but haven't tried the Granny Smith cider yet.
| | |
| --- | --- |
| sabrina | Tue, Oct 22, 2013 10:56am |
@EarlGrey... Nice! I just made my first trip to Milburn Orchards and think I overdosed on their "original" apple cider. I'm currently in detox :) Thanks for listening and reading my blog!
---
Add your comment:
Attention: In an attempt to promote a level of civility and personal responsibility in blog discussions, we now require you to be a member of the WDEL Members Only Group in order to post a comment. Your Members Only Group username and password are required to process your post.

You can join the WDEL Members Only Group for free by clicking here.
If you are already a member but have forgotten your username or password, please click here.

Please register your post with your WDEL Members Only Group username and password below.