WDEL Blog: Rick Jensen's World Famous Thirsty Thursday Blog



Twin Lakes on Thirsty Thursday!



Sam Hobbs of Twin Lakes Brewing Company in Greenville joined us on the show this week and brought some delicious beverages... all beer, of course.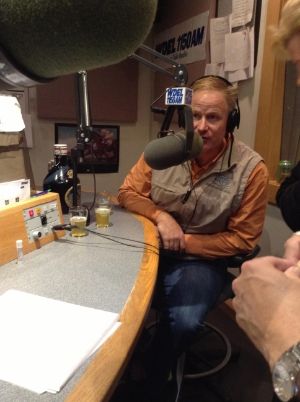 We began with the Route 52 Pilner, a lightly hopped Pilsner which Gene pointed out has a lot of character for a Pilsner and Gina pointed out was better than "beer water" which is what most Pilsners taste like. Taittinger hops provide a more subtle hop flavor, is less bitter and gives this Pilsner a clean, crisp, flavorful beer.

We then moved onto a very special holiday ale, Jubilicious Winter Seasonal. This ale is made yearly for Delaware Day (December 7) and is derived from blending the finest Briess roasted malts and specialty grains without adding any outside flavorings or spices. The carbonation in this ale was not entirely realized as Jubilicious is not ready for bottling yet, but Sam wanted us to try this special brew on Thirsty Thursday before it went to the public. You are going to want to pick this up to share with friends and family for the holidays, it is a beautiful and malty winter ale.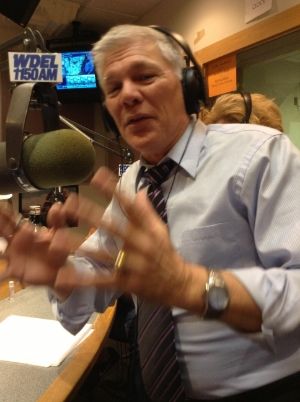 Sam also brought in Twin Lakes' Oktberfest and, everyone's favorite, Tweeds Tavern Stout. Be sure to tune into this week's podcast to hear the Thirsty crew's reaction to both.

What sets Twin Lakes apart? They use whole flower hops, the best grains, cultured brewer's yeast and fresh water located directly beneath our farm in a deep rock aquifer. This is truly a labor of love for Twin Lakes, and it is evident in each and every sip.

Pick up some Twin Lakes in these most excellent growlers. You can get them from 1 pint to 4 gallons, which Twin Lakes refers to as the "Stanley Cup of Growlers". These beautiful growlers make a great gift for the beer lover in your family. Find them at Romanick Pottery in Newark.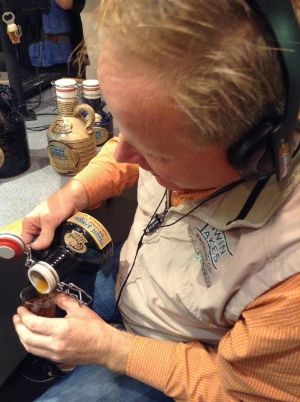 Not only does Sam make great beer, but he also makes honey. He brought in Twin Lakes honey that was meant to be given away on the air, but Rick bought it. (Angry emails to Rick@wdel.com :) As a bee farmer, Sam taught us the benefits of local honey during this time of year (allergy season) and provided us with the recipe for a terrific concoction to help even the most desparate of allergy sufferers. Add raw local honey and raw cinnamon to warm warm. Be sure to pick up some Twin Lakes honey from Currie Salons.

Sam Hobbs was a terrific guest on Thirsty Thursday this week and taught us that you don't have to head to Milton to get some terrific Delaware beer. Stop by Twin Lakes this Saturday between noon and 4pm to see Patriot aritist Scott Lobaido from Flags Across America paint an American Flag to "God Bless America" in less than 4 minutes... And there'll be beer!

Twin Lakes is only open when their flag says so, which is usually Saturday 12pm to 4pm and 4pm to 7pm on Wednesdays.

~ Sabrina

Gene's Wicked Ale Trivia: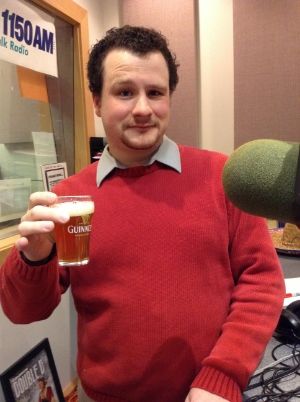 Q: What skunks a beer?
A: Light, Heat and Oxygen

http://twinlakesbrewingcompany.com/brew/

http://romanickpottery.com/

http://www.scottlobaido.com/

http://www.curriedayspa.com/

Posted at 11:39am on October 25, 2013 by Sabrina Sabia

<- Back to all Rick Jensen's World Famous Thirsty Thursday Blog posts



---
Comments on this post:
---
Add your comment:
Attention: In an attempt to promote a level of civility and personal responsibility in blog discussions, we now require you to be a member of the WDEL Members Only Group in order to post a comment. Your Members Only Group username and password are required to process your post.

You can join the WDEL Members Only Group for free by clicking here.
If you are already a member but have forgotten your username or password, please click here.

Please register your post with your WDEL Members Only Group username and password below.