U.S. Senator Chris Coons is sponsoring bipartisan legislation that could help Delaware hire the hundreds of contact tracing workers the Delaware Division of Public Health has said it needs to facilitate reopening safely.
The Pandemic Response and Opportunity Through National Service Act, introduced Tuesday, May 5, 2020, would expand national service programs like AmeriCorps to help meet the need for as many as 300,000 new workers for contact tracing, testing, and other COVID-19 relief efforts.
"We're no where close," said Coons. "We know that we have a ready pool of returned Peace Corps volunteers, of current year AmeriCorps members, and hundreds of thousands of Americans, who have applied to be AmeriCorps members, but we haven't had the number of funded slots for them."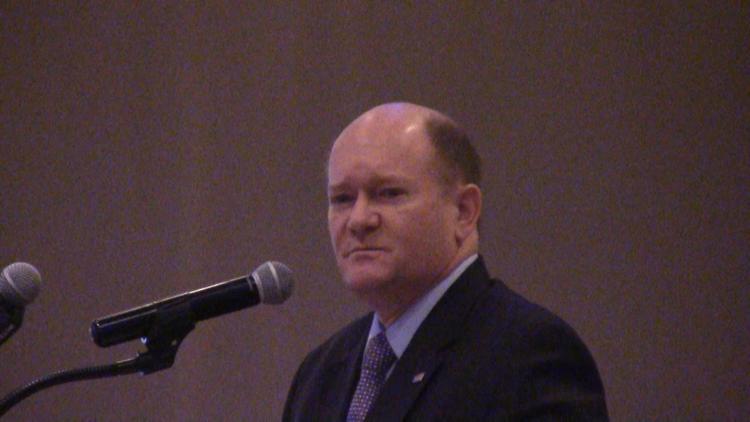 The bipartisan and bicameral legislation seeks to double AmeriCorps capacity from 75,000 to 150,000 for this year and double it again for next year.
"By expanding national service programs like AmeriCorps, we can quickly stand up a workforce of 150,000 people, who would be available to do the contact tracing and testing support so badly needed by state and local governments all over the country."
Contact tracing requires more than telephone calls.
"[People] who are trained in pandemic investigation, are able to ask questions that are focused, concise, access needed information, but frankly, also culturally competent," said Coons. "Part of this legislation is prioritizing the hiring of a broadly diverse corps, that represents the communities most at risk and have bore the heaviest burden of this pandemic."
Coons also pointed to the more than one million graduating high school seniors, entering uncertain job markets, who could be likely candidates for the service program.
"With lack of clarity about their future an their opportunities, are a ripe field from which we can recruit, train, and place folks," he said.
The legislation seeks to also increase compensation and the education benefit for participants to broaden participation. Currently, the living stipend for most AmeriCorps workers is roughly minimum wage (depending on where you live), or $15,000 a year. The education award is about $6,000, Coons estimated.
"Both of those are well-below what we think is needed to really engage and mobilize a workforce that can earn a college opportunity through service."
The act would also strengthen AmeriCorps' partnerships with the federal government, including with the Federal Emergency Management Agency for disaster response, Fish and Wildlife Service, for conservation work, and for the U.S. Department of Agriculture for health and hunger work. It would add the Centers for Disease Control to the list of partners as well.
"This will allow for quick, federal deployment for our crisis regions, and our first priority of course is the public health needs coming from this COVID pandemic," said U.S. Congressman David Price (D-North Carolina). "The activities would not be limited to that public health function, they would also have other COVID-related possibilities such as emergency logistics, workforce and re-employment services, education support, where educational services have been dislocated, services that combat food and nutrition insecurity."
Coons said it also continues a great tradition in American history.
"The challenge of the great Depression was partly addressed through the Civilian Conservation Corps--a very similar national effort to mobilize a generation of young Americans," he said.
U.S. Senator Amy Klobuchar (D-Minnesota) also stressed this.
"More than 80 years ago, the Great Depression threatened our way of life in a way that's very similar to what we're seeing today, and what did our country do? We didn't back down. Yes, short-term measures were taken immediately, but also things were put into place that stood the test of time, and one of them was service--public service."
It's unclear whether the Pandemic Response and Opportunity Through National Service Act would be part of broader COVID-19 relief packages and what it would cost.
Congresswoman Doris Matsui of California called it a "locally-focused, federally-funded bridge."
"...To create hundreds of thousands of jobs. These jobs will assist our non profits, help vulnerable communities, and prepare students and young adults into a competitive workforce."
Eventually, the corps could be used to help with what could be the largest vaccination campaign in our country, once a vaccine for COVID-19 is developed.