A Delmar police officer killed in the line of duty was remembered at funeral services Monday as a "gentle giant," "a giant teddy bear," and someone who would do anything for anyone.  
But perhaps the most poignant moment of Monday's services came when the family played seven voicemails, lasting just under two minutes, so everyone could hear Corporal Keith Heacook's good humor and love for his family, in his own voice.
"I'm sorry you missed my call too because I was bringing sexy back, bye," he joked in one message.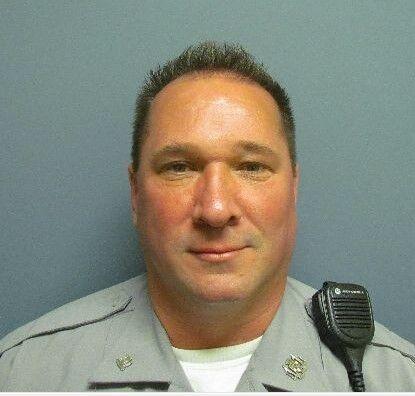 "Hi honey...enjoy your day at work. Have fun, work hard, earn that dollar, so you can take me out somewhere, bye!" he said in another voicemail.
Other times, he called just to say hi and to tell his wife he missed her.  
Now, for the rest of their days, his wife Susan, his 12-year-old son Matthew, and all the others who knew him will miss Heacook. His life was stolen in a brutal assault while he responded to a fight in Yorkshire Estates on April 25, 2021, without back-up. Hundreds of police officers from Delaware, Maryland, and across the country came out to pay their final respects.
During funeral services at the Emmanuel Wesleyan Church in Salisbury, Maryland, the Reverend Christopher Labarge called Heacook's death both "tragic" and "sudden."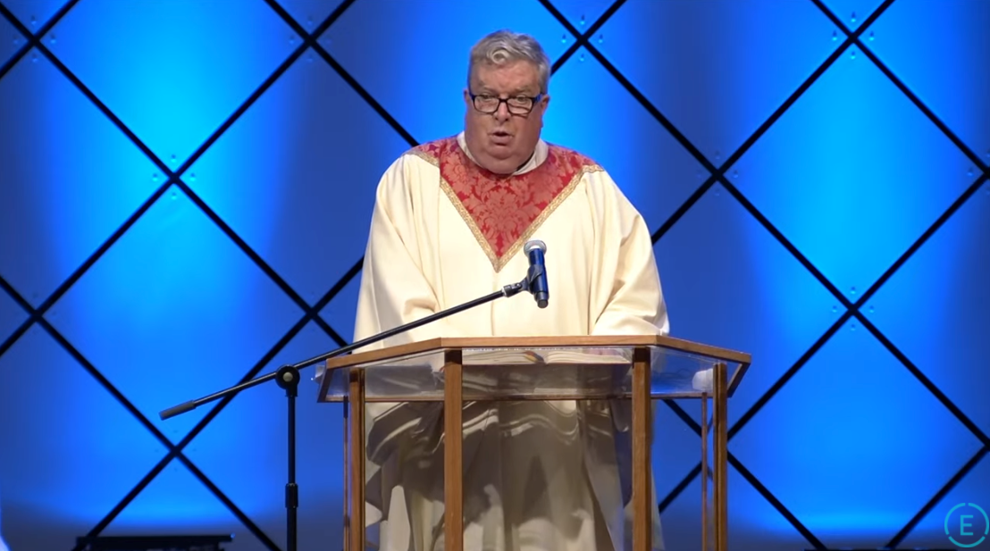 "All of us over the past few weeks have been asking, 'Why?' Why did this have to happen? Why Keith? And unfortunately, there is no answer to that question. It happened. We can beat ourselves up with the what ifs and the whys, and the what if I had done that? But to no avail," he said.
But with Heacook dying at age 54, he said it's human nature to think:
"'I wanted more time with him. I wanted to say more to him.' He was too young. He was a beloved husband, a beloved son, brother, father, and friend to everyone he knew. A contagious smile, happy-go-lucky attitude, and a diligent work ethic. So why would God allow such a good person to be slain?"
Labarge said Heacook was happiest when spending time with family and friends.
"I challenge each and every one of you to share those memories, to remember Keith for what he meant to you as a family member, as a fellow officer, as a friend, as a neighbor, and to share those stories so that in remembering you can put back together the brokenness you feel at this moment. Because the fact is we can't answer the question: why or what if? But we can answer the question: what now?"
Governor John Carney beckoned on Delmar's town motto as the "town too big for one state."
"I can assure you that the heart of every Delawarean is heavy in solidarity with all of you," said Carney.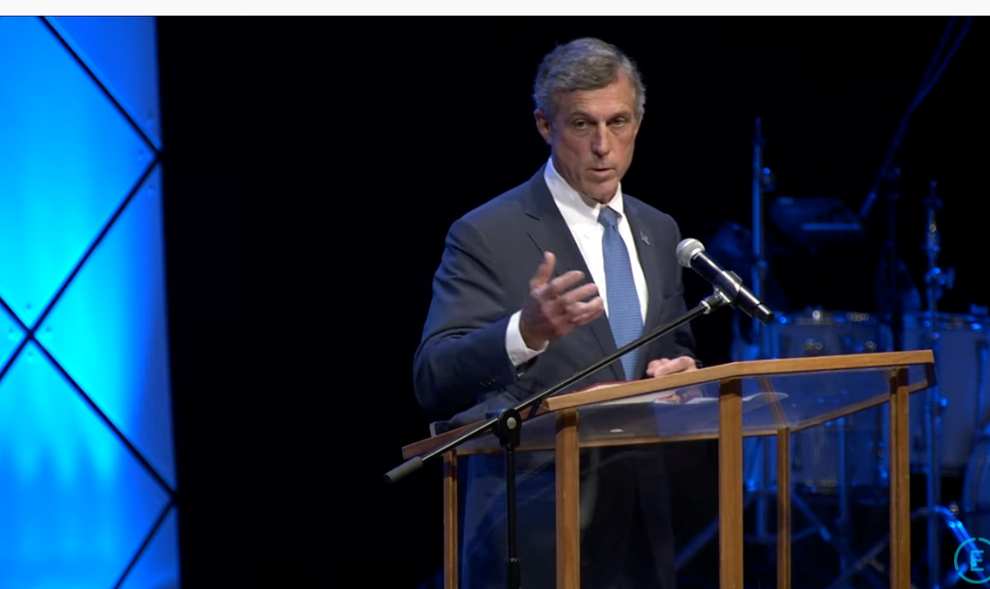 "To Corporal Heacook's family and the Delmar Police Department we know you're feeling the collective grief of this whole community right now on both sides of the line. I hope you also feel the collective support, and the pride, and appreciation that we all feel when we think of you and when we think of your fallen brother. Put simply, you represent the best in all of us, and your courage and dedication to service lifts us up today during this very difficult time."
He struggled to make sense of the "evil" act of "senseless violence" that led to Heacook's death, Carney said. A 22-year veteran of the Delmar Police Department, Heacook had been mulling retirement before his death. Attorney General Kathy Jennings vowed the suspect, Randan Wilkerson, will be prosecuted to the fullest extent, and will face murder charges in Heacook's killing.
"He wasn't just doing his job, he was trying to help his neighbors. He was running toward the danger to protect his neighbors from that danger; he went to hat residence to be a peacemaker, "said Carney. "I find that my only consolation is knowing the incredible good in peacemakers like Cpl. Heacook and other law enforcement officers, who are willing to risk their lives to keep the rest of us safe, and in the end, that that good will prevail."
Heacook's colleague, Delmar police officer Cpl. Kevin McCahill, remembered Heacook fondly with love, saying he touched so many hearts.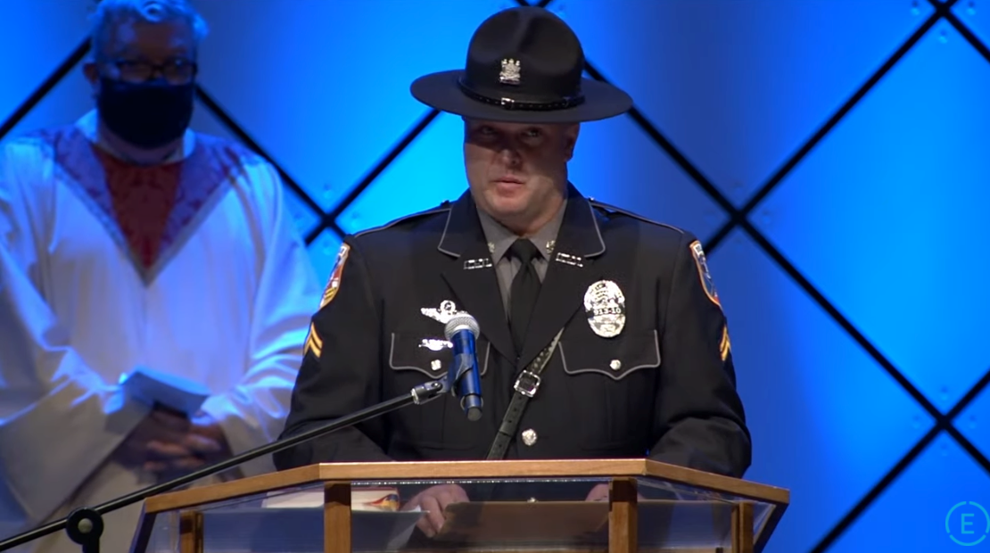 "A gentle giant, strong as an ox, a giant teddy bear, and a happy-go-lucky fellow, always smiling, and that he would do anything for anyone," said McCahill. "Keith helped anyone who needed help. That was Keith's way--he never wanted credit."
Police officers like Heacook selflessly place themselves in harm's way willingly and bravely each day, said Maryland Governor Larry Hogan.
"There was nothing he wouldn't do for the residents of his community. Keith spent more than two decades serving and protecting others, and he brought honor to his badge each and every day," said Hogan. "He acted immediately without regard for his own safety. The heinous crime that followed which resulted in unspeakable tragedy is a reminder of the risks that our men and women in blue face every single day. And it's on the worst of days that we ask the very best of them."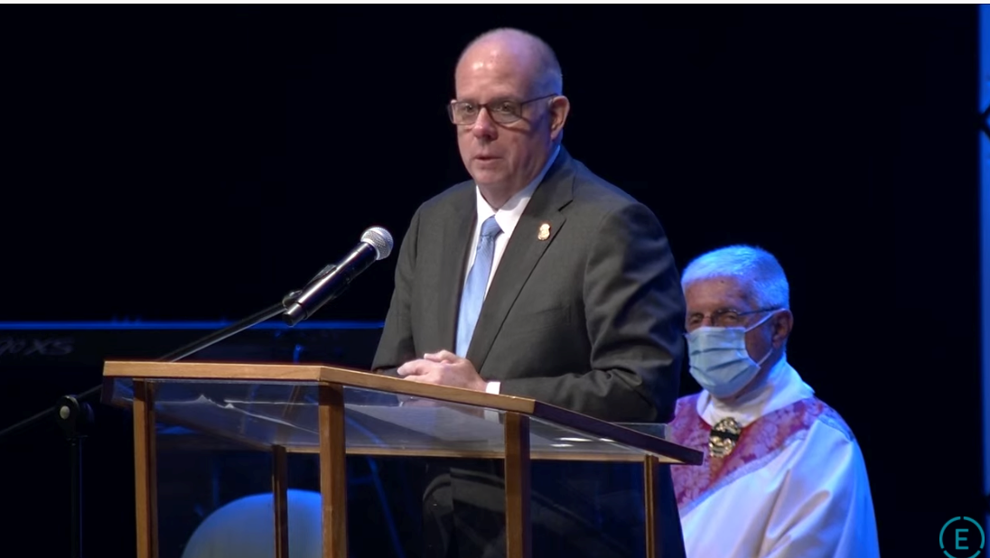 He called on the focus to be not on how Heacook died, but how he lived.
"Celebrate the incredible legacy that he left behind, of a beloved son, brother, husband, and father who chose to dedicate his life to a noble profession to serve and protect. Cpl. Keith Heacook will have the eternal gratitude of two states that will forever be in his debt," said Hogan. "We pray that you find solace knowing that his sacrifice will not ever be forgotten and that he's a true hero."
Heacook was a true hero until the very end. After doctors at Shock Trauma Center in Baltimore, Maryland, said there was nothing more they could do for the officer, he was kept alive for organ donation.
"Keith fought hard for his life, he had so much to live for," said Heacook's cousin Larry. "Giving everything he had to make sure he could get back to his family, but that didn't happen because in the real-world, criminals don't always comply and unarmed criminals can kill you....this caused a nightmare these first responders will have for the rest of their lives, but here we are today paying tribute for our hero."
His cousin questioned how this would have played out if the scenario were different.
"[If] Corporal Heacook had to take the actor's life, what would have happened to his life? It would've been hell. The media would've been here in full force...'unarmed this, unarmed that' every night without fail...Keith would have been placed on administrative leave while the investigation was conducted. That investigation would have taken weeks, if not months, to complete. During that time, Keith's life would have been put under a microscope, as it's easy for folks who have no idea about police work. His family would be shunned. Even when Keith was cleared, that does not generate enough news."
The retired law enforcement officer called on leaders in Delmar to make changes so another officer's life is not lost.
"Are you going to make changes so this doesn't happen again, or are you going to let it roll the dice? Because I can assure, this can happen again," he said.
He called on Delmar Police chief to settle its contract negotiations with officers and for ongoing conversations around police reform to be fair, to which his remarks received a standing ovation.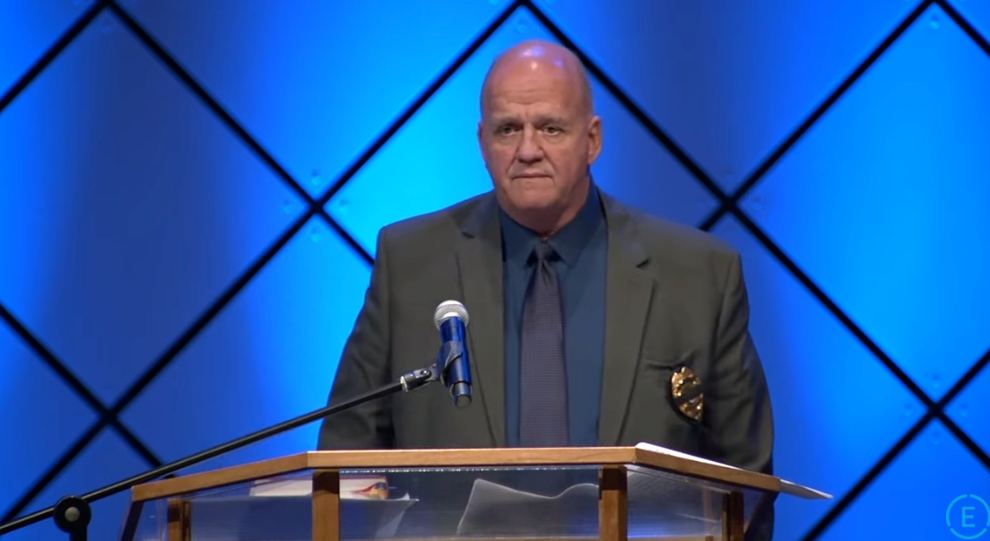 "Chief Barkley, you're the leader, this is the time for your voice to be heard. I heard your newscast when you said you needed more manpower. Chief, stand up and fight for your officers. Don't be silenced, they deserve it. To the federal and state politicians--what are you saying to the men of law enforcement when you shout, 'Defund the police,' and, 'strip them of qualified immunity,' yet you keep qualified immunity for yourselves. Stop listening to the loudest voices. Listen to the voices that law enforcement protect....FYI you know who hates bad officers the most? The good cops out there doing the job every day of the week."
"Let his name be a beginning, not an end...good change can come from this. Let it happen."