The clock is ticking for state lawmakers to take action on a host of measures addiction advocates said will save lives.
Within the next two weeks, the biggest idea groups like atTacK addiction are fighting for is a tax on opioid manufacturers.
"It's the opiate manufacturers that really bare a lot of the responsibility for the crisis, and they have a responsibility to help us get out of the crisis," said Dave Humes, policy director for the grassroots organization.
Currently, two bills introduced in the General Assembly seek to accomplish this goal, but it appears a compromise measure may be the result.
State Sen. Stephanie Hansen's measure would tax drugmakers at a rate of 1 cent per milligram of Oxycodone, fentanyl, or other forms of opioids distributed in Delaware via prescription. Estimates show the tax would've generated $9.2 million last year alone, Hansen told WDEL. The money, generated by the tax in Senate Bill 178, would then be funneled into the General Fund for addiction treatment.
A second measure, House Bill 358, introduced by House Minority Whip Rep. Deborah Hudson, would create the Opiate Stewardship Fund and dedicate funding to addiction treatment. Her measure taxes the "first sales" of opioids in the state at a rate of 10 percent of the purchase price. It would also create a full-time opiate policy advisor in state government.
Humes sees the power in both bills.
"I've been clear from the beginning: I would like to see, number one, that the funds be set aside and not go into the general budget, so it's used strictly for the problem to try and stop the addiction epidemic that we're in the middle of," said Humes.
He, too, wants to see that money in the hands of persons without governmental budgetary responsibility, someone in more of an independent overseer role. But when asked where things stand after Tuesday's meeting, he was blunt.
"I don't know yet, I really don't know," he told WDEL.
Another initiative the group is lobbying for is a recovery high school program within the Red Clay Consolidated School District, as first reported by WDEL.
The need is dire, advocates said, in a state where treatment for youth is virtually non-existent. 
"Just like you have programs for other students with different disabilities," he said.
State Education Secretary Susan Bunting said she'd love to see a prototype for a recovery high school to see whether this kind of program helps students.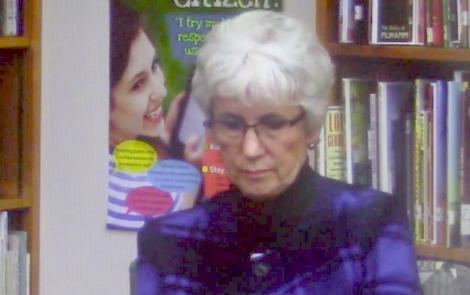 "Let's try it and see if it works; let's see if it has long-term benefits, short-term benefits. It would be a great expense, but...there's certain funding that could add to those coffers," she said.
She cited mental health grants which could aid in funding an initiative like that.
"We have to find a different way of reaching them because obviously we're not serving all of our students needs," she said. "We're seeing the tremendous impact of mental health issues on our students. I hate to say it, it might even have been stirred by the number of suicides among our students in the last couple of years; we're seeing that there's a lot more to their lives as they grow up then just the academic piece that we need to be involved in, so I would support the experiment. Let's see if we can do it."
Advocates are seeking $2 million over four years to operate the program. But other stressors seek to take a piece of the state's $430 million budget surplus, and some caution limits against new spending as funding may not be sustainable.
The Joint Finance Committee has agreed to give pay raises and bonuses to state employees, who've foregone increases for several years, as part of the budget bill which must be passed by both chambers by June 30.
A measure which would give 12 weeks of paid parental leave to state workers with a year of service under their belt passed in the House Tuesday and now heads to the Senate would also cost nearly $4 million.
As Delaware experiences a revenue surplus and lawmakers scramble to fund various programs and non-profits which have survived amid deep funding cuts in past years, Humes said it would be a real disappointment if more money isn't spent on Delaware's opioid epidemic.
"I hope it goes through, if it doesn't go through this year when we have a big surplus, it would be very sad, I think."