The Kids Count organization has been tracking the overall well-being of youth in any given community for 25 years now, and this year, their efforts feel more important than ever, as the data collection agency seeks to monitor how the novel coronavirus COVID-19 pandemic is impacting the population and efforts to provide more opportunities for success.
"This  is the first time that we have released our annual fact book virtually," said Kids Count in Delaware Director Janice Barlow. "We thought it important to continue to provide this data as we always have, so that those who need it to do the important work that continues during this crisis have access. That said, we acknowledge that the coronavirus pandemic is the primary focus for virtually all of our partners, our leaders, and our advocates that are focused on child well-being at this time. I'd also like to add that, at Kids Count in Delaware, we're deeply concerned about the potential impact of COVID-19 on our children and families."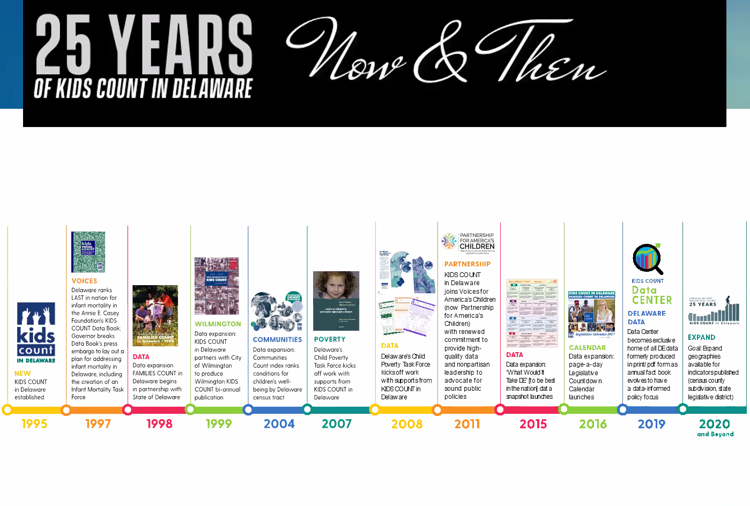 The leader of Delaware's chapter, housed within the Center for Community Research and Service at the University of Delaware's Joseph R. Biden, Jr. School of Public Policy and Administration, Barlow explained some of the concerning trends in their "four traditional domains"--health, education, economic security, and family and community--in an immediately post-COVID world would be food insecurity, increases in child abuse and neglect cases, and the ability for providers of early child care and education to remain open following prolonged closures and the resultant loss of income. 
She acknowledged the great work many parents in the community are doing to keep their children learning during the stay-at-home order amid the pandemic, but was concerned about what would happen once parents were permitted back to work and forced to find out-of-home continuing care. 
"So the ultimate goal of our efforts is to improve the lives of children, youth, and families whose well-being is most at stake, always, but most especially at this moment," Barlow said. "We can't do this alone."
Barlow stated much of what had been gathered for presentation in the 25 years of Kids County publication had been established well before the pandemic had occurred, and much of the hard data would be fluctuating in the wake of the crisis. 
"Our new reality is one that is changing weekly, and sometimes even daily," she said. "There's a shared recognition of how hard coronavirus is hitting working families, and on multiple fronts. It's putting parents out of work; cutting homebound kids off from school meals and formal education; it's upsetting childcare arrangements and elevating stress and worry...Some families can't simply stay safe and stay healthy, they don't have that option--and understand that we don't yet know the full impact of this worldwide health crisis on the well-being of our children and their families."
The data was still presented, despite knowing it would likely be changing soon, as it was the most recent compilation available. The coronavirus pandemic would only serve to underscore much of the disparity and areas of concern of which the organization was already aware. 
"We knew that vulnerabilities existed in many communities and now, in the midst of a public health crisis, we see how devastating they can be on a whole new scale," Barlow said. "So this edition of the fact book highlights historical trends, current actions, and goal-setting for a small number of specific indicators."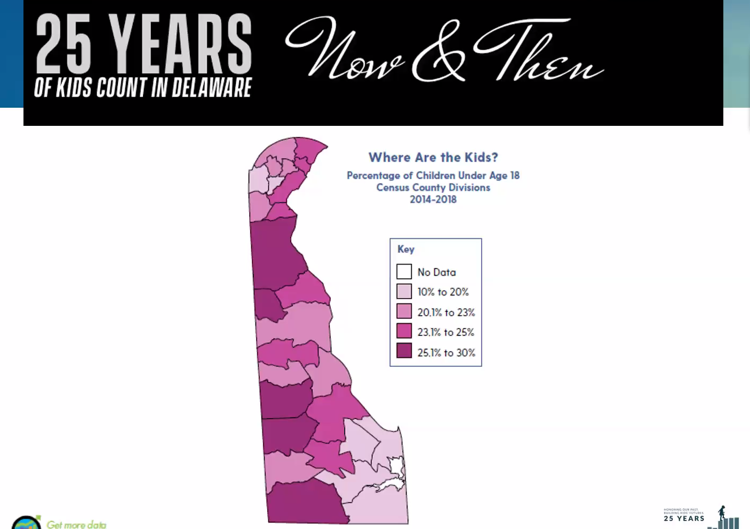 Delaware's population has increased roughly 30% in the time since Kids Count in Delaware published its first fact book covering the state, and while there are more children overall, they make up a smaller percentage of the state's population than previously. 
"In 1995, the state's total population was 700,000 people," Barlow said. "It has since grown to just under a million. The number of Delaware children has increased by more than 40,000 in that same time period. However, while children now number more than they did in 1995, they make up a smaller percentage of our total population, due to large growth in those ages 65 and above. That the growth that's attributed to the aging of the baby boomers, combined with an influx of retirees."
Keeping track of the pockets of the population where more resources are needed is a high priority currently, as Delaware is also far more diverse, and no where is that more evident than in its population of children, which is the fastest growing percentage where diversity is rising.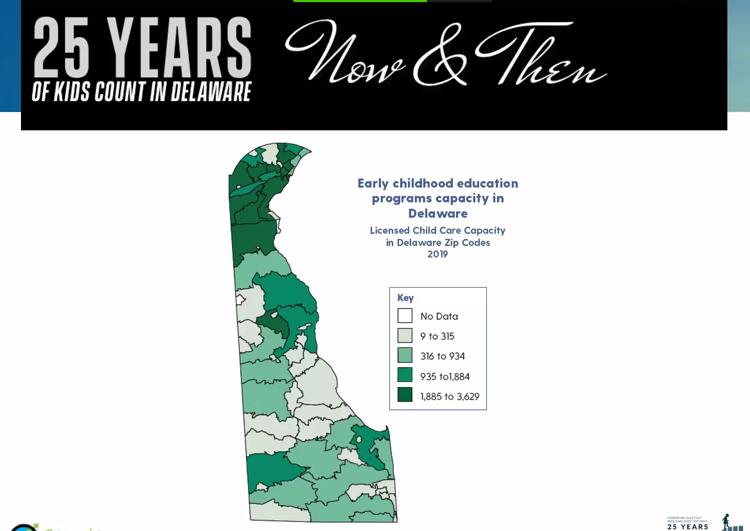 "Every county, as well as the city of Wilmington, has a greater percentage of children of color now, compared with two-and-a-half decades ago."
This year, Kids Count in Delaware didn't just break out data for its four primary sectors, but included a timeline to show growth or regression, and set future goals for how to improve upon where things stood. 
"The health and well-being of Delaware's children has shown improvement over the last 25 years, but there is still progress to be made. And the solutions must be systemic, allowing opportunity for every child," she said. "COVID-19 is an extreme reminder that the health of our children, families, and communities, depends on the health of the person next to us, and the person next to them."
For instance, in 2004, Kids Count ranked Delaware as last in the nation for infant mortality rates, which tracks infant deaths from any cause and is used as an indicator for both overall maternal care and overall child care in a state. Funding initiatives have improved those statistics. Barlow said that's the most important part.
"Budget equals policy," she said. "Where we spend our money matters. Disparities in infant mortality by race and ethnicity and socioeconomic status are a measure of inequities that exist within communities, and many of these inequities are often caused by policy that have provided opportunity to one group of individuals, while putting barriers in place for other groups. The impacts of racism in America, both historical and current, are profound." 
Just tracking disparities and pointing out that disproportionate numbers of deaths among the African American poulation isn't enough, though. The data should lead to action and transformation in places like the healthcare system, so that better care during early childhood leads to extended success into adulthood.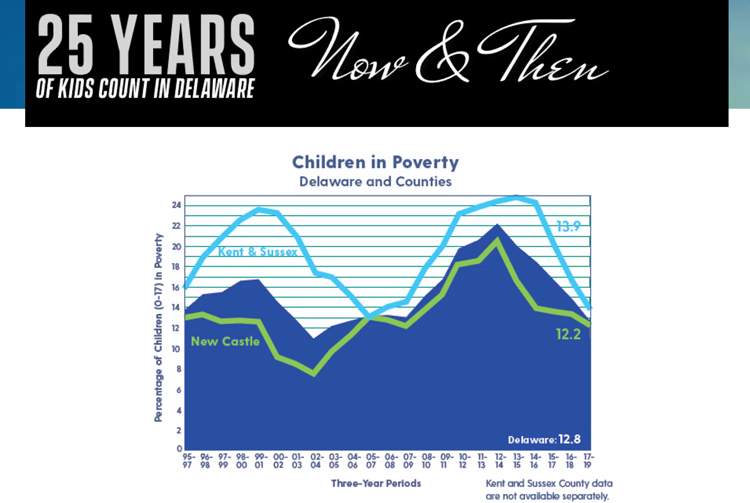 Policy change and better data tracking can also lead to improvements like the decrease in Delaware's high school dropout rate, which--while still racially and ethnically disparate--has also managed to begin narrowing its class divide. 
"Delaware should be a state where every child lives in a financially secure home...child poverty impacts every indicator...If we can make meaningful change here, we'd see ripple effects across other measures of child well-being--categories of health, education, and family and community--to many children and families who were struggling to survive economically before this pandemic."
Those struggles are set to reemerge as broad setbacks for a population Barlow said was just recently reaching pre-recession levels once again. 
"Children whose parents have lost their jobs and are struggling to pay rent and provide for their families will face long-term economic struggles if we don't focus on centering equity in our response. No community is immune to child poverty, even those that, by other economic measures, are wealthy."
But, until researchers can get a better picture of what the pandemic will mean long-term, they can only attempt to focus the efforts of those who lead to minimize the gap between those who have, and those who do not, to try and establish a more secure and stable foundation upon which these children can grow. 
"We don't yet understand the full impact of this worldwide health crisis on the well-being of our children and their families," she said. "As we get through this--and we will get through this--it is important to eliminate the structural causes of disparities, because tomorrow's work must begin where our work always has--and that's really with data, and with a conversation."
To see a full breakdown of the data or the--available for free right now!--virtual Kids Count in Delaware fact book, visit KidsCount.org.
 ---
A date regarding infant mortality rates in Delaware has been corrected to read 2004, not 1995, and links to available information have been updated to directly link to Kids Count in Delaware's sites.