A bear has reportedly been sighted in several areas of Brandywine Hundred and near Wilmington.
Delaware State Police said they received three reports of bear sightings between 3 a.m. and 7 a.m. on Wednesday, December 4, 2019. 
The locations where the bear was sighted include I-95 near the I-495 split, Manor Avenue at Philadelphia Pike and I-95 in the area of Concord Pike.  
The principal of Salesianum School in Wilmington sent a note to parents saying its aware of the sighting and the bear is "not considered a threat to campus at this time."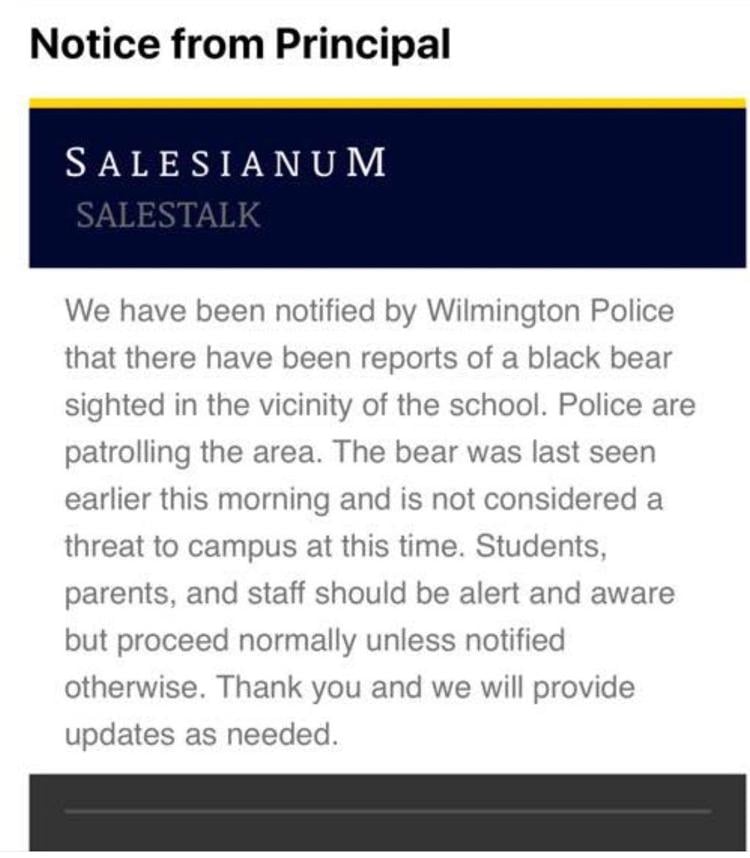 Students and staff were advised to report normally.
No one has had any encounters with the bear, according to police, nor are there any photos of the bear in Delaware at this point. 
Joe Rogerson with the state Division of Fish and Wildlife said the last black bear sighting in Delaware was May of 2016.
"That bear was here for about three days in northern Delaware and eventually made its way west into Maryland and never came back."
Rogerson advises homeowners to try and limit food source temptations for the bear during the duration of its stay.
"If you've got some stale, rotten trash out there in your trash can and leave it out overnight that's just potentially asking for it to come in."
Similarly bird feeders and compost piles could attract a bear.
A bear has been spotted in several areas of the Delaware County, Pennsylvania, the past few days; it's unclear whether this is the same bear.
Given the time of year, for some bears it's time to start thinking about hibernating but Rogerson that's not always the case.
"Not all bears den particularly if there's enough food sources available," Rogerson said, "some bears will remain active all winter long."
A black bear that's running wild in northern Delaware was spotted near the University of Del…
If you observe what appears to be a bear or any other wild animal, do not approach it.
Rogerson urged bear spotters to call Fish and Wildlife at 1.800.523.3336.