All Brandywine School District students will conduct their first marking period remotely, according to a vote by the school board Monday night.
Brandywine students will begin their school year on September 16, 2020 and will be remote until at least November 6, 2020, pending a chance to the preferences of district families or improved social distancing guidelines.
District Superintendent Lincoln Hohler unveiled the results of a parent preference survey that was nearly an even 50-50 split when it came to wanting their students to be remote or in-person to start the year.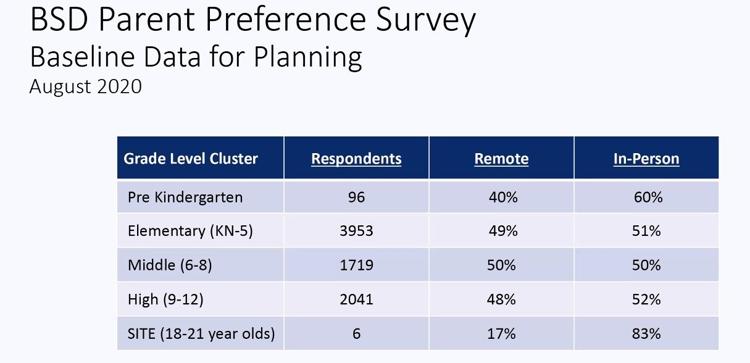 Hohler cited an example from Mount Pleasant Elementary, where a 28-person classroom would be reduced to 11 when CDC six-ft. social distancing guidelines were enacted in the room. 
While every classroom is shaped differently, that meant they could only accommodate if 40% of parents wanted to be in-person.
Hohler said he realizes this will be a burden for many families who are trying to balance technology, work, and other issues.
"I can identify and sympathize with those parents who truly depend on the school system to provide that supervision for their children while they are at work during the day. I've lived it."
Hohler also pointed out from the district's working groups that a major concern was the quality, or lack thereof, of remote education when district schools went remote in late March.
"When I say to you that your child's remote learning experience moving forward will be much different than they received in the Spring of 2020, I guarantee that will be a different experience... beyond a shadow of a doubt, it will be a different experience."
Hohler said the decision for the second marking period will rest in large part to a second parent survey that will go out in late September or October. 
If the district can physically handle the amount of students who are requesting in-person learning, they will develop a different model with more in-person learning, holding to CDC standards.
District teachers will start their in-service period on August 24, although it will start remotely, giving them time to meet the state's very new requirements for teachers to be tested for COVID-19 before being able to use the classrooms.
Teachers will be allowed to use their classrooms to host their remote sessions.
Small groups of students will be permitted into the buildings beginning in early October to receive in-person specialized support, including occupational and physical therapy.
Small groups of students will also be scheduled for academic programming needs, including science labs, AP prep, and targeting counseling for students dealing with social, emotional, or mental health challenges.