Up until now, Governor John Carney has followed CDC guidance during the coronavirus pandemic. 
"The CDC guidelines before were clear--clearer. Now, it's a little muddled, right? It is more recommendation than it is a mandatory order," he told WDEL.
Earlier this week, the CDC announced it recommends mask-wearing, regardless of vaccination status, in indoor settings where coronavirus transmission is considered "substantial" or "high." When the announcement came, CDC data showed only Sussex County, had virus transmission at a "substantial" level. But as of Friday, New Castle County has joined Sussex in the substantial virus spread category. Kent County remains "moderate." 
But that's not prompting Gov. Carney to renew the state's mask mandate or consider instituting county-by-county restrictions.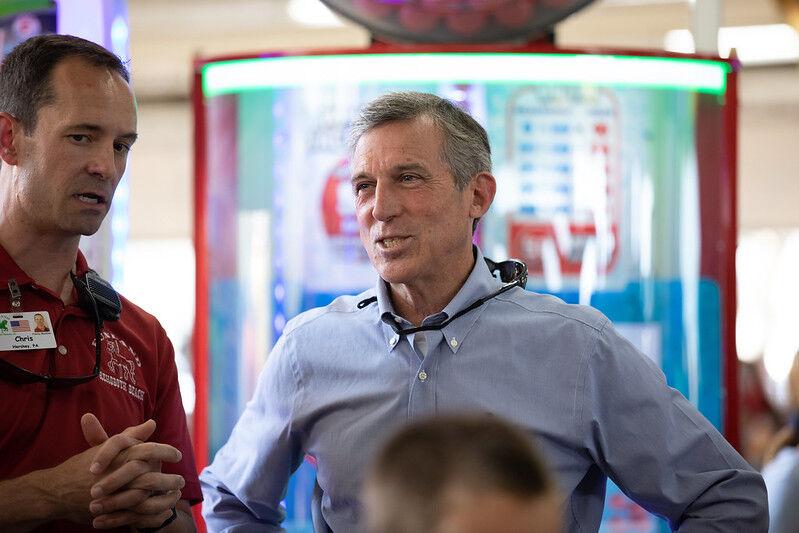 "The lower part of our state [western Sussex], where the vaccination rates are lower, have seen a little bit of a bigger surge," he said. "We would recommend that certainly those who are not vaccinated should wear a mask when they're in indoor locations."
Instead of issuing mandates, Carney said their focus will continue to be on increasing vaccinations.
"We just need to help people get over whatever reason they have to be hesitant."
He points out, despite cases rising, we're still in a far better place in this pandemic compared to where we've been.
"If they stay where they are, we should be okay. If they continue to surge? But we're in a way better place overall, understanding, vaccination--we've got 70% of adults, we've got the most vulnerable population 90-some-percent vaccinated, and we continue to vaccinate 500 per day, so we're making one-by-one progress there," he said.
The Delta variant has proven to be more contagious. But what prompted the CDC's warning was that they found, on rare occasions, the Delta variant has proven to be transmissible by vaccinated people.
"If the vaccinated people are either more vulnerable than we thought to getting it or if they can transmit it, that's a different ballgame," the governor admitted.
But even with this information, Gov. Carney said he's not sure vaccine mandates are effective.
"Telling people to do it, I'm not sure is the best way. If you think about what other private organizations have done, they've made it difficult if you stay unvaccinated," he said.
ChristianaCare, the state's largest private employer, was first to announce publicly it would require all employees and volunteers to be vaccinated against COVID-19 amid the rising Delta variant. Pres. Joe Biden also announced tough new vaccination requirements for government workers who must either show proof of vaccination or be subjected to regular COVID-19 testing.
The governor considering a similar strengthening of employment requirements.
"Other states are saying if you're not vaccinated, you have to be tested regularly as a state employee. If you're going to go in that direction--and we're thinking about it--you have to be able to verify who's who."
That verification piece is tricky. This spring, determining "who's who" after the CDC said those who were vaccinated could unmask, was challenging, with the governor saying there was no planned enforcement of vaccine status. 
"Ironically, the people who are being most careful are the ones who are most protected," he said, in reference to vaccinated people who continue to mask up.
There are some sectors where the governor believes vaccine mandates could be helpful and stronger restrictions are needed. He pointed to long-term care, where the most vulnerable live, and congregate settings like prisons and juvenile detention centers. But Delaware's State of Emergency expired on July 13, potentially, putting a wrench in those plans.
"We're looking at my authorities. I don't think I have the authority to do that now with the very limited State of Emergency that's in effect so it would have to be driven by the private sector," he said. "But certainly, I do not, as governor, have the emergency authorities that I did prior to July 13th."
But that push in the private sector could be met with resistance from consumers. A recent study by Harvard, Northeastern, and Rutgers universities, which are taking part in the COVID-19 States Project, found strong public support for a sweeping government vaccine mandate. Sixty-four percent of people polled across the state would favor this kind of mandate.
"We also found that the government, the public seems to be much more comfortable with government mandates than they are with businesses deciding on their own to require vaccines for people to enter their premises," Harvard University professor of global communications Matthew Baum told WDEL.
Support for a vaccine mandate rises to 70% when framed as a requirement to board an airplane. When it comes to attending a university, 61% of people believe vaccines should be required. For going back to school in grades K-12, support stands at just under 60%. 

In Delaware, those rates are even higher with nearly 71% of the population supporting a vaccine mandate. Seventy-nine percent favored a vaccine requirement to board airplanes while 74% favored a mandate for a student to attend a university. Support drops slightly, to 64%, for K-12 education-related vaccine requirements.
"According to our date, the American public seems ready to be pushed farther than our policymakers seem inclined to push them," said Baum. "If they're mandated, I'm sure there will be protests against them. Some people will undoubtedly follow the law if it were to become the law; there's no question that for a good number of people when something is legally required, then they just do it--even if they might prefer not to. But other people will resist it more aggressively, as we've seen."
Read more on the COVID-19 States Project's latest survey:
Carney said achieving the ultimate objective--getting more people vaccinated--requires getting creative at this point as the state has shifted from large-scale vaccination sites in gymnasiums and DMV parking lots to smaller events and one-on-one interactions.
The least vaccinated age group continues to be Delawareans ages 18 to 34.
"It's really that young adult demographic...I think it's more 'I'm young. I'm not at great risk,' all of which is kind of true, but we don't know the long-term effects on your respiratory system...what they're seeing correctly is the people who are dying are the people who are older, [with] pre-existing conditions...not them. And think about when I was 25-30, I pretty much thought you're invulnerable, and you certainly didn't like other people telling you what to do, so that's the tricky part."
"We just need to be thoughtful...and try to do it in a non-judgmental way because I don't think that's going to work," he said. "The balance has to be struck with two things--recognizing that those who are vaccinated are in a better place and they're safer, there's less transmission in that population, that the real risk is in the unvaccinated population. There's hesitancy there, so forcing people to do something they're hesitant to do...you don't usually get the result that you want."
Tuesday, the CDC also announced that all children, educators, staff, and visitors to school buildings in grades K-12 should be masked indoors. Only children ages 12 and up are currently authorized for vaccination with the Pfizer vaccine.
The Delaware Division of Public Health recently announced a partnership with Quidel to conduct on-site, routine and rapid COVID-19 testing with parental permission.
Gov. Carney said he expects to see children masked in schools, but acknowledges it's a district-level decision.
"I would hope so, particularly with the little ones that aren't vaccinated," he told WDEL. "I don't have emergency powers to tell them what to do, but to make sure that their children are wearing masks when they return back to school and that'll be a big challenge because there's hesitancy now; people think that COVID's over, it's not over, and the best way to protect ourselves, in addition to the vaccine, is to wear mask."