With Phase II of Delaware's rolling reopening plan going into effect just yesterday, Gov. John Carney said Tuesday there were no immediate plans to announce a date for moving into Phase 3 as it moves beyond the novel coronavirus COVID-19 pandemic. 
"We're still going to watch the data to determine the date of of moving into phase three. And again, this is a this is a message to really lean into the basic protections: wearing a mask, keeping your distance from those not in your household, continue to sanitize and wash your hands, and stay at home."
Phase 2 permits 60% occupancy in food and retail establishments, previously set at 40% of the fire code in Phase I, and outdoor gathering is expanded to 250 people before a permit is necessary. 
Carney said the state was going to take a careful approach, despite positive signs, because 21 states now have seen setbacks in their plans to reopen as COVID-19 gains a stronger foothold in freely moving populations. 
"As the coronavirus infects and surges nationwide, 21 states are seeing increases in the average daily new cases," he said. "Delaware is not one of them, so let's keep it that way."
Phase 3 eases a number of current restrictions, particularly of note that vulnerable populations no longer need to shelter-in-place, but should still remain cognizant of social distancing efforts.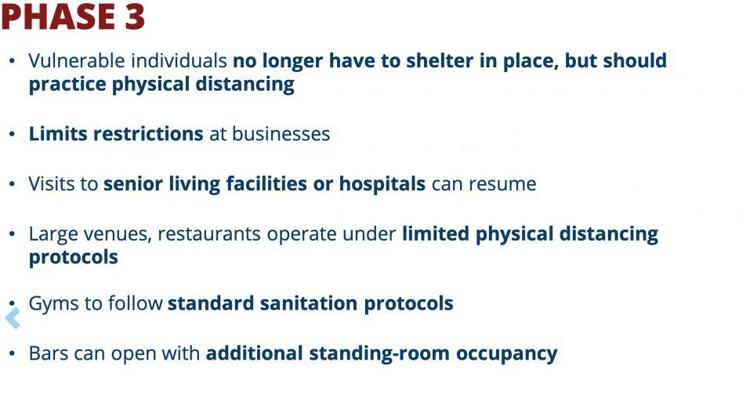 Asymptomatic spread has been a large issue, as one of the defining characteristics of COVID-19 has become, while it hits some people with incredible severity, many others never even know they've had it. 
"As we've moved into the reopening of sectors of our economy, [we] need to identify those outbreaks early with intensive testing to isolate those who test positive and and contact folks that they encountered," Carney said. "The key is to try to get ahead of it, which is a challenge for us as we ramp up testing."
Dr. Karyl Rattay echoed Carney's sentiment of not allowing ourselves to get too comfortable just because data is trending in the right direction. It's trending that way because the state has been careful, and the positive momentum means the efforts made to contain the spread of the virus have been effective. It doesn't mean the virus is suddenly any less severe. 
"People are tired of this pandemic. We're all tired of this pandemic and we just want to go back to normal life. But the virus doesn't care that we're tired. The virus is still out there," she said. "As you see from our numbers, we're doing well. We still have cases, but we're doing well, and that's great. But we so, so desperately don't want to be one of those states that is increasing significantly and seeing increases in hospitalizations."
Delawareans are urged to remember the hygiene lessons learned during the pandemic, and to take some of those most basic precautions to avoid viral rebounding. 
"We very much wanted to focus on what are the key points of prevention to help us not see a significant resurgence while we reopen," Rattay said. "We want to reiterate, again, that face coverings are so important...Social distancing, so important. And if there's any two things that we want people to continue to be vigilant about taking action around, it's face coverings and social distancing--and, of course, hand sanitizing is also important."
Carney said the path has been a difficult one, but as long as Delawareans continue to work together, the future looks bright, and they'll continue to get the job done. 
"In March, we made what, in retrospect given the challenges that we're facing now with reopening sectors of the economy, our efforts to close the economy, stay-at-home orders to flatten the curve, were difficult, but were successful," Carney said. "Everybody in our state did their part. Some of that was based on fear of the unknown, and we know more about the virus today than we did three-and-a-half months ago. We've learned a lot, but we also know that Delaware really leaned into it, stayed at home, followed the guidelines. We closed different sectors, as difficult as that was, and so we're beating COVID right now because Delawareans acted responsibility with a sense of community, that sense of oneness."