As cases of COVID-19, fueled by the Delta variant, rise substantially in Delaware, ChristianaCare is once again limiting visitation at its facilities.
Effective Monday, August 23, inpatients at Christiana, Wilmington, and Union hospitals will only be permitted to have one visitor each day between the hours of 10 a.m. and 8 p.m. That person must show proof of vaccination or present a negative COVID-19 test taken within the last 72 hours.
Anyone having outpatient surgery will be permitted one support person who must also show proof of vaccination or provide the results of a negative COVID-19 test.
A person coming to the emergency room for treatment may have one support person with them. Patients preparing to give labor will be permitted two support persons. After delivery, only one person can be present and that person must provide proof of vaccination or a negative COVID-19 test. Digital and paper copies of a negative COVID-19 test will be accepted in all circumstances. WDEL has inquired whether proof of vaccination can be provided in photograph form or whether the physical vaccination card must be present.
Patients in the neonatal intensive care unit may have two visitors, one of whom is a parent or guardian.
All visitors and support persons must be ages 16 and up and must be screened for COVID-19 symptoms. Entry will be barred if a person fails the COVID screening.
Masks are required in all ChristianaCare facilities at all time regardless of vaccination status or whether a negative COVID-19 test is provided.
Thursday, the Delaware Department of Health and Social Services reported 438 new COVID cases on a seven-day moving average. The test positivity rate stood at nearly 24%, and hospitalizations rose to 165. Of those, 29 people are listed "critically ill." 
Delaware also added two new deaths. According to DHSS, the deaths involved persons from New Castle & Sussex counties, who ranged in age between their 60s-70s. Neither was vaccinated. Their deaths increased Delaware's total to 1,851.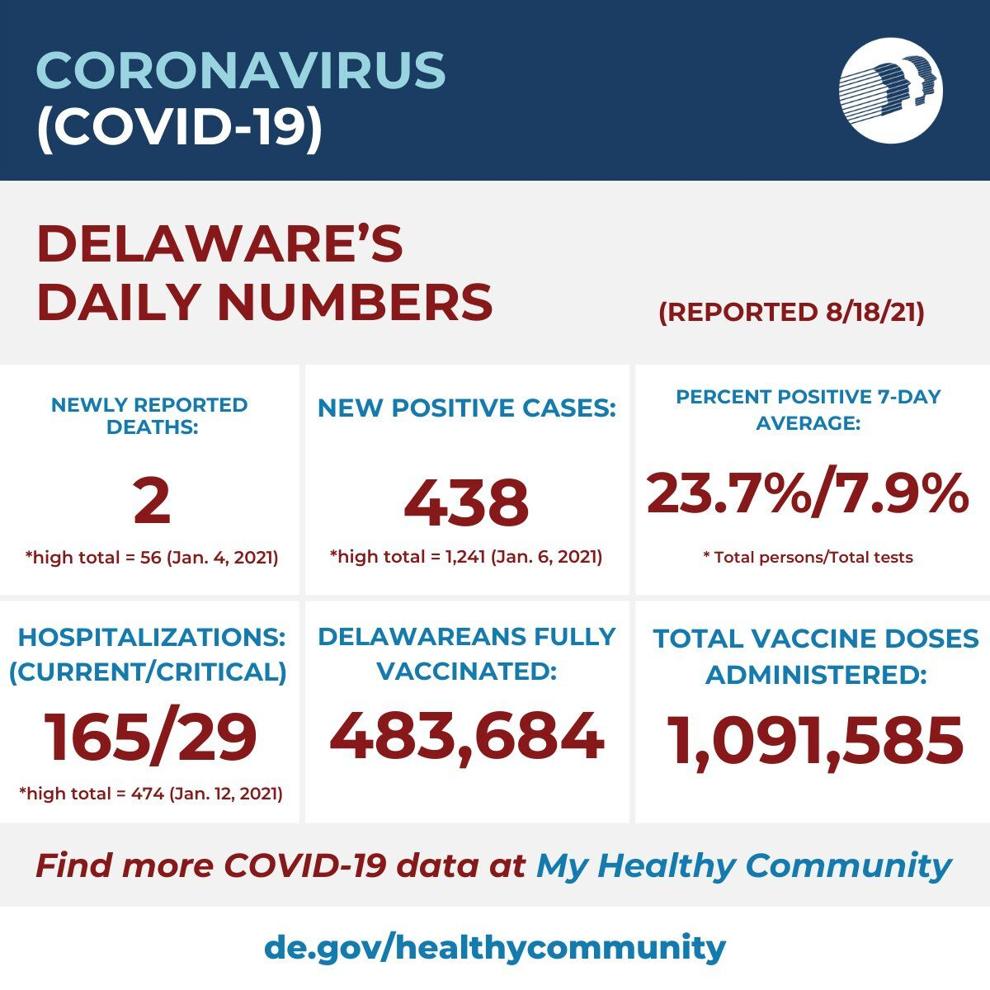 "Throughout the pandemic, we have been guided by data and science to ensure that we are taking the most appropriate steps to ensure safe care and a safe environment for our patients, visitors and caregivers," said Sharon Kurfuerst, ChristianaCare chief operating officer. "The increased spread of COVID-19, driven especially by the delta variant and spread among people who are still unvaccinated, is creating significant challenges. It is vitally important that everyone in the community get vaccinated as quickly as possible."