A Christina School District teacher protest designed to change a reopening plan was reduced to faint noise in Zoom calls as its school board and superintendent defended forging forward with hybrid learning.
Christina has been holding its meetings for the past six months in a hybrid setting, with members having the option to attend at Gauger-Cobbs Middle School or join via a Zoom call.
January's meeting fell on the second day of the district's return to hybrid learning, a decision that the Christina Education Association planned to rally against outside Gauger before the 7 p.m. meeting.
Board President Keeley Powell, who has typically attended the meetings in-person, chose to go the virtual route.
"We had some information about a demonstration to be held at Gauger, our typical meeting site, and it had the potential to cause a disruption to our general business meeting. In an effort to conduct the business of the board with minimal interruption, I made the decision to join this meeting remotely."
Once the meeting started, the board heard from a series of teachers during public comment, who pushed the board to revert back to remote learning, many of whom appeared to still be at Gauger, as car horns could be heard in the background of their comments.
Elementary teacher Rebecca LeJeune used one of measurements removed from the state's COVID-19 dashboard to make her argument, adding that this decision shouldn't just be in the hands of Superintendent Dan Shelton. Governor John Carney has also urged districts to return to hybrid instruction following a month-long "pause."
"Instead of a directive of one person, at the very least, we ask you to wait until the positivity rate is lower or wait until teachers can be vaccinated, which is only a month away."
Downes Elementary Teacher Lisa Lemmon said some of her colleagues are struggling physically with concerns they could catch the coronavirus and fall seriously ill.
"We have teachers and support staff having panic attacks, suffering from insomnia, high blood pressure, or just consumed with fear all stemming from anxiety to a return to an environment that has not proven to be safe yet." 
According to state data, the Christina School District has had 17 students and 42 teachers, who were working in school buildings under the hybrid model, contract COVID since September 1, 2020. Those numbers are based on contact tracing being done by school nurses.
Frustrated parents also spoke to the board, seeking the opposite. They want to ensure the district was moving more towards a full reopening instead of full remote.
"It is so disheartening to hear teacher after teacher refuse to go back to school," Heather Bowersox said. "Cancer patients with low immune systems still go for chemo treatments, but the schools can't stay open to give the kids the education that they need."
Cayce Gravatt said she wants schools going back in-session five days a week, a public school model that isn't supported by Governor Carney at least at this point.
"You cannot truly believe that keeping the kids home learning online is the best thing for them. There are students who cannot learn in remote atmospheres between distractions, remote technology, or many other reasons. Two days in the building is a joke when other schools and private schools can stay open."
According to numbers shown by the district, about 40% of secondary students are failing in English/Language Arts--that's double the number recorded in the 2019-2020 school year. Students receiving A's are holding steady at about 25%, but when D's are included, about half of Christina's students are receiving one of the two lowest grades as opposed to about 33% last year.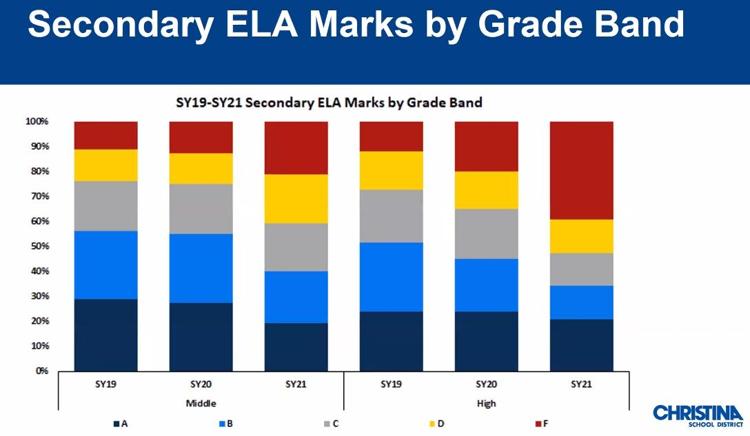 That's just part of the reason why Shelton, who said he's taken part in weekly Heads of School meetings with Governor Carney, stressed the hybrid model is the right decision, even if it's not what the 1,500 people who signed an online petition are demanding.
"I have chosen not to rely on social media, but the experts who give us their valuable time on a weekly basis to help us understand the recommendations they are making. I also am looking at the data that surrounds our student learning. We have failure rates that are unacceptably high."
Shelton said he recognizes there's a lot of people who believe going back into schools with "significant community spread" of COVID-19 occurring is a mistake, but that there isn't always strength in numbers.
"People can have very strong opinions. They can validate those opinions using resources from the internet, and large groups of people can all agree they have the answers and have the data to draw those conclusions from. I hope we can also recognize that just because a large group of people feel they are right and preach it on social media that does not mean that they are right."
Following his speech, Christina School Board whose members operated completely remotely, did not press for going back to virtual-only learning.
About 31% of Christina's students are in the district's "Virtual Academy" a percentage that has risen over the past month and is currently facing a wait-list as the second marking period ends on January 22, 2021.
School board member Claire O'Neil said she felt safety came first in her decision to not go to Gauger and face the protestors.
"I really felt like organizing a rally in the wake of what happened in D.C. less than a week ago, it made me feel unsafe to attend the school board meeting tonight, which is a shame. This is a sticky wicket, it is not an easy thing to be engaged in education right now. Governor Carney said we need to get back to hybrid, so here we are in CSD ready to get back to hybrid this week, so that's where our minds need to go."