Christina School District's Chief Academic Officer told her school board that no students will be retained in their grade this year, despite increased failure rates during the pandemic.
Dr. Deirdra Aikens presented third marking period grades for grades 6-12 students, based upon the district's four main pandemic learning options: Virtual Academy, 2-day hybrid, 3-5 day hybrid, and non-virtual academy remote.
A failing "F" grade was earned by 34% of students, which matched the combined totals of "A" (21%) and "B" (13%). "C" and "D" were achieved 11% of the time, with the remaining 10% being incompletes.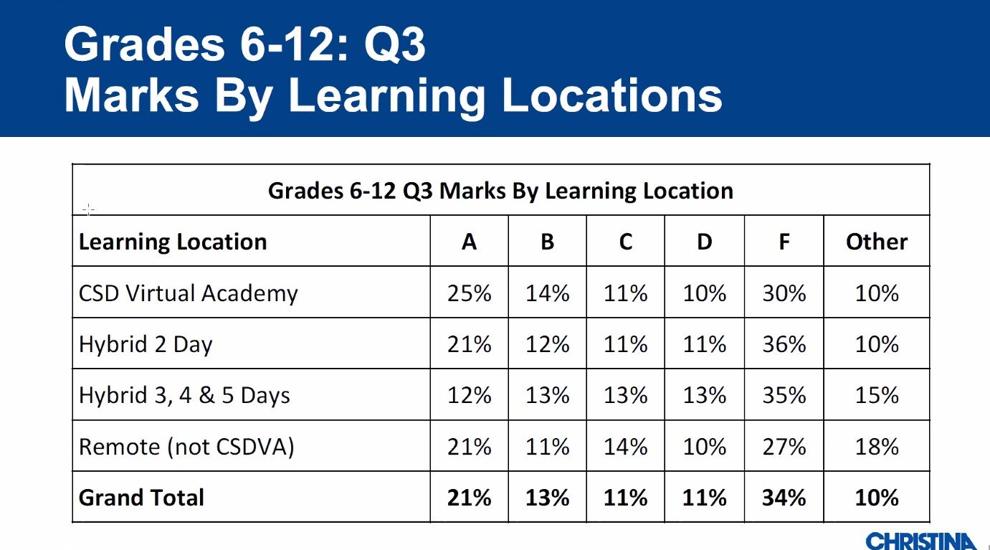 Aikens did not present that data with a comparison to other years, but from data shown during January's board meeting, Christina's secondary students received "F" grades in English and Language Arts about 25% of the time in the 2018-19 and 2019-20 school years.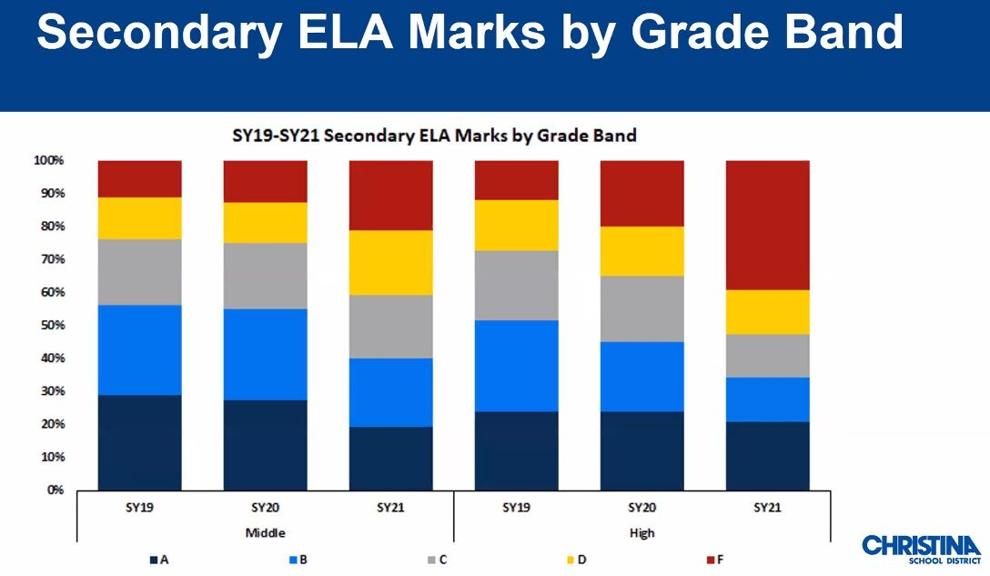 Superintendent Dan Shelton did confirm there were more failures than in past years.
"We did look at overall over the years, you could clearly see additional failures compared to other years."
The increase will not lead to retentions, according to Aikens.
"We are not going to going to retain any students this year, but we are actually going to move into individual plans for next year so there will be some parameters and boundaries that would have to be met. Then, we could use that promotion policy and apply it to next year when things are a little more normal."
Broken down by learning location, 3-5 day hybrid students had the lowest A/B rate at 25%. compared to 33% for other hybrid and 39% for Virtual Academy students, but those students were hand selected by the district for more in-person learning due to remote struggles.
"This confirms our thinking and reasoning for prioritizing their return to more in-person learning," Aikens said. "Their grades are lower than other learning locations, and those were the students we brought back for more in-person learning."
Shelton announced that Christina will be holding a virtual "Safe Return Town Hall" on Tuesday, May 25 at 6:30 p.m. to discuss the district's plans for 2021.
New Delaware Division of Public Health guidance came out on school buses that will go into effect beginning in the summer, which should allow for more students to get to classrooms, although it remains unclear how much more than 23 that will mean.