Claymont residents are going to start seeing the effects of a makeover come together soon. 
"Well, the proof is in the pudding," said Claymont Renaissance Development's Brett Saddler. "I left the private sector and took on this job because, number one, it needed to be done."
The organization has been working hard to redevelop much of the area, Saddler said on WDEL's The Rick Jensen Show Friday, bringing improvements and advancements wherever there was room to continue to build up the community. 
Everything started with Darley Green, which has helped roughly 2,000 new residents move to the area since its construction. 
"Mostly professionals from Philadelphia or other parts of the country. Really, really adding to the strength of this community," Saddler said. "Even I get surprised with some of the success, not that there's not a lot of issues that still need to be addressed."
Part of what has drawn individuals to that particular neighborhood has been the organization's focus on creating a "street wall," a walkable area that's suppose to provide "more of a town-like feel," Saddler said. 
Philadelphia Pike should start getting new lane added in the area of the 495 exit to accommodate traffic, and to hep with traffic issues, Claymont will be getting a new transportation center soon. 
"What you're also going to be seeing the spring is the beginning of the construction for the $71 million Claymont Transportation Center, which is really exciting," Saddler said. "It is beautiful. My jaw dropped when I saw those plans...The parking structure is two levels, and the train station is one story, but to get over the tracks, it has an elevator and stairs that go up, and then you walk over and come back down. Beautiful. Actually, stunning. So that's going to be starting, and we're looking to have passenger service start in spring of 2023."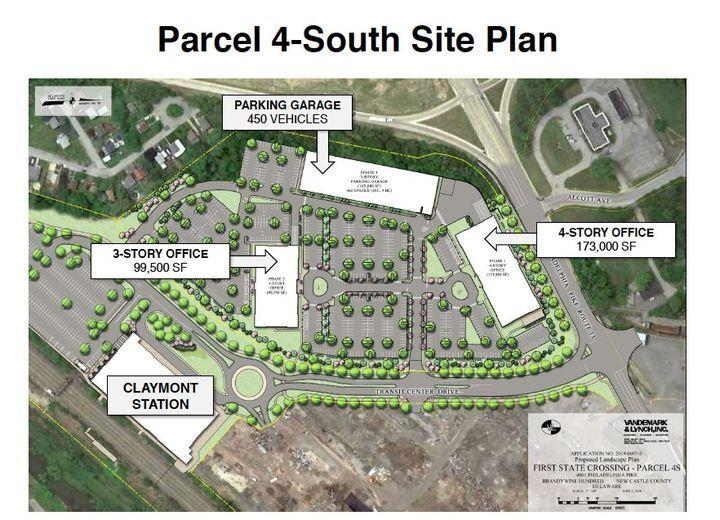 Offices are being developed nearby to attract more businesses and companies looking for employees to have easy access to transit, and Saddler said the construction and development will actually benefit from the lessons learned from the pandemic. 
"One thing that gives this a little bit of a leg up when it comes to office space...the office component of this is going to be built in 2021-22. It is going to be designed with what we've learned from COVID, and what companies are looking for--they're looking for open floor plans, they're looking for ventilation--that you just can't do in a building that was built in 1974. So, this will make it more attractive."
A riverfront park and marina are also on the table at the site of the old steel mill. 
"That would be the entire coastline of the old steel mill site. It would be basically behind where the train station is, but going all the way up. This is really exciting," Saddler said. "For that park, there's an existing birth there, that the steel mill built. That's huge. That could facilitate a marina, restaurant or something like that. This will also tie in with the East Coast greenways and Delaware greenways as a trailhead in Delaware."
Finally, Saddler isn't sure what's going to happen with the old Tri-State Mall, but anticipates it'll be revitalized as some kind of shopping destination, though he declared it would not be a mall again. 
"I would say it's 50/50. We know it's not going to be a mall, because malls are done. If it was to be back as retail, it would be a big box, something like that," Saddler said. "Unfortunately, there's no incentives from the city for commercial retail, as opposed to other businesses. So, it's tricky. We know it's not going to be a mall. My guess is, at the end of the day, it's going to be something mixed-use; some retail, and potentially residential."