A van hums across the street from the Howard R. Young Correctional Institution in Wilmington with workers inside, who stand at the ready to help inmates overcome obstacles upon release from prison.  
Too often, inmates serve their time and come out without a place to live, an ID, or even a dollar to his or her name.
"There's no reason an offender should walk out of our prison without health care, typically Medicaid, or a plan for a place to live, at least temporarily," said Delaware Department of Correction Commissioner Claire DeMatteis.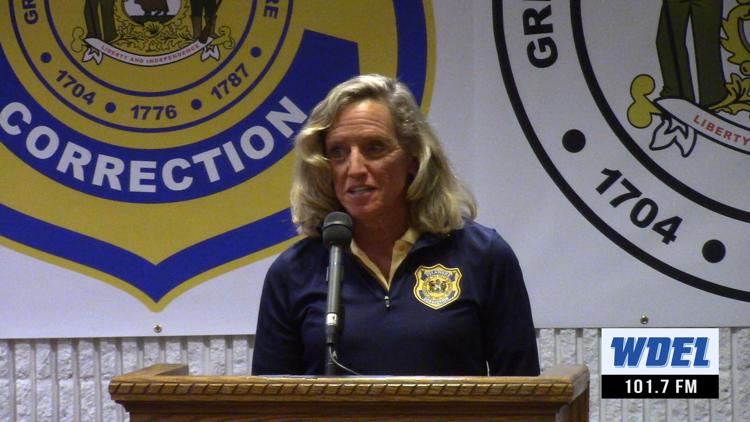 The mobile bridge van is a collaboration between the Delaware Department of Health and Social Services and the Delaware Department of Correction that aims to reduce recidivism. Instantly, upon entry into the van, former inmates are asked about their needs.
"We provide a bus pass; we transport 'em...we give food bags, hygiene kits, we offer tea, coffee, snacks, food...try to keep 'em on the right track," said Ebony Bridges, who's worked inside the van since November. "They can make a phone call to the individual, we have a cellphone on the van if they need to make a personal call or someone for a ride."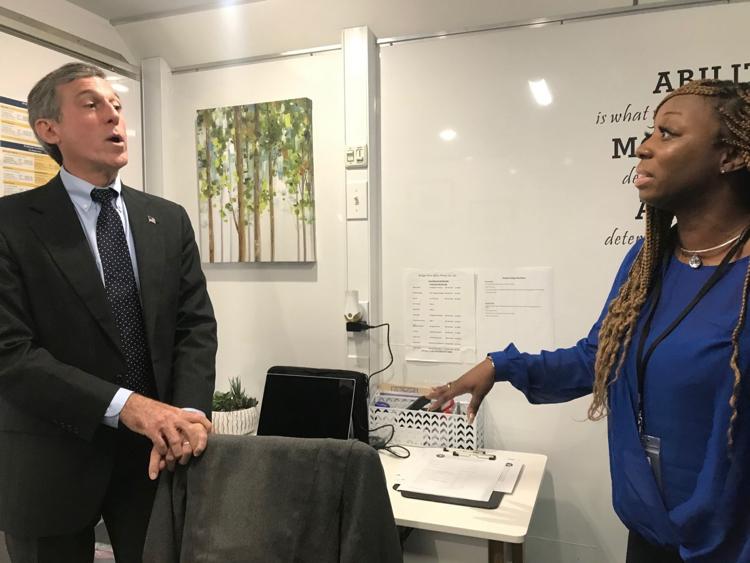 Bridges said they connect inmates to counseling and mental health or substance use services; they also do 24-hour, 48-hour, 7-day, and 30-day follow-ups. That follow-up is crucial.
"At any given time, they can just fall and go left, so we try to avoid that, and just follow-up and see how they're doing, and if our service is not needed, we still will follow-up and see if everything is OK," she said. "You never know what a person is going through."
The van is run by ex-offender Tyrone Mathis, who served a 14-year prison sentence for robbery and weapons charges. Mathis credits the reentry services and attention he received upon his release with his successful reentry, and through his job, now helps make sure that currently-released offenders feel and receive that same support.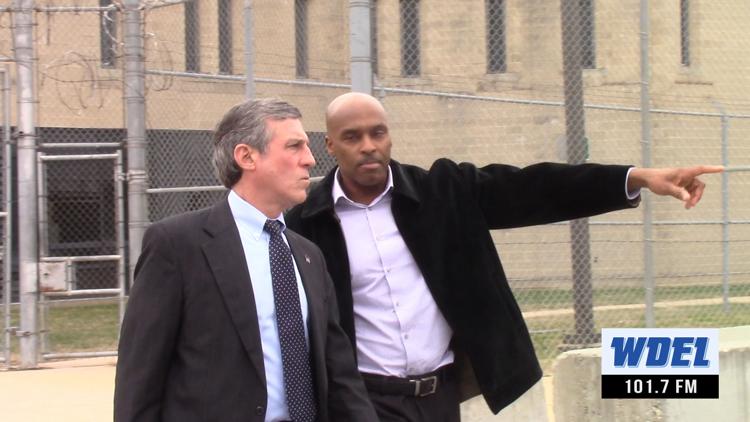 Upon exiting prison, inmates aren't required to make a pit-stop at the van, but DeMatteis said it's growing in popularity.
"We see a lot of families coming in to visit offenders, who are going to get the services, to know for the offender, when they get out, and that word of mouth is just gold," she said.  
She said the van is often parked across the street--off prison property--to decrease intimidation. It'll also be parked once per week at the Cherry Lane probation and parole office.
"Understandably, you've got to build the trust," she said. "Once one offender tells another offender: 'this van is really helpful, this is where you need to go,' that's how the community will help us make that success."  
DeMatteis said the state is recalculating its recidivism rate in a way that she said better reflects the reality.
"Delaware was the only state that included a probationer who is working, is providing for their children and their family, who violated a curfew and was sent back to a level IV facility for a weekend--we counted that as recidivating.  Well, no, no, he didn't recommit a crime; he missed a curfew, he needed to be punished, but we don't need to count that in telling the community he returned to crime--he didn't"
She said a more accurate baseline shows Delaware's recidivism rate at 50 or 55 percent, rather than 65 percent. Still, half of Delaware's inmates are winding up back behind bars, and no matter who you ask, that's too many. But with increased access to counseling and resources, DeMatteis wants to track just how many return within five years.
"The offenders who walk in without a high school diploma and walk out with a GED, an offender who walks out with housing, with Medicaid, with counseling, is that person staying crime-free?" she said.  
Under DeMatteis' leadership, half of the 19 assignments in Gov. John Carney's Executive Order 27 have been implemented. The DOC has teamed up with five state agencies, that each play a critical link in the re-entry chain, including the Delaware Department of Health and Social Services, the Delaware Department of Labor, the Delaware Department of Education (DDOE), the Delaware State Housing Authority, the Delaware Criminal Justice Council.
"To be successful, we've got to make sure that the inmates that come to our supervision are better prepared to be more successful when they leave, than they were when they come in, otherwise they're going to be undermining the safety and security of our neighbors and the community in which we live," said Carney. 
All of the inmates at Howard Young prison are serving shorter-term sentences and will eventually re-enter the community. The hope is if they came in without a high school diploma or a GED, they'll leave with one in-hand. Within 45 days of an offender entering prison, they will undergo an educational and vocational skills assessment. 
"We know that only 29 percent walk into our prisons with a high school diploma or a GED. That means 71 percent need to get on an academic track while incarcerated."
Maureen Whelan, director of Adult and Prison Education within DDOE stressed that 50 to 60 percent of jobs in this state require post-high school training.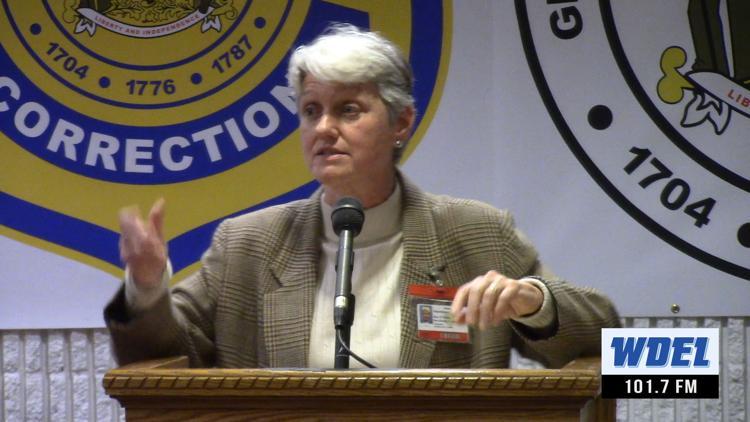 "It's our objective to make sure we are preparing offenders here in prison to be valued employees, to be supportive parents, and to be positive role models once they get back into their communities," she said. "When an offender has a sentence and he comes to prison--he's not the only one serving the sentence, it's all of his loved ones that are on the outside serving that sentence too."
Whelan challenges offenders to change their life story. 
"We want to transform the future; we're talking about that making sure that folks have reliable and valid alternatives so that when they get out of here, they don't see the only opportunity that they have as returning to the life that they came from," she said. "We are in the business of providing re-entering citizens with second chances to create new impressions that are going to benefit themselves, their families, and their communities."
DeMatteis touted vocational skills training while behind bars that can lead to employment after prison as vital to reducing recidivism.  
"We have just started a class here at Howard R. Young, training offenders how to run cable for WiFi, for your cable," she said. "These jobs go unfilled, if they can walk out of prison having that skill and getting that job, we're doing our job right."
But a job isn't everything.
"Inmates will say...'if I have a job but I'm still screwed up mentally, if I'm still not thinking right'...we've got to get them that counseling, typically from peers, from former offenders, who can help with that re-entry process," said DeMatteis.
While it could take up to a decade to see the fruits of their labor in the form of a 10 percent drop in the recidivism rate, DeMatteis said, the state is on the right path.
"With this job market, employers can't fill jobs, we've got hundreds of men and women walking out of prisons with skills that can hold these jobs, we've got to help them with that transition."
Here's the full report on recidivism in Delaware: