"Everyone's looking closely at the school reopening criteria, and I think we've all seen that our case rates have increased this week to 135, which keeps it in the red--and, really, makes it more firmly in the red," said Delaware Division of Public Health Director Dr. Karyl Rattay. "But our percent positives, they have gone up to 4.3%, which has them in the yellow, and hospitalizations...have also gone up, which has them in the yellow at a rate of 11.4."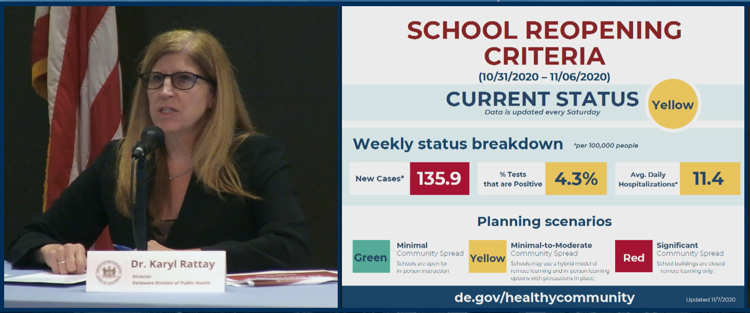 Despite the main criteria for schools remaining even partially open for in-person instruction is all trending in the wrong direction, Dr. Karyl Rattay said, while officials will continue to monitor novel coronavirus COVID-19 spread in educational institutions. So far, 40 staff and 78 students in private schools and 110 staff and 63 students in public schools have tested positive for the virus in Delaware, but the most surprising aspect, Rattay said, they've found is that the schools don't seem to be the culprits here. 
"What this means is these are individuals who were potentially infectious while they were in the school setting," she said. "But what's really important here is that of all the deep dives--we're looking into every single one of those cases--COVID-19 is not being spread primarily in our schools and the spread is really occurring external to the schools."
While contact tracing identified some circumstantial instances of the virus being spread by staff eating lunch together--where masks are impossible to wear while consuming food--Rattay said a majority of school personnel are following guidance and doing an exceptional job protecting students and each other from potential spread. There was one incident where a staff member hosted a party for 20 individuals, from multiple schools, and 11 cases of COVID-19 were connected to that party. In another incident, a staff member attended a wedding where they contracted the virus and passed it along to co-workers while eating lunch.
"People want to know how much spread are we seeing between students, and we've only seen two examples that we know of, where there has been spread between students and schools," she said. "One involved likely one student infected another while they were playing tackle football at recess, without a mask. We have one other example of two students who were eating together and not socially distance, so that is likely how one individual became infected from the other."
Carpooling with individuals outside of one's own household, slumber parties, and traveling sports teams have all been instances resulting in being more responsible for spread than being in a classroom, Rattay said officials have determined. 
"The key point is, really, in-school spread is really rare."
However, Delaware's COVID-19 spread outside of the school system is going to lead to further delays in getting children back into the classroom full-time if people don't come together and follow the commonsense guidelines that limit the spread of a virus during a global pandemic. 
"Every school district now is gradually moving children back for in-person instruction," said Governor John Carney. "Not every day, but doing it safely with fewer children in schools, in front of teachers. Some days, the children are learning remotely. Other days they're in in-person instruction...We need everybody to lean in right now, because we're contemplating...some of the restrictions that we had in place before."
"We're telling you this now, because this is not what we want to do. We don't want to be in a position where we have to put further restrictions in place," Rattay said. "We also don't want to have to close school again."