The Delaware Department of Correction is seeking a $365.2 million budget for Fiscal Year 2022 while touting a prison population at "historic lows."
DOC Commissioner Claire DeMatteis told Joint Finance Committee members Wednesday, Feb. 10, 2021, that there's currently 4,200 inmates in Level V facilities.
"It's very significant that, really, we're at a historic low in our prison population," she said.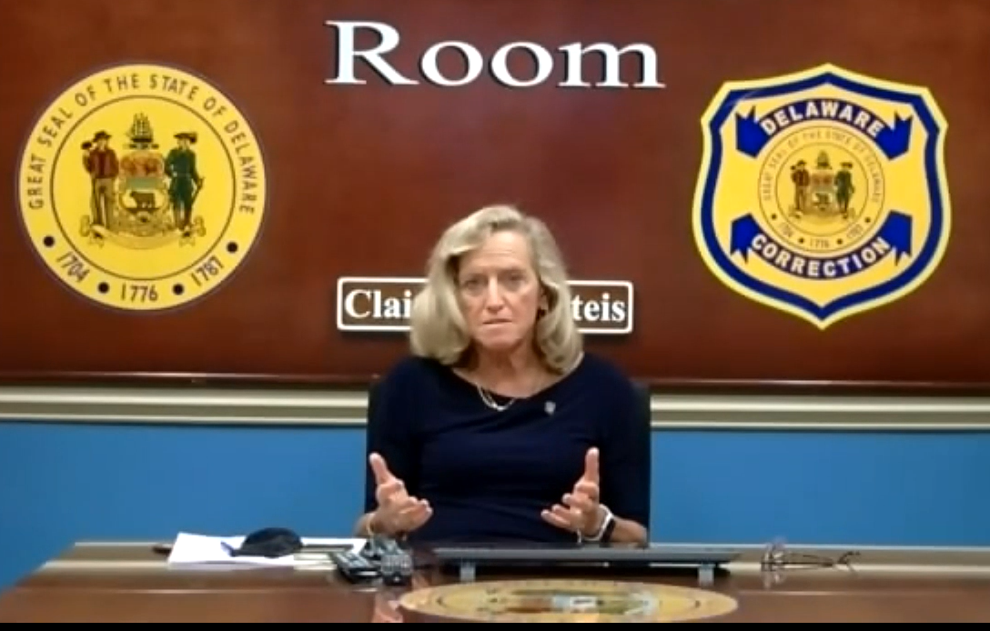 The Level V prison population is down 25% in the past five years, due in part, she said to bail reforms and COVID-19, but the Delaware DOC's budget request is $15 million more than the current fiscal year, representing just over 4% growth.
Personnel remains the highest expense for the state's prisons, costing $220.4 million. In FY '22, personnel will cost an additional $4.5 million as the state continues efforts to raise correctional officers' salaries to be more competitive. 
"Which our officers suggest they deserve," said DeMatteis.
Salary increases have become a priority for correctional officers after a riot at James T. Vaughn Correctional Center in 2017 killed Lt. Steven Floyd.
Prison health care
The DOC is also spending $9 million more on healthcare via its new contract with Centurion. Rep. David Bentz (D-District 18) asked specifically for an explanation for that cost increase.
"It's the cost of the contracts are more expensive, and it is a factor of you get what you pay for--that is solely what is driving that increase," said DeMatteis. "We hadn't put the behavioral contract out to bid in eight years; we hadn't put the medial contract out to bid in six years...when we put the new contract out to bid, we were anticipating, as was OMB, this level of an increase."
Bentz asked whether there's something quantifiable to show that the new vendor is providing a higher quality level of service.
"For us, it was important to make sure we had those quality controls so we can report to you--hospitalizations are down by "x" percent; we can report to you that staffing levels are up by 10%. We know we need those benchmarks--that's what's driving our contract now--is Centurion meeting those benchmarks? And we build into the contract--we first incentivize them to...meet those benchmarks.  But after a year, 18 months, if they don't, we built into the contract that we penalize them, and we'll take money back if they're not meeting those benchmarks."
Vocational training/Re-entry
The DOC would also like to expand vocational training for inmates at a cost of $140,000, across facilities, on top of funding approved in the last capital budget. At Howard Young, there's currently no vocational training.
"Offenders there, typically, have a sentence of five years or less whereas James T. Vaughn, sentences are typically much longer; however we don't have vocational skills training at Howard R. Young, it doesn't make sense," she said. "So we've identified the space, that if we had the funds, we would work with the Delaware Skills Center to bring in construction training, roofing, HVAC, welding."

"We'd love to take the Delaware Skills Center and put it inside our prisons to be honest with...for example, we don't offer roofing in any of our vocational skills training, but when you talk the outside labor groups, as we've done...they need roofers. Same with restaurants, it's why we enhanced our culinary arts program in all of our facilities because the Restaurant Association is telling us that's where the jobs are."
DeMatteis said each inmate sentenced to more than a year receives a transition accountability plan after taking vocational and educational skills assessments for inmates after sentencing.
"If their sentence is 18 months or three years, we need to get them a GED at that time, and if they have construction skills, we need to keep them current. If they wanted to get culinary arts skills...then we know within the time period of their sentence, we need to get them in that culinary arts program."
She also wants $75,000 to go towards the correctional officer education fund, established by former Commissioner Perry Phelps that would help COs to  get a college education, if they don't already have one.
"The governor agrees with us that this is a program that we need a dedicated funding source for," said DeMatteis.
Staffing challenges
The department seeks to spend $35,000 on officer recruitment and retainment with as staffing remains an ongoing challenge. Currently, the department has 125 vacancies, according to DeMatteis.
"I think by this time next year, we may be anywhere from 60 to 80 number of vacancies. When we get down to 50...we are authorized to go to [Office of Management and Budget] and ask for additional correctional officers because there are staffing analyses that show that once we reduce our current vacancies, each facility really should be staffed even higher," she said.
During public comment, Correctional Officers Association of Delaware president Geoff Klopp pointed out as 30 correctional officers graduate from a training academy in May, another 60 or so will retire or leave for other reasons.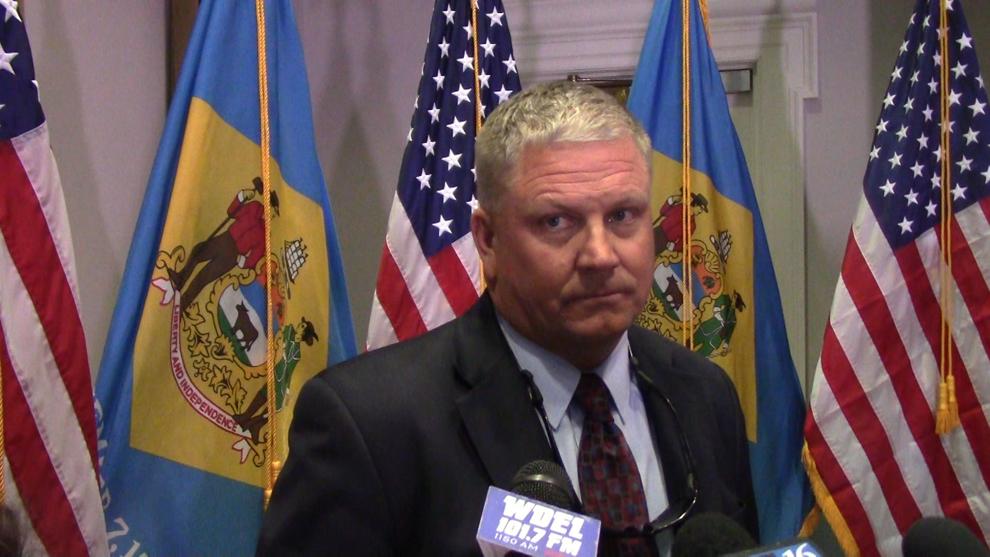 "We currently have about 50 more correctional officers working today on the day that Steve Floyd was murdered, and that number is not increasing as dramatically as we'd like to see," he said. "Given our current compensation package, I see that there's no way that we safely are going to be able to continue down the path that we are for the next 27 months of our collective bargaining agreement."
He called for passage of House Bill 80 which would make correctional officers pensions parallel with pensions received by other law enforcement officers in the state.
"Since our salaries are anywhere between $10,000 to $15,000 behind every other law enforcement officer in the state, it's paramount that we have parity when it comes to our pension," he said. "To put it bluntly, if we don't do anything any different, we're going to be kicking the can down the road."
It's unclear how much pension parity would cost with the fiscal note on the bill listed as "incomplete."
Other DOC budget requests include:
$39 million building lease inflators
$715,000 for the In electronic health record-keeping system
$522,000 for a water/sewer rate increase in usage
$432,000 for computer replacement
$154,000 for CO uniforms and clothing/linens for inmates
$66,000 for stun guns and training supplies
$35,000 on recruitment and retention
$12,000 for non-lethal munitions
$9,700 for K9s
$4,100 for ballistic vest replacement
Combatting COVID-19
While the Delaware DOC has come under fire amid a recent COVID-19 outbreak where hundreds of inmates and correctional officers were infected and the virus was widespread in three facilities at one time, lawmakers on JFC applauded the state agency's efforts to mitigate and control the virus.
Currently, DeMatteis said there are three active cases among inmates at Sussex Correctional Institution and about two dozen inmates in the final stages of recovery from the virus. She attributed success in mitigating the virus to isolation steps that include sending inmates to the COVID-19 treatment center, designed to hospital standards, at the James T. Vaughn Correctional Center.
"When anybody gets COVID that's the first place they go; there's four tiers in that building; it can house about 196 inmates," she said, noting they're never needed the entire space.
She added they know COVID mitigation strategies of pro-active testing and thorough cleaning have been successful. 
"For example, at Howard R. Young in Wilmington and Baylor, they went eight months without any COVID cases. We've gone four, six, eight weeks at a time at James T. Vaughn with no COVID cases; we went 16 weeks with no COVID cases at SCI."
Vaccinations will help further reduce virus spread with inmates being incentivized with five days of "good time credit"--or time taken off their sentence--as well as meal of their choice and free commissary items, if they get both shots.
"We've had just shy of 700 officers, healthcare workers, and inmates get vaccinated," said DeMatteis. "We expect that by the end of the summer that we can get as many officers and inmates vaccinated who want to get vaccinated, and we're hoping for an 80% vaccination rate for both officers and inmates--that's our goal."
Check out DOC's full budget presentation: