There's $100 million in grants now available to help bail out Delaware's small businesses impacted by the novel coronavirus COVID-19 pandemic. 
The DE Relief Grants program will seek to aid more than 3,000 small businesses and nonprofits in Delaware with grants ranging from $30,000 to $100,000. New Castle County is contributing $10 million to the total being provided for the program, which draws from both the state's and the county's respective CARES Act funding. 
"Our Delaware relief grants...[will] provide assistance, mostly for those small businesses who have experienced a significant revenue decline to enable them to stay in business, frankly, to bring people back to work, and to carry on with their business in our state" Governor John Carney said Wednesday, August 19, 2020. 
Funding qualifications are based on the reported revenue listed on 2019 federal tax returns, and state officials will continue to reevaluate resources to reach as many businesses as possible. 
"A percentage of that will equate to the amount of the grant that they can get," Director for the Delaware Division of Small Business Damian DeStefano said. "Most businesses, we expect, will be eligible for at least $30,000 of funding, and...up to $100,000. We think we'll be able to reach at least 3000 businesses with the amount of the grants."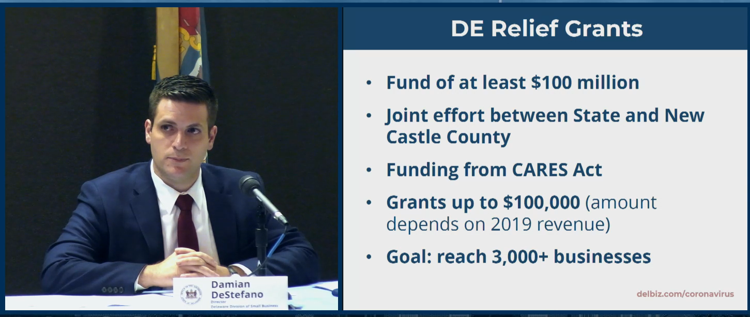 The grants will be distributed on the following model considering the business or nonprofit's 2019 revenue:
$0-$500,000: Up to $30,000
$500,000-$1 million: Up to $50,000
$1 million-$2.5 million: Up to $72,500
$2.5+ million: Up to $100,000
Businesses will need to apply for the grants online to begin the process, with the first of three rounds of applications opening up in September. The other two rounds will follow in October and November. Officials said this was to ensure business owners would have time just to learn the grants even existed. 
"What we saw with some of the federal programs was, when they launched all of them at once, there were some times there was a backlog and the information didn't disseminate to all the businesses in the community," DeStefano said. "So we want to make sure that happens. And then everything will be based at the following website, which we've created which is: DelBiz.com/relief. It's live now, and we'll be updating that website daily with new information."
Businesses should gather their 2019 tax returns and receipts for qualifying expenses--which includes those incurred during or planned around the COVID-19 pandemic--prior to the application process, as the program is based on reimbursement. For example, small businesses making modifications to store locations to ensure customer safety could use receipts for these projects. Officials said DE Relief Grants can be used for:
Purchasing equipment to make a workplace suitable for COVID-19 safety (such as PPE, plexiglass, air purifiers, etc.)
Refinancing of debt incurred due to COVID-19 (including State of Delaware HELP loans)
Advertising efforts undertaken as a result of COVID-19
Fixed expenses the applicant accrued during COVID-19
Additionally, a window decal is available for businesses participating in the voluntary Customer Protection Standards Program, which allows visitors to small businesses know the operator has completed a checklist of safety measures provided by Delaware officials before they ever step through the door. More information on that program is available on DelBiz.com/protect.