"Conditions on the ground continue to stay positive," said Gov. John Carney Friday while giving the latest update on Delaware's response to the novel coronavirus COVID-19 pandemic. 
Carney said, as conditions related to the pandemic improve and the state begins to reopen, officials are also going to be very cautious. Around the country, as other states move to reopen, Carney said a dozen states have seen significant rebounds trying to do certain things too quickly. 
"We still are seeing increased number of positive tests day-to-day, the percent positive are very low at this moment and what you'll see...the progress that has been made as we shut down sectors of our economy, stay-at-home orders that were effective and that worked. We'll also see what's happening in other states where the reopening has caused a rebound."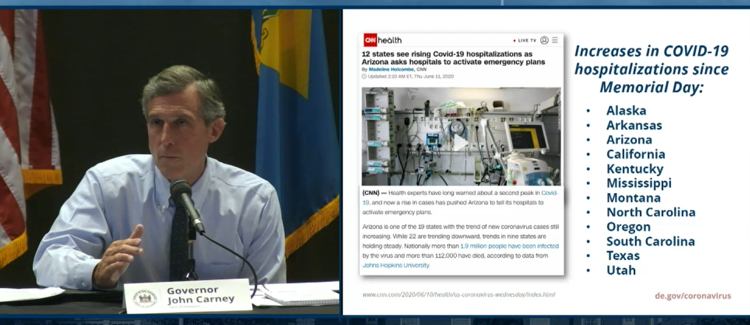 He said those rebound concerns are the driving force behind much of his administration's decision making now, with the debut meeting earlier that same day of the Pandemic Resurgence Advisory Committee, chaired by Lt. Gov. Bethany Hall Long. 
"Now they're seeing a rebound, and it should be one of our concerns--for all of us--and the message of it is: We can't let our guard down; we can't become complacent. And I've seen some of that as I've traveled around the community in my own neighborhood, sports teams that are getting organized and practicing probably before they're really able to do that under the order, and doing it in a way that's not safe, in terms of protecting the spread of the virus."
He said some of the states seeing rebounds of the virus weren't as careful as Delaware--but some were, and that's worrying, as Carney said it shows the virus still has a foothold within the community which it could use to launch itself into another serious swing back to infecting a large number of people very quickly. 
"My reason for noting this is to just underscore the point that the virus has not gone away," Carney said. "Even with states--not every state was as aggressive in shutting business sectors down at their stay-at-home orders, but many were, including North Carolina--and yet they're seeing these rebounds in hospitalizations and COVID-19. Part of it is because, we can only speculate, that...the virus has opportunities to spread with people not using the precautions in terms of social distancing and mask-wearing with large gatherings. We are concerned, and I've expressed that."
He said Delaware has suffered enough through the pandemic, and it shouldn't be for naught, but there is potential to lose the ground gained during the shutdown if people aren't careful now. 
"The very worst possible thing would be--with all the cost of human lives and and sickness and loss of businesses and revenue and all that, with the shutdowns--and then to have a rebound, because we've kind of let our guard down and not been serious about the fact that the COVID-19 is still among us," he said. "Wearing a face mask, staying at least six feet apart; This is the new normal for, at least, until there's a new tool. There is a vaccine and an effective treatment. Everybody's willingness to do this will show, particularly in the mask wearing...I continue to see people that raises concern that the folks are losing focus on the need to do these things, but be assured that we're not out of this, and we need to do it."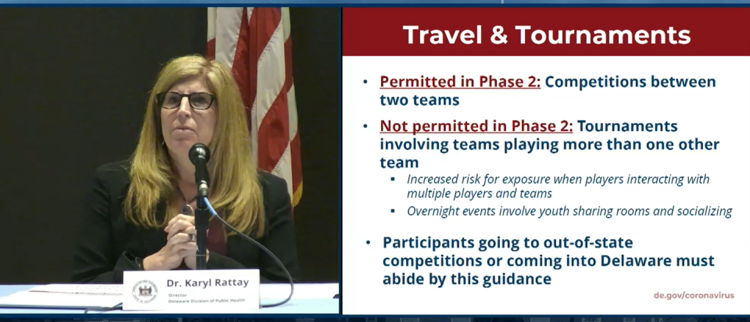 More low-impact sports guidance was issued Friday by Dr. Karyl Rattay, Director of the Division of Public Health. While "a lot more thought," is needed for big group, close-contact sports programs like indoor basketball, hockey, ice hockey, football, wrestling, or rugby, other, safer sports will begin with the start of Phase II of Delaware's rolling reopening on June 15. 
"We just haven't figured it out yet," Rattay said. "We'll be working with others to put attention to these sports in the not-too-distant future, but at this point, individuals in these high-risk sports can certainly do conditioning, they can do practices, but they need to maintain social distancing at all times."
Sports permitted to begin again will require social distancing and face masks, but specific requirements for team sports include no sharing equipment or hand-shaking at the end of a game or hanging out with other players to avoid cross-contamination across geographic regions. That includes staggering arrival times for different teams. 
Sports-specific recommendations included:
Baseball/Softball: Moving batter's box up, or face covering for catcher
Soccer: no body checking or headers
Lacrosse: coin toss instead of face-off
Basketball: outside only
Field hockey: Social distancing during penalty corners
Volleyball: limiting number of players
Flag football: limiting number of players
While competition between two teams will be permitted, tournaments won't be introduced in Phase II, and visiting teams to Delaware must adhere to the recommendations.