Big news regarding what officials have dubbed Riverfront East represent what Wilmington Mayor Mike Purzycki called a choice. 
"I'm fond of saying that cities either grow or they die, and I think this represents that choice that we took," Purzycki said to WDEL. "We're going to grow. We will continue to grow, and grow ourselves economically, culturally, and socially in every way we can." 
The next phase of development along Wilmington's Christina Riverfront was unveiled Friday, May 14, 2021, a project that started with Riverfront West nearing completion after almost 25 years in the works.
Riverfront Development Corporation Executive Director Megan McGlinchey said the $100 million, 86-acre project will start with $30 million Phase 1, which will feature 13 acres of dedicated recreation, entertainment, and common areas with 3,500 more linear feet of Riverwalk, 1.9 million sq. ft. in office space, 350,000 sq. ft. of retail space, more than 4.7 million sq. ft. of residential space across more than 4,000 units, and 9,650 parking spaces.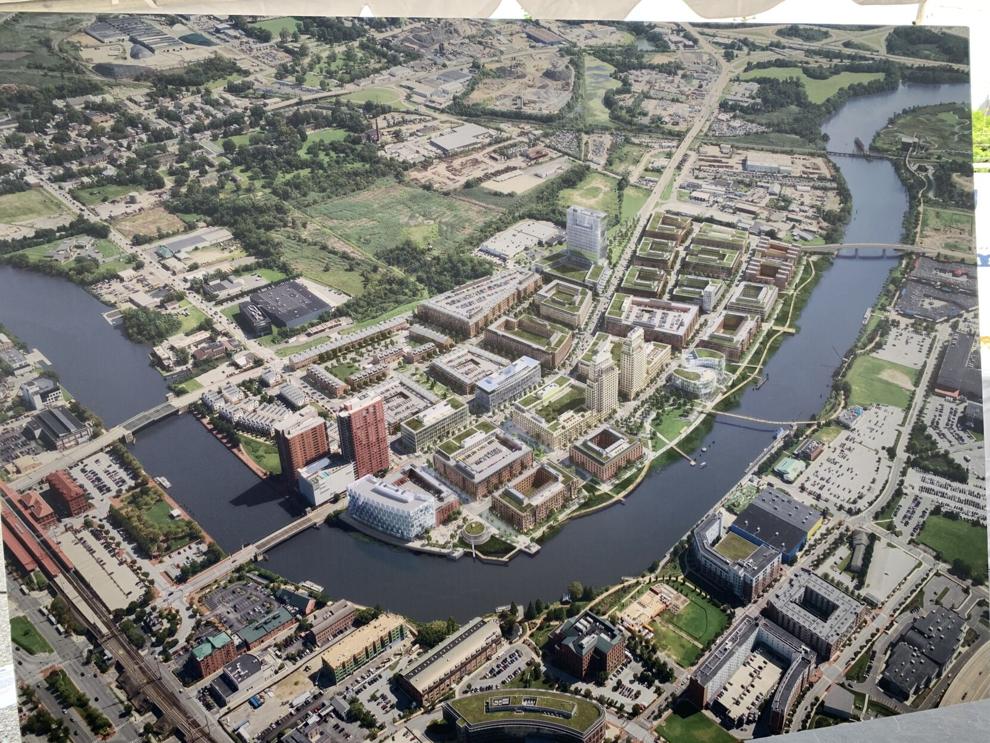 "Pedestrians and cyclists will also be able to easily cross from west to east. Our ultimate vision is to create one unified and fully accessible Wilmington Riverfront community," McGlinchey said. "Like Riverfront West, there was an evolving master plan for Riverfront East all along the way. We will invest in projects that, upon completion, will open up new and immediate services and opportunities to enhance the way people live, work, and play in Wilmington."
Phase 1 is anticipated to cost $30 million, with $20 million coming from a DelDOT capital project allocation, and create 179 new jobs with a target completion date of year-end 2023. 
With officials pointing to successes along the riverfront's already developed and completed portions of the project, from the Riverwalk, to the home of the Wilmington Blue Rocks at Frawley Stadium, to the restaurants and attractions between it and the 76er's Fieldhouse, officials all pointed to U.S. Senator Tom Carper, governor at the time, as one of the fathers, founders, and visionaries of how far Riverfront development has come and where it will go next. 
"Everybody said, 'You're not going to be able to build a Riverwalk, you're not going to have housing down there,' all of the things that you're not going to be able to do, all these different things," said Governor John Carney. "Senator Carper, they did them all. They did them all. And we're going to do more. And then it was, we did that side of the river, but we can't do this side of the river...Well, guess what? We're going to do this." 
Carper eschewed the labeling, instead saying the debut of Riverfront East was a cumulative effort by a number of individuals all working toward the betterment of their city and, in turn, the entire state. 
"This is a tribute to what you can do when we work together," Carper told WDEL. "Democrats, Republicans, the public sector, private sector, state, federal government, can do amazing things...They brought this idea to me, gosh, my first year as governor and said 'We think this could be something terrific.' Ideas are not worth much unless you have the follow-through."
So Carper said that's what he did, investing $80 million over eight years in his time as Delaware's leader to get it started and support that vision. The plan has helped lifted up Wilmington, which is one of the more important projects officials can undertake for the health of the rest of the state. 
"We like to say as Wilmington goes, the county and the state go. We cannot be successful as a county, unless Wilmington is successful, and it's hard to see Wilmington's success today without the success of this riverfront--economically, but there are other aspects as well," said New Castle County Executive Matt Meyer to WDEL. "This is a tremendous environmental project, helping to save our planet, helping to have a positive impact on climate change right here in Wilmington, right along our prized Christina River, making sure that we're doing everything we can as your elected leaders to preserve on land, air, and water."
Which are positives those at home can appreciate, said Wilmington 4th District City Councilwoman Michelle Harlee.
"When I first started as city council member, I made a promise to my constituents to work with everyone to move the fourth district and the city of Wilmington forward," Harlee said. "I cannot think of a more appropriate contemporary demonstration of this than the Riverfront East--economically, socially, environmentally. The Riverfront East is indeed moving the fourth district, and the city of Wilmington, forward. My mission is to be a champion of innovations that foster neighborhood connectivity, and that attract people from far and wide to experience how vibrant an opportunity-laden Wilmington is."
Those interested in following along with the project's progress can check RiverfrontEast.com.