Highly-trained analysts with backgrounds in security and military service watch with a keen eye and careful consideration as they survey dozens of images at a time from the more than 2,000 cameras inside Delaware's prisons.  
They work inside the Delaware Department of Correction's new Intelligence Operations Center in a top-secret location in Dover, unveiled Thursday, September 10, 2020.
DOC Commissioner Claire DeMatteis said they're looking for visitors attempting to smuggle in drugs, cellphones, and other illegal contraband, or whether inmates are trying to construct makeshift weapons in down time. They're also looking for trends.
"Are rival gangs plotting against one another or against an officer?" she asked. "If we know that inmates meet at three o'clock every single day in a certain part of the yard, the analysts are watching that to see if they're plotting something and if they do it every single day for a couple weeks on end, you've got a pretty good indication something's up."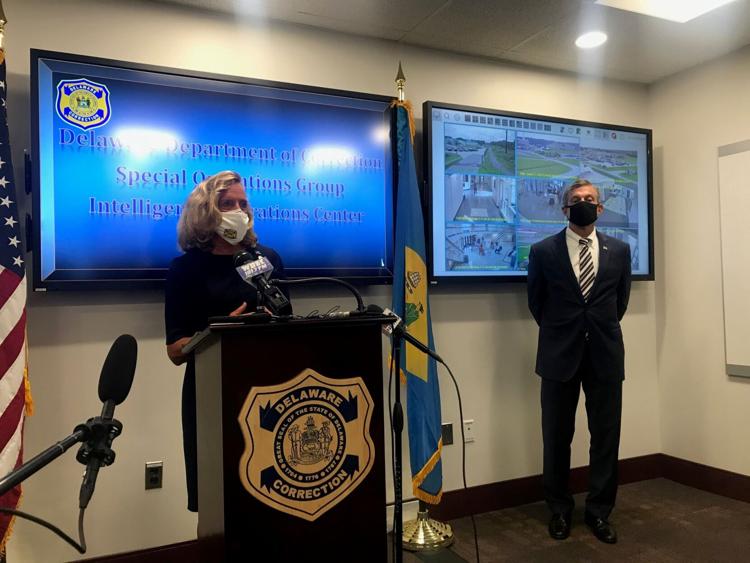 DeMatteis said these snapshots combined with human intelligence from correctional officers on the ground make Delaware's prisons a safer place than they were three years ago, when correctional officer Lt. Steven Floyd was killed in a 2017 uprising at the James T. Vaughn Correctional Center. At that time, there were no cameras in Building C where the uprising occurred. Had this technology and communication coordination existed then, DeMatteis believes the riot could have been thwarted.
"At the core, Feb. 1 and 2nd of 2017 was a failure of communication and a failure to gather and share intelligence, and this intelligence operations center addresses both of those issues. It is constant communication, and it is the best intelligence gathering and sharing this department has ever had," she said.
Governor John Carney called the uprising two of his "worst" days as governor. It occurred in his first few weeks on the job, and since then he said he's worked diligently to ensure another prison siege never happens again.
"When you lose a correctional officer, when you lose a state employee, when you lost somebody who's job it is to keep the rest of us safe and to keep the institution secure and the inmates safe, it really hits you in the heart," he said. "Two things stuck out to me after that uprising--one was that we didn't have cameras; now we have cameras. Cameras aren't much good unless you can use the information that's on them--and that's what this is all about." 
But it's also about improved communications.
"The internal affairs report--clearly--one of the things that jumped out at you was the inability to put the pieces together, which led to the death of one of our correctional officers, and it still hurts my heart to think about it," said Carney. "The bottom line is that correctional officers, and our institutions, and inmates are safer than they've ever been. We have a greater ability than ever to know what's going on behind those walls, for people who would do ill to themselves and others, including our state employees who work in those facilities."
Wowed by progress made by the state and the Delaware DOC, Carney said this intelligence operations center serves as proof that they're making good on his vow to do better.
"It's about the commitment that we made three-and-a-half years ago--it's about the commitment that we've made to our correctional officers, it's about the commitment we made to the public that what happened in Feb. of 2017, is not going to happen again in this state," he said.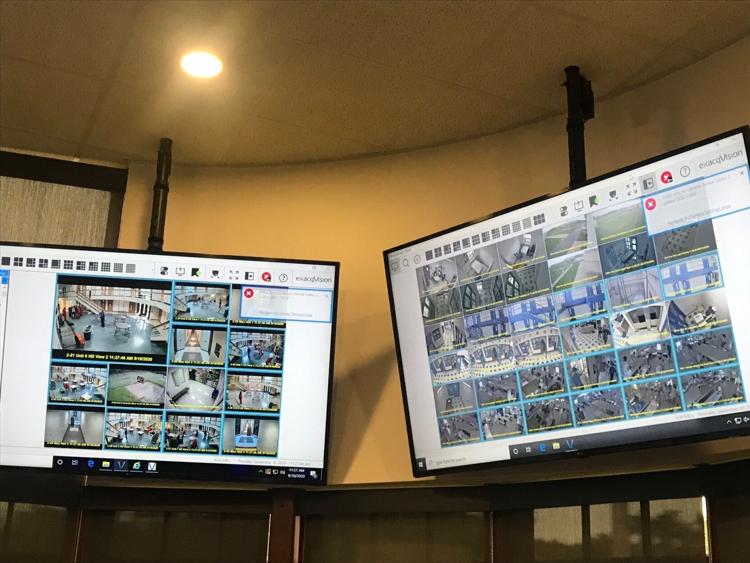 While cameras often serve as a deterrent for inmates to stir up trouble, DeMatteis remarked sometimes people forget they're there.
"And they make really stupid mistakes, and we've got it on-camera; it also keeps officers honest--it works both ways," she said. "One of the recommendations from the independent review team report was that any incidents of force be videotaped, so we do that now--there are video cameras on every tier, and if any incident of force, one officer is assigned to video it."
The system also has connections to other state agencies also help relay information in real-time.
"So every law enforcement agency knows when something occurs that we need them to, it comes out on their radio systems automatically," said Warden of DOC's Department's Special Operations Group Dana Metzger.  "It is one of the most advanced systems—in my background in the military for 23 years and working intelligence operations in military police, what the governor the commissioner, and the chief have developed here really is state-of-the-art, and it is going to really help Delaware stay safe."
He pointed to circumstances in which the surveillance system can lead to helpful analysis of situations behind bars.
"We have an uptick in grievances in this building--what's going on? Maybe, we need to look at the officers that are working in those areas or conditions that are going on," Metzger explained. "Over this last holiday weekend...we started to see some upticks in not following orders as they usually do. What can we attest that to? So we go back and look...and see family members--they were talking on video visits--they missed their family during the weekend; they wanted to be with them during those things; they're very remorseful that they crimes that they were committing--and that's what made them act out--just like anybody would in those positions, where depression starts to creep in."
The system can also reveal correctional officers that may need remedial training or a need to change dynamics inside certain buildings and move inmates. 
Many of the cameras capture both audio and video that's continuously recorded and stored on a cloud system for up to 30 days. Snippets can also be saved in perpetuity if they're part of an ongoing investigation. 
The center's five analysts also answer calls from a tip line which correctional officers can call to report alleged suspicious activity. Tips can be anonymous.
"If [a correctional officer] feels like his supervisor is not taking the information seriously, that officer can directly call the tip line," said DeMatteis.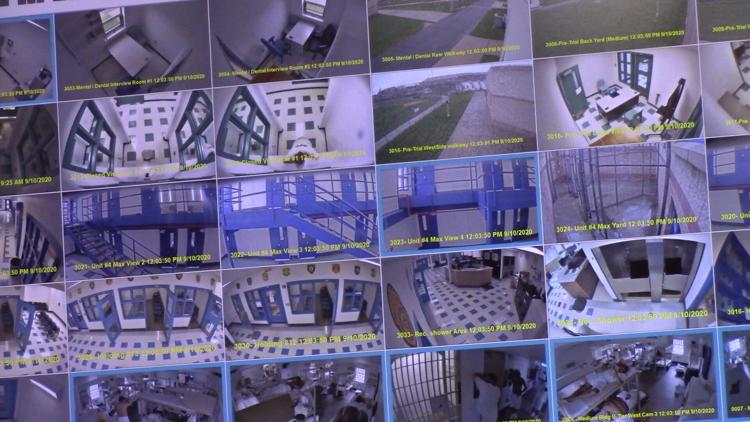 The intelligence operations center is housed inside a former state building, upgrades and the technology inside it cost the state $880,000. Its establishment is one of the final steps that needed to be taken on the road map, established by the independent review team, which identified necessary reforms to prevent another riot.  
Technology a helpful tool, but 'more officers needed'
While the new technology is a very important, helpful tool that increases safety behind the walls of Delaware's prisons and brings facilities into the 21st century, Correctional Officers Association of Delaware union president Geoff Klopp told WDEL what the department really needs is more officers.
"We currently have exactly 10 more correctional officers working than the day Steve Floyd died. We have made no progress in our hiring and retention, and the department is currently wasting about $5 million a year on the fact that we lose almost 60% of the people that we hire in the first three years."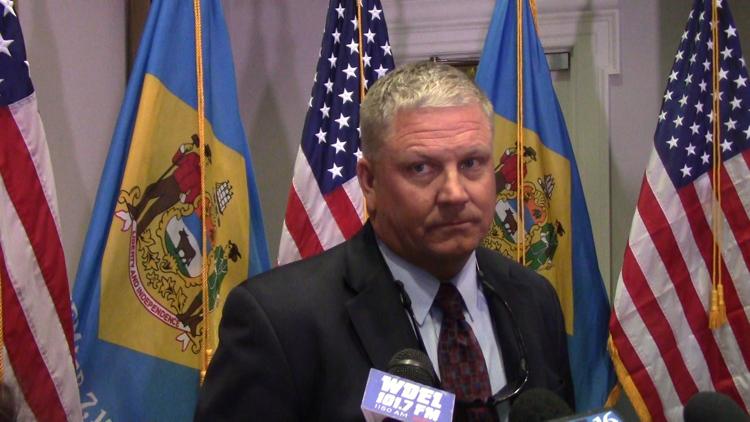 Klopp said, too often, newly hired correctional officers leave for higher paying jobs.
"We're still the lowest paid law enforcement agency in the state, and our pension is extremely uncompetitive--it's the worst pension for law enforcement in the state," he said. "When you're anywhere from $6,000 to $15,000 behind in starting salary to every other law enforcement agency in the state, you will continue to swim uphill."
He added DOC needs to improve its hiring practices.
"When you start with over 50 people in an academy class, and you end up with 30, I just question how those people got a seat at the table," he said. 
Delaware prison officials tout that cutting back on unsustainable overtime that leads to exhaustion of correctional officers, raising starting salaries, and implementing signing bonuses have been helpful tools. Still, vacancies persist.  
"At the height...we had over 260 vacancies. We still have 150, because as fast as we fill vacancies, we have officers retire--so that's a stubborn number to get done. My goal has been to get it under 100. I think the fewest vacancies this department ever had was in 2008-2009 when we had 38--I'd love to get that low, but I'd be happy with under 100," said DeMatteis.
"I really don't care how many vacancies there are--I know there are current 1,533 correctional officers working, and the day Steve Floyd died, there were exactly 1,523 officers," Klopp said.