Delawareans have time to adjust, but plastic bags are on the way out in Delaware.
With Wilmington's Christina River as the backdrop, Governor John Carney signed on Monday, July 29, 2019, House Bill 130, which bans single-use plastic bags, and companion bill, Senate Substitute 1 for Senate Bill 5, which increases penalties for illegal dumping and creates a Litter Investigation and Enforcement Fund. The plastic bag ban doesn't go into effect until January 1, 2021, but both efforts align with Governor's Carney's Keep DE Litter Free initiative.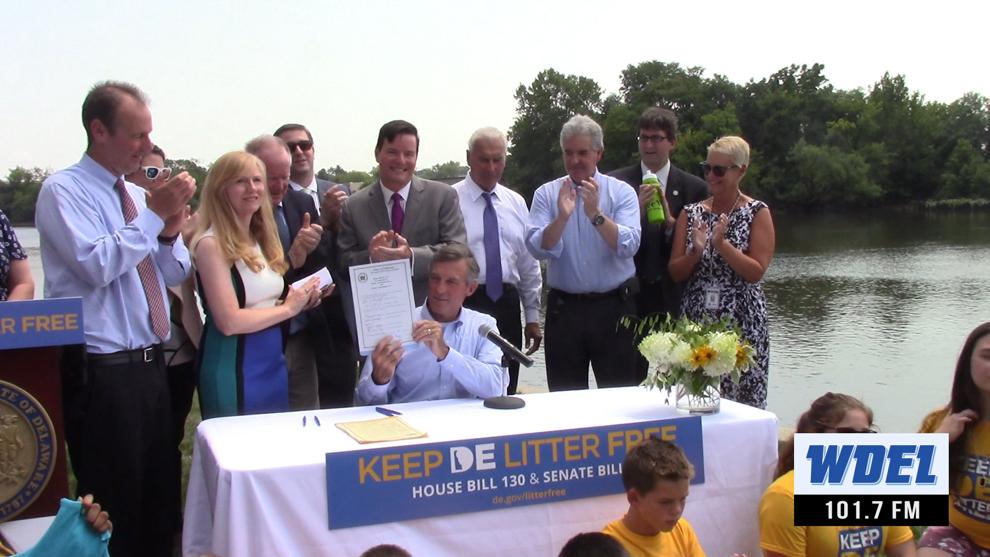 "They're ending up out in our marine environments, and they break down into toxic bits in our food chain--we're all literally eating plastic every day," said Dee Durham, co-founder of Plastic Free Delaware.
Her push to rid Delaware of plastic pollution began nearly a decade ago, since she said the 2009 recycling bill didn't go far enough to change shoppers' behavior.
"Less than 10 percent of single-use plastic bags are actually recycled or reused, so that means over 90 percent are actually ending up out in the environment, in our communities, in our road sides, or in the landfill unnecessarily."
The Ocean Conservancy's annual international coastal clean-up found more than 1 million plastic bags, according to state Sen. Stephanie Hansen.  
"Number four on the list of litter that they found internationally was plastic--plastic bags in particular," said Hansen. "In front of plastic bags, number one--cigarettes--no surprise there; number two [was] food wrappers and containers, and number three [was] plastic beverage bottles. The idea of littering and and plastic bag reduction and elimination go hand-in-hand."  
She told WDEL what ended up being an all-out ban on single-usage plastic bags didn't begin that way.
"Earlier versions did ...have a fee on both paper and plastic and that's what'a often seen elsewhere, around the country, around the world--in Europe and whatnot. I actually started working on this with my kids when they were young...and we were looking for something quick and easy to do. We heard that other countries were doing this, and we thought, 'Oh that'll be quick and easy. Who could possibly support plastic pollution?' But here we are 10 years later just getting the bill done."
But she called Delaware's law imperfect because some stores are simply ditching plastic for paper bags, which isn't the law's intent.
"Our goal is not to get people to switch to paper, we want people to switch to reusable bags, so we're not quite there yet because there is no fee on paper," she said.
Dollar Tree has already switched to paper bags, according to Durham.
"A lot of the national chains know that these laws are coming all across the country, and they're proactively making the switch," she pointed out. "I do hope stores will do it proactively before the deadline of January 1, 2021."
Nevertheless, Durham called it a great first step towards a zero-waste future as she works to push for plastic straw, paper bag, and Styrofoam bans. She's confident, though, the measure, in its existing form, will change behaviors.
"More than 55 percent of the world's population is now covered under a law like this, and if you travel to any of those places, including Washington, D.C., Chicago, Montgomery County, Maryland, California, Europe--they all have these laws and people are used to them now and they have changed behavior," she said. "First of all by not having the plastic bags available is going to hopefully stop and think."
Newark Charter School graduates Sabin Lowe, 19, and Tara Cain, 17, are living proof that human behaviors can change. Not only did they work to aid in the plastic bag ban's passage, through testifying at Legislative Hall, they've gotten their families to adapt to ditching plastic.
"I know my family still uses shopping, plastic bags, but for garbage, but my family's been getting in the habit of bringing reusable bags, but...we use metal straws and bamboo utensils, so we're trying to work on it," said Cain.
Cain said she still walks out of stores juggling her items because she refuses to use plastic, but forgot her reusable bags.
"Just leave some reusable bags in your car or in your purse, and it will just become a habit."
Lowe said his parents have come to be plastic bag ban champions.
"It's hard at first to become conscious of it, but once you are, it's super easy to not...you just have to use less, it's not implementing other things," he said.
"[My parents] have full utensil sets that they bring to restaurants; they bring their own bags to go shopping, and I think that can happen with anyone," said Lowe. "Once you kind of expose them to the problem--no matter who they are, I think a lot of people are more willing to change that I think we are...once they get over that initial shock of having to deal with that change, I think a lot of people are very easily going to be able to make the switch."