Delaware parents, students, educators, and staff won't know what the reopening of schools might look like this fall until early August.
"If we ever needed a motivation to wear a face covering, to keep social distancing, to avoid large gatherings, this is the motivation, which is so that all our children, all our grandchildren, our neighbors' children can go to school and get more in-person instruction than they otherwise would have if the conditions on the ground don't warrant it," said Governor John Carney Tuesday. "We're going to reopen the schools in a safe and sound way with the objective of making sure that every student gets as much in-person instructional time as possible, in a safe way, with the emphasis on being safe."
Governor John Carney expressed that he wants schools to open in late August or early September, with as much in-person instruction as possible, so long as conditions prove safe to do so in regards to the novel coronavirus COVID-19 pandemic. 
"The report that we've gotten from the special committee looking at the reopening of their schools--[Delaware Department of Education Secretary Susan Bunting] is with us today--really focuses on three different scenarios, which are a measure of the wellness, the health of the community in our state," Carney said. "It'll be a green category, which is the safest health condition, the yellow category, which is a hybrid of of good and bad if you will, and a different approach, and then a red category, which is keeping schools closed, and we don't want to be there under any circumstances."
Carney pointed out school staff could be vulnerable to contracting COVID-19, depending on the reopening approach. With recent outbreaks among younger crowds, officials are finding the virus while not as severe in fully healthy youthful populations, it could still present significant risks for older educators.
"Our goal is to get to as much in-person instruction as we can, but to do in a way that's safe for students and, more importantly to a certain extent, for staff...we want to protect everybody," he said. "Increasingly, we're concerned about teachers and staff. Our focus is going to be opening our schools in a way that's safe, based on the spread and the existence of the virus in the communities."
Whatever plan is chosen, Carney said he'd like to see consistency across districts and schools, but understands plans need to be flexible. 
"We've already seen how there can be geographic differences and districts will need to respond to that. Every district's a little bit different in terms of the number of students they have, the configuration of their school buildings, their operational needs."
Before the school year would begin, Carney wants all educators and staff tested--though logistics are still being worked out; those initial tests would be followed by periodic testing, he said.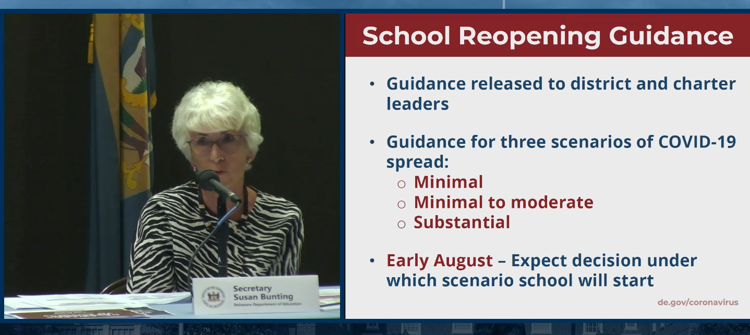 Bunting described the breakdown of scenarios, each of which already have recommendations made by working groups.
Scenario I: Minimal community spread. Returning to schools for full in-person instruction, if we had certain precautionary measures in place
Scenario II: More moderate community spread situation. Schools using a hybrid, or a mixed model of instruction, complete with some remote learning, some in-person learning
Scenario III: Virtual learning in place with school buildings being shuttered because of a significant, very strong, or substantial community spread.
"What you will see...is something that districts and charters will use to support the continued development of the plans in their individual districts or charters," Bunting said. "This collaboration between the Division of Public Health and the Department of Education is really going to lay out what schools must plan for, and then the individual school districts have to take the task of making sure that this works in a particular school district, according to their needs, their size, their buildings, their population and so forth. And that will possibly take a different look in different places."
Bunting broke down where more than $12 million in federal CARES Act funding would go to improve infrastructure and add safeguards for students and staff. But any scenario-based approach wouldn't be determined until early August.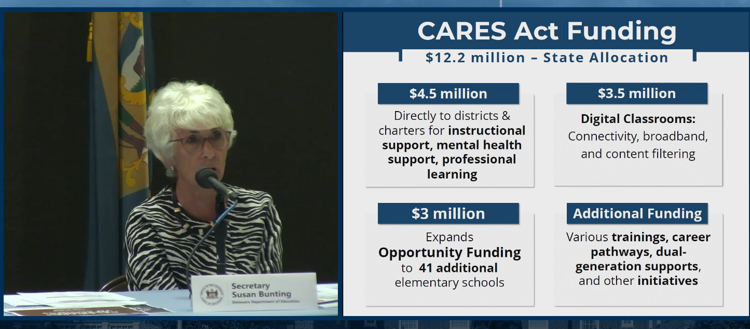 "Bottom line, our top priority is to make sure that we get the best educational experience for our students. We want to make sure that we prioritize the health and safety, but we also want to maintain that goal of providing high quality, equitable educational opportunities for all of Delaware's learners," Bunting said. "Any scenario that you look at involves keeping our students safe, and so you will be expecting to see in all three scenarios. The use of face coverings, social distancing. And we also have transportation precautions that will be taking place on buses as they bring our students to us each day...Whether it's in-person or remote learning, there are pros and cons to the situation...We will be looking at the statistics, we will be looking at circumstances and, in the meantime, we're planning before that big decision is made in early August...All three scenarios will be looked at, and our districts are working hard to make sure that they're ready."
Dr. Karyl Rattay, director of the Division of Public Health, said she supports children receiving as much in-person instruction as safely possible, as it aids social and emotional skills to be around their peers, with healthy meals and mental health support also more readily available in a learning institution. 
"There is some good news that the evidence, to date, suggests that kids and...adolescents are less likely to have symptoms of severe disease," Rattay said. "They're also less likely to become infected and to spread the virus. And there's a new study that looks at kids who are ages 10-and-under, who seemed to be less likely to become infected in comparison to kids 10-and-up, and that helps us in the way we're thinking about safety for kids. But certainly, it doesn't mean that the risk doesn't exist for any school-aged child, as well as the staff who are in those school buildings."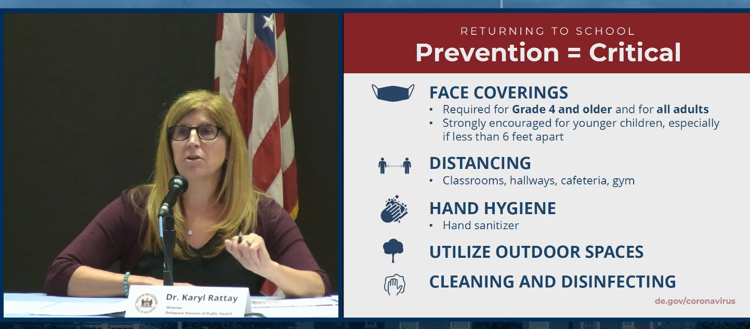 Face coverings would be one of the most important tools available for minimizing spread among students and staff in school buildings, and it would be "critically important," Rattay said, for kids age 10 and older, or grades four or higher, to wear face masks, as it would be for all adult staff.
"Certainly for kids under fourth grade, we strongly encourage those younger children to wear face coverings, and especially if they are less than six ft. apart in school buildings," she said. "Kids need to be social distanced. Ideally, we aim for six ft. or more; there is some science that supports three ft. or more as long as the children are wearing a face covering."
She said access to hand sanitizer will also be key.
Getting children outside as much as possible would also be helpful, she said, and cleaning and disinfecting would be a top priority. 
"Schools will have a school coordinator [and] we will work with them on social distancing and on cleaning and disinfecting schools, as is appropriate," Rattay said. "The main point I want to get across is, we will continue to work with the Department of Education and the schools and the districts to ensure that we are...providing the support that is needed for schools to be ready, and to progress through the year as we move forward."
Children will also undergo risk assessments.
"It's important that children and staff are not going to school if they have any signs of COVID...so we're working with the Department of Education...we have a tool that can be used before kids and staff go to school in the morning," she said.
Carney said Delawareans will ultimately play a huge role in whether kids return to the classroom in the fall.
"If ever there was a motivation to wear a mask, it's so your son or daughter...can go back to school in the best way possible this fall and stay in school," said Carney.