Now in the 38th week of Delaware's State of Emergency, public health officials continue to grapple with the novel coronavirus COVID-19 pandemic as the community saw its highest single-day increase in new positive cases reported Tuesday. 
Just before Governor John Carney's weekly press conference detailing the state's response to the virus, the Division of Public Health reported 682 new positive cases added from the day prior. 
Due to technical issues, only Part II of Tuesday's press conference was made available
"As we start to move into the holidays this month, in December, we just want to remind everybody that we're experiencing, now, a significant uptick of COVID-19 in our state," Carney said. "And we have to take measures to mitigate the spread of the virus. More people have the virus and are testing positive, and our numbers are, frankly, off the charts compared to where we were."
The average daily increase has jumped to 524--another record, topping the previous high of 239 in April. 
The increase in average and new cases is at least, in part, due to more testing being conducted by the state--though testing doesn't "create" new cases, only identifies existing spread among the state's citizens. Delaware has conducted more than 7,000 tests daily, on average, to try and identify areas of concern as COVID-19 numbers spike nationwide. In mid-October, Delaware was conducting around 5,200 tests per day and only 3,000 in late July. 
While 83% of people continue to test negative, the average percentage of people testing positive has increased from May's record to the current record of 16.4%. Additionally, the average percentage of positive tests increased to 6.8% statewide. The governor has previously identified that number being at 8% as the benchmark for closure of schools, which has been surpassed specifically in Kent County, where two out of three of the school's reopening criteria have entered the "red" zone, triggering some schools in some districts to close.
The Capital School District will go remote-only until at least January 1, 2020. Caesar Rodney will begin remote learning the week of December 7, 2020. Polytech remains in a hybrid plan. After the announcement, Gov. Carney said on Twitter:
"Our statewide school reopening gating criteria indicates hybrid learning. We rely on our DPH experts to interpret the information behind the data to guide our recommendations."
Our statewide school reopening gating criteria indicates hybrid learning. We rely on our DPH experts to interpret the information behind the data to guide our recommendations.

— Governor John Carney (@JohnCarneyDE) November 30, 2020
He doubled down on his comments at Tuesday's news conference.
"That particular dashboard was not meant to automatically signal that schools be closed once it passed that threshold, although that certainly was the impression that was given," he said. "So we'll need to work through that, what's acceptable and safe from a public health and from a medical perspective, and operationally, what's doable...with respect to the support of teachers, staff, and parents," he said.
But he stressed all decisions should include more than dashboard data including "what's actually happening in schools."
"Whether there's compliance with social distancing and mask-wearing, whether there's been much transition, which has not been the case, thankfully, and then the impact of the increased number of cases in the community as a result of that," he said.
While Carney said the state would be prioritizing at-home testing for educators and staff, Carney said officials would still be looking at a number of metrics to make decisions on schools remaining open, and school environments are safe because of the hard work of teachers and educational staff. 
"We're not seeing a lot of spread within schools themselves. Most of that spread is coming from the community and informal social gatherings. It affects teachers, parents, and staff--to lesser extent, children," Carney said. "What we know--and what every governor in our region has shared--is that schools themselves are safe places, and not places where there's more spread. The spread happens outside of schools and affects the operational needs of schools and classrooms. We also know that teachers and students and staff are doing a great job following the restrictions."
Also on Tuesday, however, the Delaware State Education Association president called for "greater transparency" from state officials to assure districts were doing all they could to abide by health and safety guidelines. An open letter from DSEA President Stephanie Ingram read, in part:
"For the first time, one of our three counties, Kent County, experienced rates that placed it in the red school planning scenario based on significant community spread. We commend those districts – Caesar Rodney, Capital and Milford – that made the difficult decision to return to remote learning (even momentarily) to allow time to assess how and when schools can operate safely with some amount of in person (sic) learning. We encourage those districts that did not take such action to give serious consideration to return to remote learning to allow for a similar assessment on their part.

"We have been told that our schools are a safe place to be. Stop telling us and start showing us by sharing all data and information regarding positive cases connected to schools, the results of contact tracing in terms of the number of identified close contacts required to quarantine and a clear indication of whether any transmission is occurring within our schools. It is also time for the state and districts to double down on their commitment to comply with all health and safely directives."
Carney addressed this on Tuesday, saying there was only so much the law allows them to share.
"I think there's a difference between transparency on a more global level and transparency at a micro-level. The fact of the matter is that we're limited in the data that we can share, like on a census tract, or zip code level, just by HIPAA restrictions if the numbers are very low. And so we're constrained by the numbers that we can use," he said. "We look at what's the situation in the county and across the state to make those decisions. But with respect to schools, the issue really is coming down to it being an operational one, much like the issue with respect to capacity in hospitals--obviously, very different missions in those instances."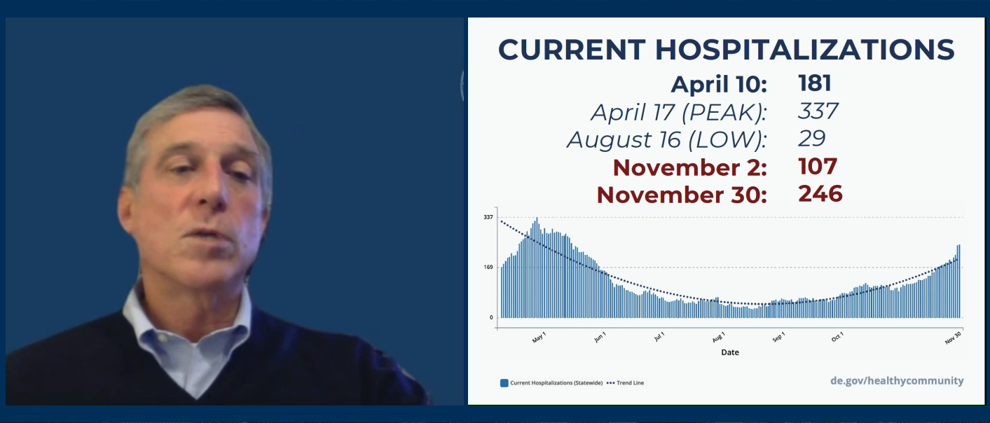 Data on cases of COVID-19 in staff and students at schools has been hard to come by, with no district or school breakdowns available amid robust data on the state's coronavirus website.
Hospitalizations have reached 246, the highest since May, which the governor called "very concerning." But ICU bed availability is listed as "stable," with less than 25% occupied.
Last week, Dr. Michael Benninghoff, medical director of ChristianaCare's medical intensive care unit at Christiana Hospital, told WDEL he was not concerned about capacity issues as it relates to hospital beds, ventilators, personal protective gear, or critical staff. 
"The bad news is we are seeing a significant increase in the number of positive cases of COVID-19, probably more so than we experienced at the height back in the end of April. And also concerning is the number of people that are hospitalized across their state. That number is rising...and that certainly is one of our biggest concerns, and has been from the beginning, to protect the capacity in our hospitals to treat, effectively, patients who are COVID-19 positive."
The death toll attributed to the virus has increased to 777 with five new fatalities reported Tuesday. 
Jamie Mack, chief of health systems protection for DPH, who's tasked with enforcing restrictions related to Carney's State of Emergency declaration and subsequent mandates, said they've been handing out more citations as COVID fatigue sets in.
"Unfortunately, we're still seeing some issues, so fines and other enforcement actions are becoming more common," Mack said. "Since we have been doing this for so long, we really all should know better by now. Everybody knows they should be wearing their face covering; everybody knows that six feet of distance and some of the other restrictions that we have out there specific to different activities and events...We're still seeing some of these very common themes among the violations that we're citing establishments and individuals for, and those come down to the three things that that I just mentioned: the face coverings, social distancing, and capacity...As we've been in this for nine or 10 months now, it's getting to the point where we get a little complacent. It's just the thought is not always there."
--
WDEL's Amy Cherry contributed to this report.