Superintendent of the Delaware State Police Col. Nathaniel McQueen Jr. was unanimously confirmed during a virtual state Senate hearing as the new Secretary of the Department of Safety and Homeland Security.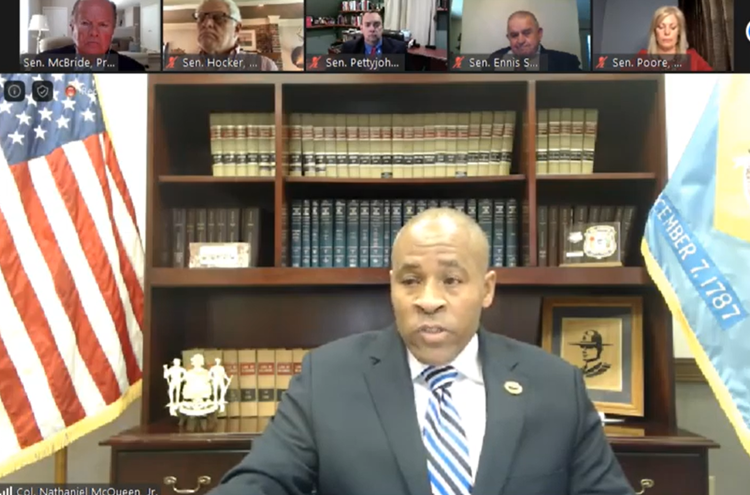 "I've had the opportunity to gain valuable leadership and management experience--currently managing approximately 985 of the 1260 employees assigned to Department of Safety and Homeland Security," said McQueen, who was nominated for the position by Governor John Carney, during an Executive Committee hearing. "I've had the opportunity to work with three prior SHS secretaries, along with other cabinet secretaries, on several critical incidents, public health emergencies, and weather-related events in fact in our state."
It was the first, "very historic" virtual Senate Executive Committee hearing, as congressional leaders remained socially distanced amid the global novel coronavirus COVID-19 pandemic. Many senators expressed regret the meeting was forced to be held virtually, making it difficult to achieve the fanfare and familial recognition usually included in the process. 
"I've been committed to strengthening community partnerships, violent crime reduction, and leveraging technology to improve our efficiency. I have experience providing leadership internally and externally with our community partners to improve traffic safety, and the overall safety of communities across our state," McQueen said. "Social work, education and law enforcement training has given me a better understanding of mental health, substance use disorder, and the effects of trauma. It has also allowed me to gain strong understanding of state government protocols, processes, policies, and applicable laws."
There was high regard among senators who chose to speak following McQueen's introduction, and many praised the work he'd done for the state of Delaware. 
"I know that when I received your name from the governor as a nominee, I couldn't think of a finer choice to head on for the department," said state Senate President Pro Tempore David McBride. "You have a tremendously successful career in policing work. And I know that you will go a wonderful job as their next Secretary."
Once in full session, the state Senate took a roll call vote, and he was confirmed 21-0. McQueen said he was just glad to continue to be able to serve. 
"I've been committed to a lifetime of service to my country as marine and to my community as a Delaware State Trooper and appointment as the next Secretary for the Department of Safety and Homeland Security would afford me the opportunity to continue to serve," McQueen said. "I remain committed to the dedicated men and women of the Department of Safety and Homeland Security as we strive to ensure the safety and security of our great state."
Additionally, the following individuals were voted on for the following judge and Justice of the Peace positions:
Charles Butler – Superior Court Resident Judge
Francis Jones – Superior Court Judge
Walter Newton – Justice of the Peace, New Castle County
Shanaya Eyong – Justice of the Peace, New Castle County
The Honorable Catherine Hester – Justice of the Peace, Sussex County
Brett Graves – Justice of the Peace, Sussex County
Candace Whitelock – Justice of the Peace, Sussex County