The Delaware Division of Public Health will be pausing all usage of the single-shot Johnson & Johnson vaccine in accordance with CDC and FDA recommendations after six cases of blood clots were identified.
"Out of an abundance of caution, we are recommending that our Delaware vaccine partners hold off on using the J&J vaccine until the situation has been further assessed. The state will not use J&J at its vaccination sites until we receive further federal guidance," said spokeswoman Jen Brestel.
Governor John Carney addressed the issue in his weekly coronavirus news conference Tuesday, April 13, 2021.
"They've identified a problem. We need to better understand it from a science perspective, so we can move on with kind of a greater assurance that the vaccine is safe," said Carney.
The decision comes after the CDC and FDA reported six cases of "rare and severe" blood clots in women ages 18 to 48 who received the vaccination. The six cases developed after more than 6.8 million J&J doses were administered nationwide.
"Please again understand this effect is extremely rare. The range is essential one in one million," said Dr. Karyl Rattay, director of the Division of Public Health.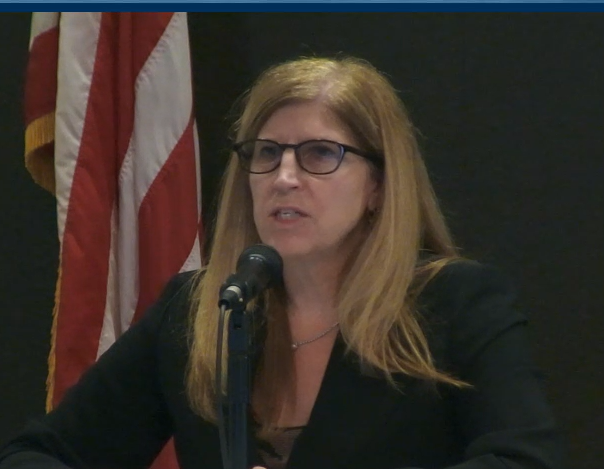 Their symptoms developed between six and 13 days after vaccination and included severe headache, severe abdominal pain, and a key symptom, Rattay said, shortness of breath. People who've received the J&J vaccine who develop those symptoms within three weeks after vaccination are urged to contact their health care provider.
"The symptoms of these rare events--they're not the expected vaccine side effects we are commonly seeing whether it's soreness at the site or kind of some flu-like symptoms like fever, nausea, in the day or two after vaccination," she said. "Those who've experienced those flu-like symptoms right after the vaccine--don't worry about that. That's to be expected."
Rattay cautioned the pause is so medical providers can determine how to treat it.
"It's treated differently then a typical blood clot. Heparin is often used for blood clots, and it's not supposed to be used with this CVST [cerebral venous sinus thrombosis]," she said. "Therefore, a pause just to make sure that the healthcare community knows how to identify these issues and how to treat these issues certainly makes sense, and also making sure that the public is aware. Even though it's rare, because it can be serious, it's helpful for doctors and the public to know what's going on."
The J&J vaccine was used at a state-run mass vaccination clinic over the weekend. DPH said none of the six cases nationwide involve Delawareans, and they're "unaware" of any links to blood clots and J&J vaccinations in the state.
Carlos del Rio, executive associate dean of the Emory University School of Medicine at Grady Health System, told CNN the blood clotting may be connected to how the Johnson & Johnson vaccine is an adenovirus vector vaccine -- the same type as AstraZeneca's coronavirus vaccine.
The AstraZeneca vaccine isn't in use in the United States, but has been authorized in more than 70 countries. The European Medicines Agency recently concluded that unusual blood clots with low blood platelets should be listed as "very rare side effects" of the AstraZeneca vaccine. While advising the public to look out for the signs of clots, the regulators said the benefits of the shot were still worth the risk. Del Rio adds he's still recommending people get vaccinated against COVID-19. 
Gov. Carney told WDEL expects to see some level vaccine hesitancy in the wake of the pause.
"Our hope and our messaging will be as we move through this pause on the J&J distribution is that that will create a level of confidence that it's safe since they're investigating six cases out of six million, and we'll see what the result of that is," he said. "We expect that we'll see [hesitancy] as we move through the populations more motivated to get vaccinated."
Anyone scheduled for Johnson & Johnson vaccinations in Delaware for the rest of this week should expect to hear from their provider within the next 24 hours about next steps.
"Although we will try to supplement pharmacies with Pfizer or Moderna, we don't have enough supply to fully supplement any shortage at this point, so there may be some cancellations," said Rattay.
According to the state's vaccine tracker, Delaware has received 45,000 doses of the single-shot vaccine. It's the least used vaccine in the state, and also the newest vaccine to be introduced. Delaware received to 295,000 doses of Moderna and 348,855 doses of Pfizer which have been received by the state to date. 
Johnson & Johnson vaccine supplies were also expected to be low this week with the state receiving just 1,700 doses, according to data from the CDC. That's down from nearly 15,000 doses the state received this week, according to the Division of Public Health.
The nationwide shortage of the single-shot vaccine is tied to millions of doses of the vaccine that had to be thrown out at a Baltimore production plant in late February. The New York Times reported plant workers conflated ingredients and contaminated vaccines.
The temporary halt in the Johnson & Johnson vaccine usage won't affect state clinics for this weekend since adjustments were already made due to anticipated shortages tied to manufacturing issues. But clinics that had been in the works through the end of this month.
"We had planned to use the Dover International Speedway for Johnson & Johnson events, so for those on the waiting list, we will likely be sending out fewer invitations in the next week," said Rattay.
It's unclear how long the pause may last.
"There's certainly no concern that vaccine will go wasted. Anyone, any pharmacy or other vaccine provider just needs to ensure they keep it stored safe at the appropriate temperatures, and it should be fine," said Rattay. "We certainly do hope that this pause is just a temporary safety check, so that the Johnson & Johnson vaccine that is in state is vaccine that we are able to use again soon."