A Winter Storm Warning is in effect for Sussex County, as Delaware's beach towns could see the most snow from a Nor'Easter expected to work up the Atlantic coast Friday night into Saturday.
NBC10 meteorologist Brittany Shipp said the snow should come in two rounds, with the first coming on Friday afternoon.
The first round should hit Friday afternoon, and provide snow showers, and perhaps even some sleet or rain downstate, before it phases with a southern storm that will be working off the Southeast coast, setting up the potential major storm for the northeast.
Heavier snow should begin in Sussex County around midnight, and continue into the late morning. One major question remains just how far northwest the heavy snow bands go, which would have major effects on the snowfall totals in places like Dover, Wilmington, and Newark.
The snow is then expected to pull away to the northeast by early afternoon.
NBC10 is placing southeastern Sussex County, from Georgetown to Fenwick, in the 7-10"+ range, with Kent and northwestern Sussex in the 4-7" area, and New Castle County in the 2-4" region. Nearby places like West Chester and Oxford, Pennsylvania might barely get 2".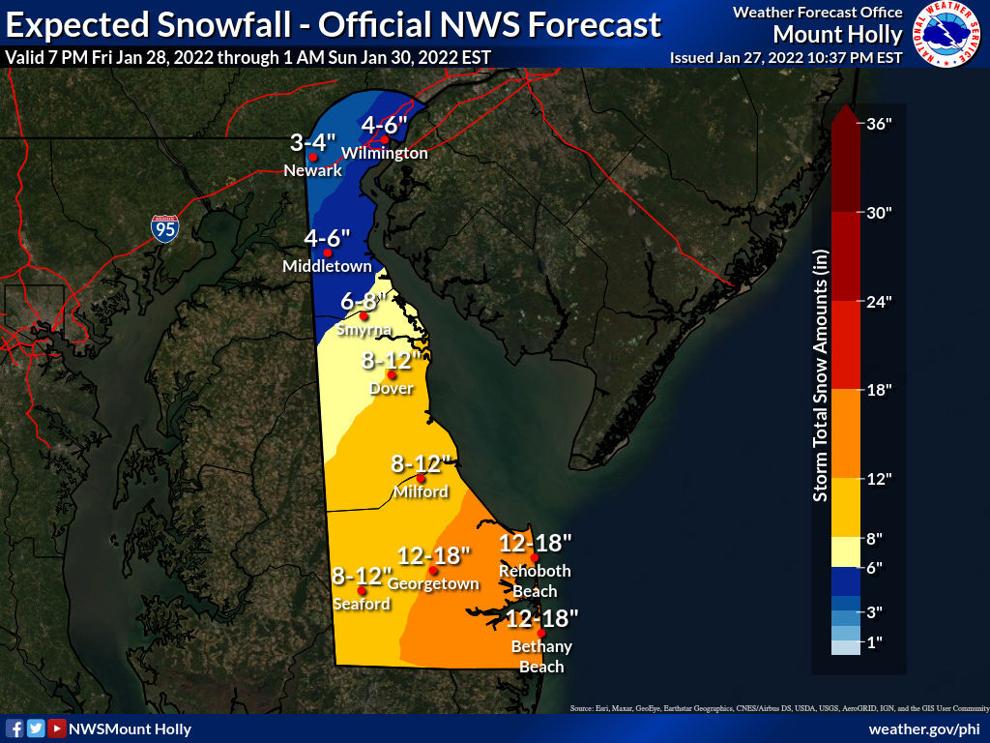 The National Weather Service is a little more optimistic for higher snow totals, placing that similar high-end range at the 12-18" level, with a 8-12" stripe from Dover down to northwest Sussex County. Smyrna is projected to see 6-8", Middletown and Wilmington 4-6", while Newark and Hockessin are in the 3-4" range.
There still remains some uncertainty, especially upstate, on whether the snow will hit at all. Newark and Hockessin have about a 20% chance of not even seeing a dusting of snow, according to the NWS.
The criteria for the National Weather Service to issue a Winter Storm Warning in Delaware is for 5" of snow, so as of 11:30 p.m. Thursday night, only Sussex County was in a Winter Storm Warning.
Kent and New Castle Counties were still in a Winter Storm Watch, while the Baltimore/Washington office of the NWS placed Cecil County in a Winter Weather Advisory.
After the storm clears Saturday, it is supposed to remain quite blustery, with winds of 15-20mph and gusts up to 35 into a low-to-mid 10s Saturday night, with highs reaching just 29 on Sunday.
A warm-up is expected starting on Tuesday, ahead of a chance of liquid rain Wednesday and Thursday as the NWS thinks a storm will pass well west of Delaware, allowing warm air to fly into the area, likely melting away much of Friday night's snow.