Initial unemployment claims took another slight dip, as did continuous claims a week after officials said they were higher than at any point in history, but the Division of Unemployment Insurance said first-time claimants are still coming in at a rate of about what they would see for a whole month prior to the start pandemic.  
"We continue to see initial claim volume for regular unemployment declined slightly week-to-week to just over 3000 claims," said Director Darryl Scott. "A little context for everyone is that, prior to the pandemic, 3000 claims would be a number we would see in a month. So we're still seeing weekly volume equal to or greater than what we had seen in in a month prior to the pandemic, hitting--for the 12 weeks, March 15 to June 6--over 106,000 claims. That's the equivalent of the prior 38 months, going back to January of 2017 through February of 2020.
Weekly Initial filings break down as such for that time period:
March 15 - 21: Initial Claims - 10,720
March 22 - 28: Initial Claims - 18,987
March 29 - April 4: Initial Claims - 18,863
April 5 - April 11: Initial Claims - 13,258
April 12 - April 18: Initial Claims - 9,294
April 19 - April 25: Initial Claims - 7,754
April 26 - May 2: Initial Claims - 6,183
May 3 - May 9: Initial claims - 5,197
May 10 - May 16: Initial claims - 5,584
May 17 - May 23: Initial claims - 4,651
May 24 - May 30: Initial Claims - 3,052
May 31 - June 6: Initial claims - 3,037
His department has paid out $372,353,392 in assistance since the start of the pandemic. More than $45 million of that came in just the last week alone. 
"About 66% of that's from the federal government, and $122 million from the Delaware Trust Fund," Scott said. "A little note on the trust fund is that we're entering the week with about $80 million in the trust fund. We anticipate that the trust fund will be spent down to zero sometime in the middle of July."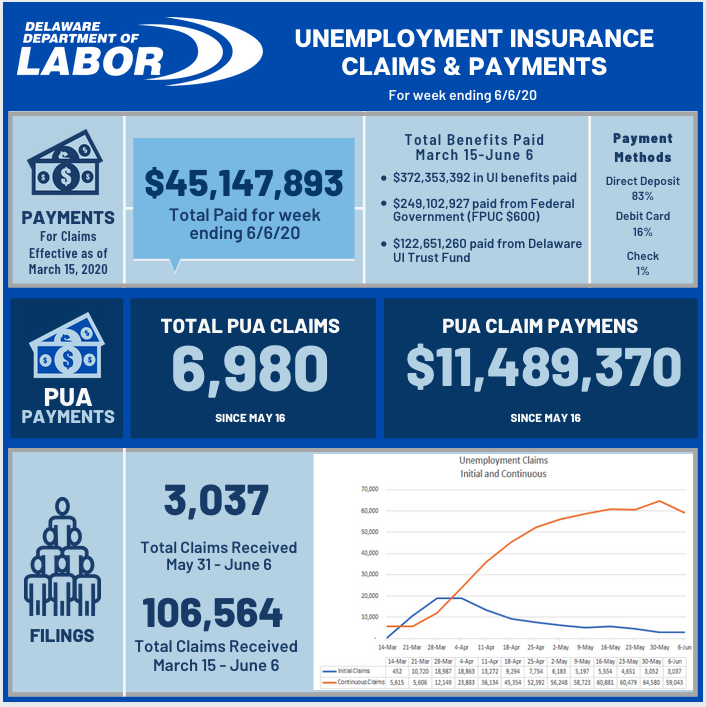 Scott said steps have been taken to ensure continued, uninterrupted unemployment insurance assistance for Delawareans who need it, mostly through borrowing from the federal government, interest-free through at least the end of the year. 
Borrowing in three-month increments, Scott said they've secured just shy of $200 million through September. 
"That could fluctuate," he said. "It's based on what we project with continuous claims volume, and obviously if the economy opens and the recovery is much stronger than we anticipated, then the amount of money we would need to borrow would be less. Currently, as part of the CARES Act, borrowing from the US government is interest-free through the end of the year, and the administration--the Secretary of Labor and other secretaries within the state--are looking at the potential use for other CARES funding that the state received to help us address the trust fund as well."
Scott said they've also received 6,980 Pandemic Unemployment Assistance claims since May 16, 2020, from claimants who wouldn't traditionally be eligible for benefits as a self-employed business owner or independent contractor. 
"The total number of PUA claims continues to climb," he said. "We're now at nearly 7,000 PUA claims in total. We continue to see, each day, additional PUA claims paid. The most significant progress made over the last week has been the payments of those claims, so we we went from less than 200 a couple weeks ago to we've paid more than 2,000 PUA claims."
That's equivalent to $11,489,370 paid in PUA assistance so far, with more than 5,000 people still waiting for a response on their filing. So for those who have filed a claim and haven't received a response yet, Scott said they're working hard to get to you. 
"I know each and every day we're doing more," Scott said. "We're getting better at navigating the system, and getting more efficient at processing claims and paying more each and every day."