Young children who need a little extra help achieving educational success received it today with Governor John Carney's latest bill signing. 
On Friday, Governor John Carney signed into law House Bill 86, which creates a pool for students in kindergarten through third grade who are designated special needs and are required by law to receive additional resources to aid in their education--resources for which no additional funding had traditionally been provided. 
HB 86 creates a pool of money for those students to provide more funding to schools that need to fill those gaps. The bill's primary sponsor, Rep. Kim Williams, said a bill to amend the issue had been in the works for more than six years. 
"Delaware special education students are classified as either having 'basic,' 'intensive,' or 'complex' needs. Each designation has a lower unit ratio to provide additional staff and support, except for kindergarten through third grade special education students. Schools are required to provide the resources yet there is no funding associated with that," Williams said. "We fund kindergarten through 12th grade students who are classified as 'intensive' or 'complex,' but the state--until today--did not fund the same for our youngest learners in the K through 3 who are classified as 'basic.' We all know that early intervention is the key and resources are a must for our students to be successful, especially for our youngest learners."
As of November 2020, there were 2,242 special education pupils currently enrolled in Delaware's schools, according to the Department of Education. Funding is provided on a unit number, meaning currently, $87,178 of state funding and $32,042 in local funding are provided as one unit for every 16.2 pupils.
HB86 lowers that required number to qualify for a unit of funding to 12.2 pupils on July 1, 2021, and again lowers it by two for the next two years, until the qualification hits 8.4 pupils on July 1, 2023. 
The act adds approximately 128.51 units of funding to the school system upon implementation, meaning in Fiscal Year '22, it's expected to cost the state $4,035,235, and local agencies $1,483,155. In FY'24, that cost is anticipated to increase to $11,888,974 for the state, and $4,369,726 to local agencies.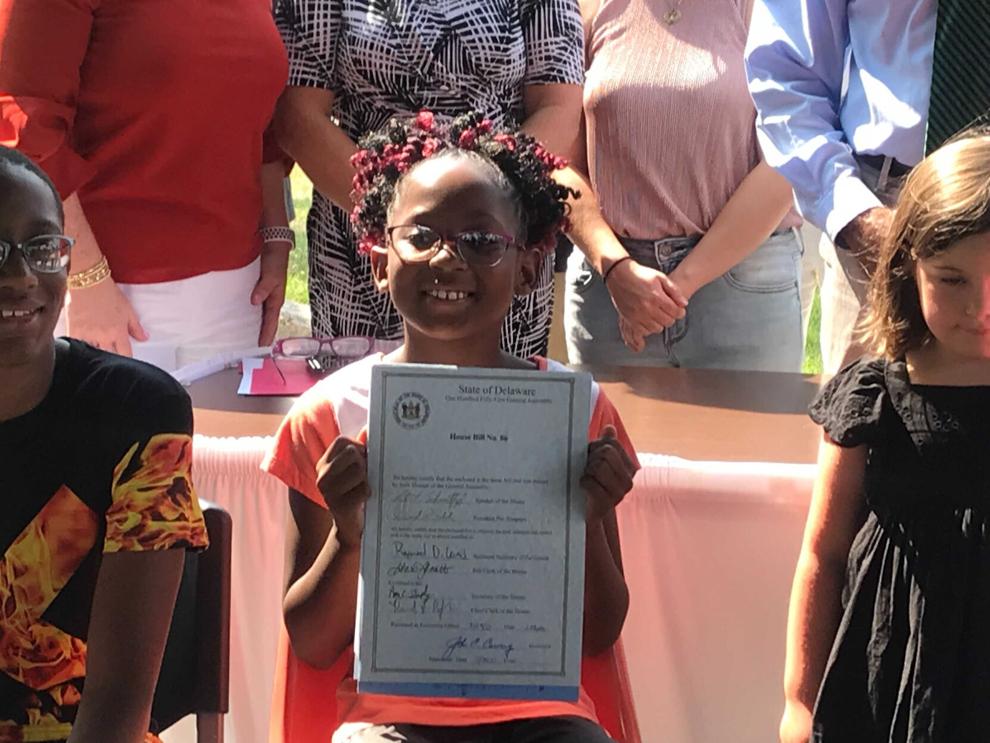 "When it comes to education, there's so much for us to do," said Sen. Nicole Poore. "What I tend to find is that, oftentimes--especially related to this piece of legislation--we are reactive versus proactive. This allows us the opportunity to, for the first time, be proactive in the education process for our students that need it the most...One of the great things that our governor has done is, he's been able to make sure that we've stayed ahead of the game when it comes to some of the challenges that we have walked through, especially in the last 18 months."
For his part, Carney said getting help to students who need it at the earliest possible moment leads to success for everyone. In addition to the Opportunity Funding signed earlier this summer, Carney said Delaware is well on its way to making sure its providing for the children in the First State who need to be aided in their opportunity to get ahead in life. 
"This is about you, this is about all our students...this is a happy day," Carney said. "[We do this] signing, really, to complete the work that's been done now for a number of years to get specific funding for, frankly, children who need it the most in kindergarten through third grade; who need a little bit of extra help for their foundation of their academic careers. We know if we're able to get them early, they will be more successful in the long term."