The DIAA Board of Directors voted to approve a three-tiered Delaware high school football system for the next two seasons.
After a lengthy discussion about the merits of whether two-time defending Division 2 champion Howard should be moved to the top level or not, the board decided to vote on a proposal created by the state's public superintendents that had them in 2A.
DIAA Board Chair Bradley Layfield said despite Howard's run of three Division 2 titles in five years, he heard Howard's complaint about a small male student population -- just over 300, smallest of any potential 3A -- being a sticking point that doesn't guarantee the run continues.
"Yes, they've had recent success, that's no guarantee of success over the next two year cycle. As a 2A school, I don't think there would be a very compelling argument at that time if they walk the dog in 2A that they should remain there."
The superintendents also modified the Delaware Association of Athletic Directors' proposal by moving Polytech from 2A to 1A. Polytech Superintendent Amelia Hodges joined the board last week.
3A would consist of 11 schools, 2A of 21 schools, and 1A would have 14 schools, once varsity programs at Early College HS and Odessa become established.
No determination was made on how realignments would be done going forward, whether win/loss records would take greater weight, or is enrollment would still be a key factor.
There was also no decision made on a scheduling format, especially at 3A, where the five-team District 2 would only have four guaranteed games. A scheduling committee is being formed to look into how to create the mandated schedules so schools could begin seeing out-of-district or out-of-state games.
These changes are only for football. The DIAA Board has discussed in recent months considering making similar changes in other sports if the football changes are successful.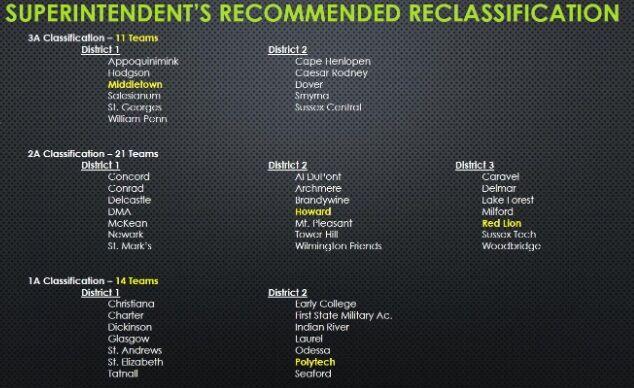 CLASS 3A 
District 1
Appoquinimink
Hodgson
Middletown
Salesianum
St. Georges
William Penn
District 2
Cape Henlopen
Caesar Rodney
Dover
Smyrna
Sussex Central
CLASS 2A
District 1
Concord
Conrad
Delcastle
DMA
McKean
Newark
St. Mark's
District 2
A.I. duPont
Archmere
Brandywine
Howard
Mt. Pleasant
Tower Hill
Friends
District 3
Caravel
Delmar
Lake Forest
Milford
Red Lion
Sussex Tech
Woodbridge
CLASS 1A
District 1
Christiana
Wilmington Charter
Dickinson
Glasgow
St. Andrew's
St. Elizabeth
Tatnall
District 2
Early College
First State Military Academy
Indian River
Laurel
Odessa
Polytech
Seaford