A majority of Delaware's school leaders said they would support a decision by the DIAA Board of Directors to move the fall sports calendar back to fall, but it was far from unanimous.
DIAA received 38 responses to their anonymous survey, with 14 superintendents, 9 heads of school, 4 principals, 3 presidents, 2 athletic directors, 2 headmasters, and a "school leader", interim superintendent, and assistant also responding.
The DIAA Board of Directors was seeking input to potentially reverse their decision last month to move fall sports into a rotation of Winter-Fall-Spring which would have reduced seasons beginning in December.
Fifteen of the 24 school leaders said they would be in favor of a move by the DIAA Board to permit fall sports "to start immediately."
The DIAA then gave all school leaders the option of a preference of September 21, 28, or October 5 as the first day of practice for fall sports.
Twenty voted for October 5 as their first choice, 28 said September 28 was their second choice, and 29 said September 21 was their third preference.
There were also additional answers placed for later in October, along with some of the schools who were not in favor of moving from the fall.
DIAA Executive Director Donna Polk said she met with Conference Presidents last week, and they proposed three different timetables based on those selected starting dates, with each ending with the football championship the weekend before Christmas.
The plans each allow for a two week preparation period before competition. DIAA's Sports Medicine Advisory Committee recommended a three-week period, with a fourth for football, but the DIAA Board of Directors can overrule their suggestion.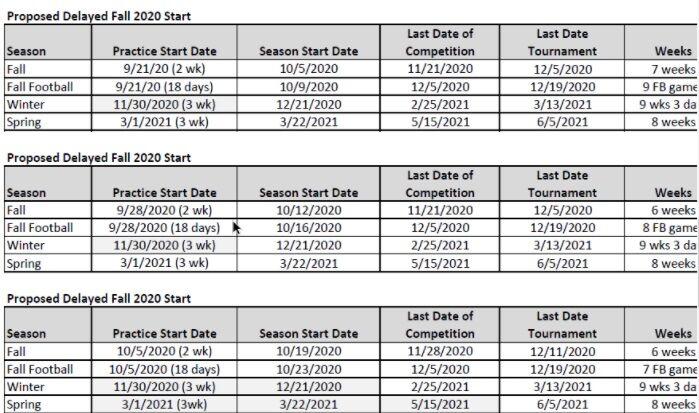 Perhaps the more pressing question for equity were the five school leaders who said their school/district would not allow their student-athletes to participate in DIAA activities if fall sports were moved back to fall.
Those five were added by "probably not", "when it is safe", "will consider leaning towards no to focus on academics", and "contingent upon our local board approval".
Seventeen voted yes, but by the nature of the survey, it's uncertain how many schools that would cover, with some school superintendents leading several high schools in the state.
The leaders were then asked what challenges they might face if fall sports opened in the fall.
Acquiring and potentially paying for the new approved PPE for the sport; Conditioning of athletes. We do not want to risk injury; Organizing processes & procedures from practice to eventually games; Transportation for our student athletes. Since we are remote this will be an issue
About one-third of our students have chosen full remote learning. I believe the challenge of starting fall sports would be the logistics involved of getting those students to practices
Equity issues surrounding students who would then be unable to participate on days when they were not being educated in the building
operational costs, sanitation protocol, EQUITY, optics of students not in school, pressure on district for other activities 
Transportation, but we have already developed a plan. Just waiting for state approval.
Proper conditioning of athletes to prevent injury.
Eighteen leaders said their school/district could be ready by the chosen date to compete in sports against four no, but there were still several schools who had concerns including capacity limitations, locker rooms, and PPE.
Where there was strong agreement was 71% of respondents would recommend state championships be held for fall sports, even with a shortened season.
Schools were also given the opportunity for final comments, which were wide-ranging.
Providing the information sought in this survey without knowledge of the specific restrictions and/or allowances that will be in play for the high contact sports (i.e. football, wrestling) is asking Superintendents and districts to make a blind, uninformed commitment. A "sign here first, details later" mentality that less no defensible position for either side of the decision being made.
We need time for the following: (1) ask DPH for indoor facility use, including needs for inclement weather, (2) create clear student athlete protocols, (3) allow students to get back into the groove of in school learning before increasing exposure risk
Safety first. Make the decision. Will you sign off on the liability? If we are not back until January? How can we have sports? Why are sports now overtaking the academic studies? Let's get our priorities safe. The pros are having a tough time. College athletics is having a tough time. So, high schools are going to do a better job and keep the virus off high school team? If a high school athlete dies from the virus... is that ok?
God Bless you all. This is a mess. Stick with your plan. It is prudent and safe - and still gets kids active and playing, at some level. This push to start sports is about loud parents. Bad message to open up now. And IF we start sports - all the districts should open for school.
Lets starting taking steps forward. A good plan starting today is better than a perfect plan tomorrow.
Please uphold the August 14 decision for the sake of our kids.
This survey, plus the recommendations from the Sports Medicine Advisory Committee, will be taken into account by the DIAA Board of Directors when their meeting begins at 9 a.m. Thursday, September 10, 2020. The public meeting is available by registering here.
Even if DIAA approves fall sports back into the fall season, it would still have to be approved further by the State Board of Education when they meet September 17, 2020. 
Complete DIAA Superintendent Survey Results: