Luis Cabrera died inside the walls of Howard R. Young Correctional Center in sheer "agony," screaming for help for more than two days, never getting the medical attention he required, according to a complaint filed in Superior Court.  
Dover attorney Steve Hampton filed the lawsuit July 9, 2019, on behalf of Cabrera's surviving wife, Stephanie, and daughter, Ashley.
"Luis' death was very painful and absolutely preventable," said Hampton.
Cabrera died from a perforated ulcer on November 8, 2018, one day after his 49th birthday.
"In most cases, when you treat somebody who has a perforated ulcer, if you treat them early, surgery will repair it, and they'll recover," said Hampton. "Other than this ulcer, Luis was in good health."
Hampton accused staff with the prison's medical provider, Connections, of ignoring the signs of his serious abdominal problem.
"Apparently, they decided he must be faking his symptoms, otherwise, their only explanation is they're just callous, mean people, who decided they'd let him die," said Hampton. "If they believed what they saw, then it's just horrible. If they believe he was faking, it's not much less horrible...but either way it's outrageous what they did."  
The complaint includes a chronology on what happened to Cabrera, beginning with stomach complaints in February of 2018.  
"I have been taking Tums for a stomach issue for over two months...I have noticed that if I don't take them I am in pain.  Something is not right, and I'd like a consultation."
On Nov. 5, 2018, a nurse wrote:
"Code 4...for Luis Cabrera...having extreme pain with his stomach...on the floor in a fetal position...his stomach was hurting, and he was unable to stand. After few minutes he was assisted to the wheel chair and transported to the main medical area...he rated his pain 8 out of 10."
On Nov. 6, 2018, medical records stated:
"Patient is screaming and banging; on attempt at assessment patient state: 'I can't talk the pain is too bad--I think its my appendix....I can't stand.' Patient doubled over on bunk but refused to come to cell door for assessment.
Less than an hour later, he was taken to the infirmary, where an ultrasound was ordered. The results, according to the complaint, found an "echogenic liver suggesting parenchymal disorder."
Two days later, Cabrera was dead.
Hampton likened Cabrera's death to "criminally negligent homicide."
"From the records that we've received...they are noticing all of the things going wrong, the extreme pain, the tender abdomen, just unremitting pain that he's in agony, he's writhing around in pain, he's screaming and hollering in pain, says he thinks it's his appendix. All of these things is happening, and they're medical professionals, they should realize when this is happening you've got some serious abdominal problem."
"I don't know if they're going to pretend that they really have no medical training and don't know this, or what the excuse is going to be."
Hampton wants to know how many people knew how bad Cabrera was and whether anyone prevented him from going to the hospital.
Cabrera, who was a potential witness in the James T. Vaughn prison riot trials, died in a cell in the prison's infirmary.
Hampton has long called the prison's medical provider into question.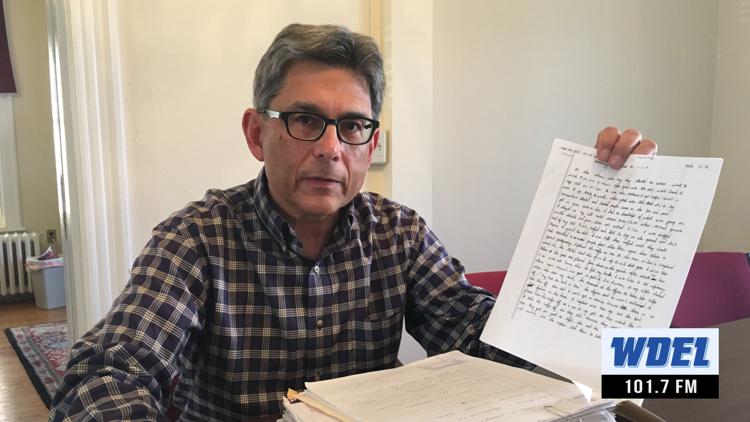 "A lot of times the problem has to do with lack of staffing. Connections, in particular, in the last several years, has had problems keeping competent staff," said Hampton. "Otherwise, they hire people, who for whatever reason seem to care not much at all for the people who they're supposed to be providing care to. They have serious illnesses, and they're ignored."
Connections is under investigation by the Delaware attorney general's office amid allegations its staffers were ordered to forge documents to falsely state that inmates were getting mental health treatment.  
"This and all the other cases I've reviewed, say that, at best [medical care] is spotty. Sometimes they get care that they need, but quite often they do not. The care they do get is frequently delayed and inadequate, and they have to ask for it again, and again, and again," said Hampton.
The lawsuit names Connections, outgoing Delaware Department of Correction Commissioner Perry Phelps, warden Kolawole Akinbayo, and Bureau Chief of Correctional Healthcare Services Marc Richman are named as defendants in the case.
No monetary number was attached to to the complaint for damages, but Hampton said what's deserved is "substantial."
"They'd like to be compensated for everything that Luis had to go through as well as their loss because of his death. We think it was horrible what he went through, and we think the death was completely unnecessary, so the damage award, accordingly, should be substantial."  
Hampton, who's also representing inmates in a class-action lawsuit, which claims inmate abuse in the wake of the 2017 riot, called for healthcare reforms, but wasn't hopeful.  
"As long as nobody's going to hold the vendor to task, there's not much chance, the care is going to get better. This has been an ongoing saga for years and years across a number of different vendors, like Connections, and right now, Connections' performance is about as bad as any I've seen."  
The Delaware Department of Correction and the Bureau of Prisons refused comment citing pending litigation. Connections, whose spokesman left in recent months, could not be reached for comment.