'Don't come to Delaware."
That's Governor John Carney's message to neighboring state residents who find themselves in any kind of lockdown due to spiking COVID-19 cases around the country. Of particular concern are those in Pennsylvania, who just learned the state would be barring alcohol sales at bars and restaurants on Thanksgiving eve. 
"Don't come to Delaware to drink. We always have increased DUI patrols in our state over the holidays. They will be there again this weekend, particularly in the border area around Pennsylvania, and throughout the state, as they normally do. So the message is, for your Thanksgiving holidays, enjoy the time off. Enjoy your interaction with with family. Keep your gatherings small...Wear a mask. Keep your distance. Have virtual get-togethers when possible, and give thanks for all our blessings, including the fact that we have a vaccine coming, that there's help on the way."
Delaware has been having difficulty getting a hold on the spread of novel coronavirus COVID-19, and it's no longer a localized issue, which is fueling Carney's concern that large holiday celebrations can send the state spiraling even further. 
"These are the areas where we're seeing more spread, but really, the spread is throughout the state," said Division of Public Health Director Karyl Rattay. "So there's no area in our state right now where we can say we aren't concerned."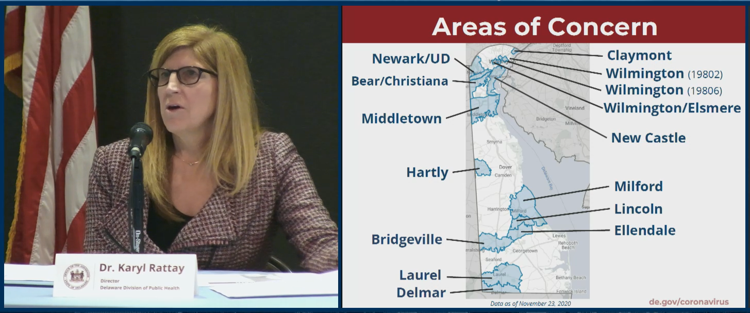 Rattay also took umbrage with claims that COVID-19 is "no worse than the flu," and as Delaware heads into its flu season with fewer cases than typically, she pointed out people have a lot to be concerned with, and should be taking both COVID-19 and the flu seriously. 
"I looked back over the past month and realized that we have lost 52 Delawareans just in the last month. Several times in the last week, I've heard people continue to compare this pandemic--and the mortality rates--to the flu," Rattay said. "Well, the worst flu season that we've had...in [our] recorded history, here we had 36 deaths. In the entire season. As you saw today, we have 757 deaths in Delaware, but 52 in the last month. As we know, it's a lagging indicator. We've seen our cases increased so dramatically in the last two weeks. Unfortunately we have every reason to believe that that number is going to go up, and so we know that this pandemic is a nuisance to most people, it's having impacts on us in many ways, but I also want to remind people that the impact of this is tragic in the loss of lives of so many in our states."
She and other medical experts have also noted cases of flu are down this season due to social distancing and mask-wearing.
Delaware has performed between 2,000 and 11,000 COVID-19 tests every day, hitting 13,000 on November 23, 2020, thanks to the efforts of AJ Schall's team at the Delaware Emergency Management Agency as the state pushes to get as many people tested as possible, as frequently as possible. Delaware currently ranks in the top five states for testing volume, a CDC report said, according to Rattay. 
"We really wanted to come up with a strategy to make sure we were in a position to accept and turnaround tests as quickly as possible going into the holiday week," Schall said. "So this really started a few weeks ago when the governors in seven states put out recommendations for college students prior to going home. Last week we worked with three universities to make sure there was on-campus testing at each facility. Those results were turned as quickly as possible. But, as we know, it's a snapshot in time. That test is only good for that day. Going into this week, we knew we were going to have a lot of people that, even though traveling may be down, there's still going to be the natural urgency to go see your family members and loved ones. So we wanted to help people do that as smart as possible."
Despite all the help officials have done helping college kids get ready to return home, Rattay still urged caution, as the virus continued to be a serious problem, and those who are younger and healthier and potentially handling COVID-19 better could pass it on to family members who might not be so lucky. 
"Testing isn't a hall pass to do whatever you want to," she said. "So it's really very important that, even if you tested negative on one particular day, that you continue to act as though you might be positive and make sure you follow all the basic precautions of wearing a face covering if you're with anybody outside of what has been your household for the last few months. If you're coming home and you're going to be around your parents or your siblings, you should be wearing a face covering for a couple of weeks, and social distancing."
She recommended college students be tested prior to coming home for the holidays and again five days after they've returned home. 
"As much as you may want to give grandma or grandpa a hug, now is not the time, so make sure that you keep your distance; please avoid going out and hanging out not social distanced, not wearing a mask with high school friends and others," she said.
A negative COVID-19 test solely represents that you tested negative on that given day, and you should continue to act as though you might be positive since the incubation period for the virus is 14 days.
"You could have been exposed a couple days before and turn up positive after that," said the governor.
Rattay also noted that major upticks in cases have led to some contact tracing delays, as much as seven to 10 days, as the state scurries to hire more people into these roles. Thirty-one contact tracers were hired last week, and another 50 are in the process of being hired; they're also speeding up the contact tracing process by using texting and email, once an initial connection is made. 
Dr. Rattay also sought to dispel false information about what a quarantine means.
"Quarantine means you really are to stay home and stay away from others--even within your home--for 14 days regardless of negative tests," she said.  "A lot of people are believing that if you're told you're a contact, you can just go get tested, and if it's a negative you're good to go. But we know that you can become positive, actually, up to 14 days. Most people become positive by 10 days...so you can't just test out of a quarantine, right now. That could change."
The COVID-19 vaccination may first make its way to Delaware between December 11th and 14th, Rattay said, with front-line healthcare workers taking care of patients suffering from COVID-19 at the top of the list for distribution. The average citizen, she said, should expect availability around March of 2021.
--
WDEL's Amy Cherry contributed to this report.