On Monday, thanks to efforts by U.S. Rep. Lisa Blunt Rochester at the federal level, Downtown Wilmington's post office will now officially be named after an accomplished local who shattered several ceilings in her lifetime. 
The post office will now be named after Mary Ann Shadd Cary, a Wilmingtonian with a storied history working to improve her state and the nation at large. 
"I think, a lot of times, people think, 'Oh, we're naming a post office. We're just naming a post office,'" said U.S. Representative Lisa Blunt Rochester, who crafted the legislation leading to the official name change. "It was important for me that we have her photo here, Mary Ann Shadd Cary's photo, because there is a line that, 'You have to see it, to be it.' And for many of us, we don't get to see the heroes and heroines in our lives that really paved the way for us to be here."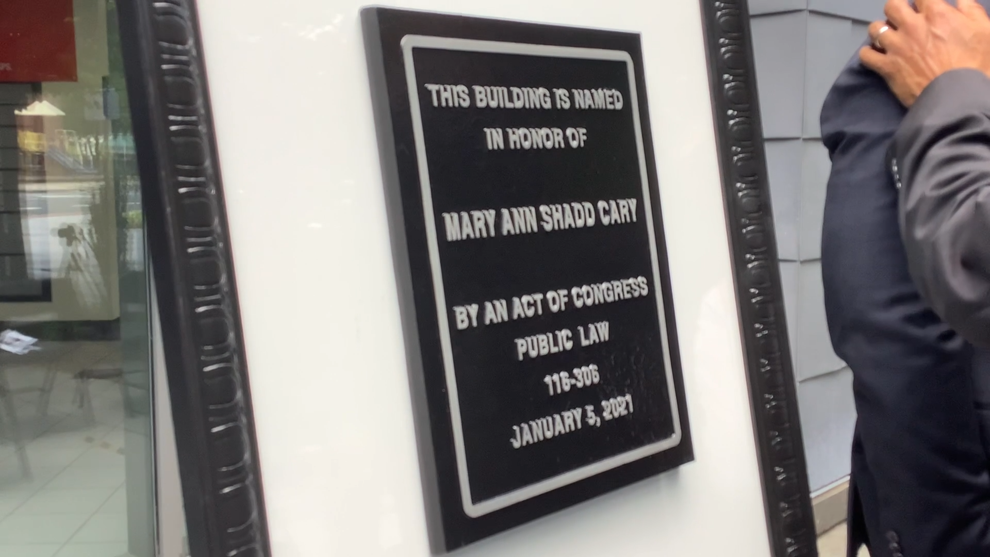 Cary, born in Wilmington, Delaware, to parents who were entrepreneurial abolitionists, was herself an abolitionist, a suffragist, a lawyer after being Howard Law School's first female student, a writer, a publisher, a newspaper editor, a teacher, an activist, and a dual citizen of both the United States and Canada. 
"Her formative years started here, but there was nothing in Delaware to mark this incredible woman," Blunt Rochester said. "They have stuff in Canada, they have stuff in Washington, DC, but today, we will unveil a marker here in Delaware. So I am excited that Mary Ann Shadd Cary will be celebrated here in her home state."
U.S. Sen. Chris Coons echoed the sentiment that it has been a longtime coming for Cary, a monumental trailblazer, to be recognized in the First State. 
"It is a remarkable thing that there are many Delawareans who don't realize that born here in Wilmington, Delaware, was this woman who accomplished so many important firsts," Coons said.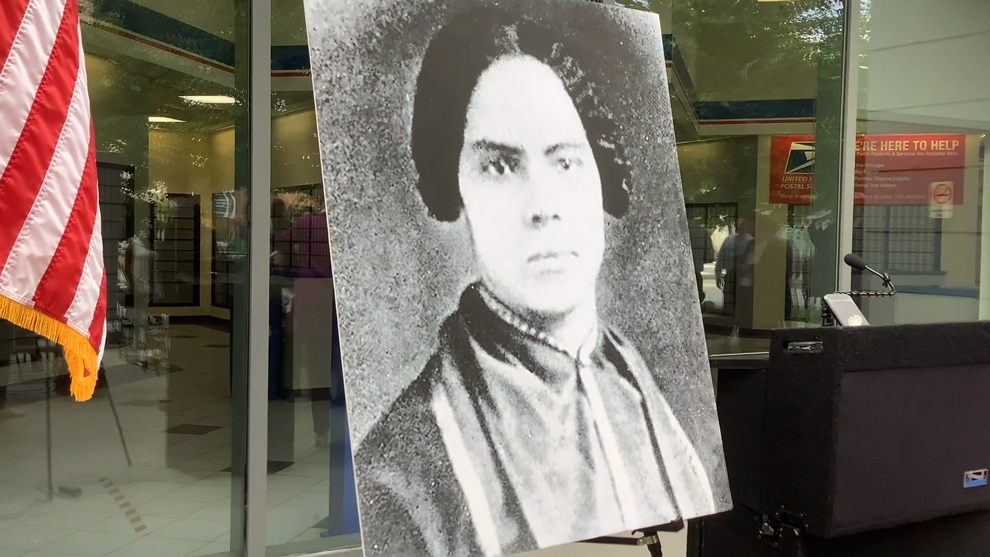 In attendance for the unveiling of a plaque dedicating the post office to Cary was a number of individuals among her lineage, including the youngest, two-year-old Carol, and her great-great-great-nephew Col. Janmichael Shadd Graine.
Graine, himself a Bronze Star recipient for his service in Iraq in 2003 and 2004, and commander of the the 485th Chemical Battalion in Wilmington, who also served 17 years as a U.S. Army civilian with the Army's environmental command before becoming chief of the Environmental Compliance Branch at the Aberdeen Proving Grounds, spoke about the occasional difficulties of being the descendant of someone so great. 
"Frederick Douglass said, Mary Ann, she 'is a person of unconquerable zeal and commendable ability. We do not know her equal among the colored ladies of the United States,'" he said. "The Shadd family members were taught at an early age about Mary Ann Shadd Cary and how we related to this extraordinary woman, and we try our best to try to live up to that legacy."