Dozens of suspected gang members and drug dealers have been indicted after a months-long undercover operation involving Dover Police, Delaware State Police, the FBI, and partner agencies.
In a virtual news conference Wednesday, January 14, 2021, Dover Police Chief Tom Johnson said his officers were investigating a surge in violence in and around Dover last winter. 2020 was a particularly violent year in the state's capital city. According to data provided by Dover Police, eight people were killed in shootings in 2020.  In 2019, the city saw just two killings by gunfire. Dover recorded a total of 60 shootings in 2020 compared to 50 in 2019.
Through investigations into that spike in gun violence, officers discovered an interconnectedness between criminal activity in Dover and cases under investigation by the Delaware State Police. That led to Operation Rise-n-Shyne, named after one of the gangs, the G-Shyne Bloods, implicated in the criminal activity.
"It became clear to our investigative units that there was a bigger picture coming into focus. It was an all too familiar image of drugs, guns, and the organized gangs that thrive on them. This destructive combination was having a predictable effect," said Johnson. 
Operation Rise-N-Shyne, which ran from June of 2020 to November of 2020, involved six states and led to more than 50 people being arrested, 30 of which were from Dover. Of those, 39 were indicted on a combined more than 260 charges tied to four gangs: G-Shyne Bloods, Mob Piro Bloods, Sex, Money, Murder Bloods, and 48-Gang.
As part of the six-month operation, police seized more than 41 grams of crack cocaine, 15,000 doses of ecstasy, 12 grams of meth, 3.6 grams of heroin, 1,058 grams of pot, 72 grams of MDMA powder, 28 firearms, and $22,679 in suspected drug proceeds.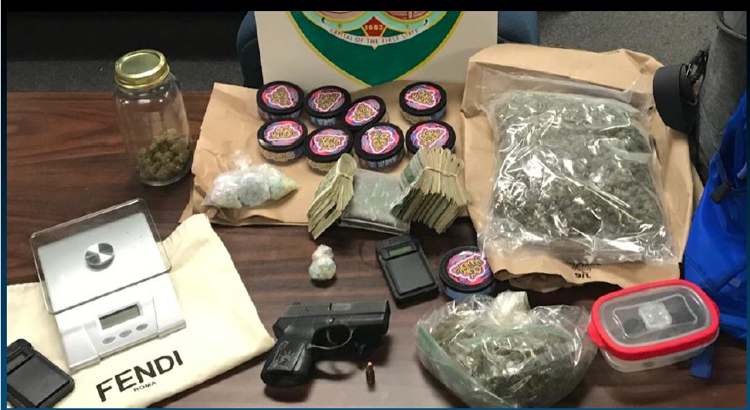 "This investigation removed a substantial amount of drugs from our community," said Johnson. 
Dover Mayor Robin Christiansen touted the joint effort that he said undoubtedly has made his city safer.
"Those are 28 firearms that would have likely been used to commit other crimes, potentially increasing violence within our most vulnerable communities," he said. "Everyone deserves to live in peace without the fear of violence, and drugs, and mayhem in their community."
Delaware State Police Superintendent Col. Melissa Zebley said joint operations like this the improve quality of life of all Delawareans.
"As we all feel the same profound effect of illegal drugs and violence in our respective communities, we pursue opportunities to collaborate," she said. "As evidenced in this case, the sharing of investigative personnel, resources, and intelligence has greatly impacted multiple, violent criminal organizations. While we see the scope of the illegal drugs and weapons seized, it can be hard to measure the full gravity these individuals could have had in our state."
Those arrested include suspected drug kingpin Marquise A. Mack of Dover. Dover Police said Mack was supplying large amounts of ecstasy to Kent County, with the drugs coming from Atlanta, Georgia. 
Mack, who police said is a member of the Mob Piro gang, faces 38 counts of drug-dealing, 31 counts of conspiracy, 12 counts of aggravated possession of a controlled substance, 17 counts of criminal solicitation, three counts of possession of a firearm by a person prohibited, and endangering the welfare of a child.
Attorney General Kathy Jennings said the federal, state and local coordination involved in this operation disrupted gangs and criminal enterprises.
"Make no mistake, operations like this one save lives," she said. "The seizure of thousands of dollars worth of cocaine, heroin, and drug money, and in particular dozens of guns prevents untold tragedy in our community."