High levels of mold have been identified at Red Clay's Heritage Elementary School in Pike Creek, just as children are slated to return to the classroom in-person next week.
Red Clay Assistant Superintendent Ted Ammann told WDEL custodians first noticed mold growth on a desk in the school building that dates back to the 1960s.
"Our standard protocol...is they know not to just clean it and move on, they sort of sound the alarm and let us know so we can bring in outside help," he said. "They had done some spot-checking, looking up above ceiling tiles...they had been looking for indications of any kind of leak, wet ceiling tiles, stains on a ceiling tile--they did not find that."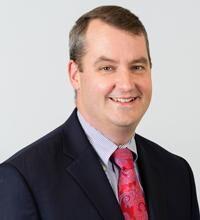 The district hired Batta Environmental Associates to conduct air quality and mold testing. A report, dated October 22, 2020, obtained by WDEL, revealed "visible mold growth" was found under furniture, cabinets, and doorways in several classrooms, after obtaining 18 airborne fungal samples.
High levels of Aspergillus/Penicillium, a common indoor mold, were identified in multiple classrooms:
Classroom 8
Classrooms 14-18 (including 16A)
Classrooms 22-23
Art room
Guidance 23A
Music Room 27
Speech 14A
RTI
Levels were the highest, surpassing 20,000 spores, in classrooms 22 and 23. "Acceptable levels," according to mold remediation experts, rest somewhere between 500 and 1,500 spores. A number of classrooms had levels much higher than that.
Elevated mold concentration was not identified in classrooms K-1, classrooms 1, 11, and 12, according to the report.
The report also noted that there were no "major signs" of water damage, though no "intrusive investigation" into the walls was performed during the inspection on October 9, 2020.
"Based on their analysis of the mold spores that they found, it was indicative of humidity levels; it was not a question of a pipe leak in the back, behind a wall or above the ceiling...they believe it just came from the atmospheric humidity levels in the building," said Ammann.
Educators were notified about the mold issue via a Zoom call Tuesday, in a discussion that included representatives from Batta, who discussed their findings.
"Obviously, again, I think they have heightened concerns as it just relates to reopening in general, and when you have a situation like this that would crop up, understandably so, staff members would be concerned," said Superintendent Dorrell Green.
Green, who was not on the Zoom call, told WDEL he did not hear from educators who may have ongoing concerns afterwards.
Heritage families were notified about the mold via email later that day.
"As custodians prepared for the return of students they noticed some surface mold in a number of rooms. We take mold and air quality very seriously and immediately contracted with a local company that specializes in air quality issues," the message from Heritage Elementary School Principal Alice Conlin said.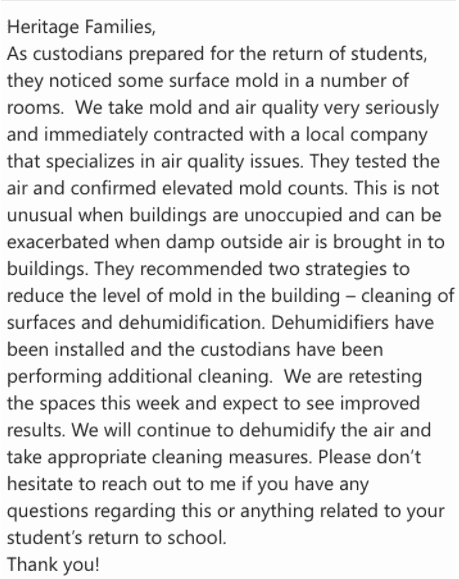 Batta Environmental Associates recommended the district "promptly and properly" remove all visible mold growths and maintain relative humidity levels between 30% and 50% while continuing general housekeeping.
The district installed dehmuidifiers in every classroom and will ensure additional cleaning takes place regularly by custodial staff. A third-party company will also conduct a thorough cleaning Wednesday, which will be followed by more air quality and mold testing.
Long-term, the district wants to install a whole-building dehumidification system, possibly next summer. Neither Ammann nor Green could give a ballpark figure on what that would cost, but it would come out of the district's capital budget.
The mold problem, however, isn't exactly uncommon in unoccupied spaces, according to district officials and experts in mold remediation. School and office buildings were left vacant in March due to the COVID-19 pandemic.
"One of the things that our HVAC systems have is motion sensors, and so from an energy perspective, if there's no movement, they shutdown...so that is something we've de-activated...because of COVID we deactivated those motion sensors so that our units will be running at least four hours before kids come in every day and then throughout the day," said Ammann. "It's a risk...you have to judge that and certainly outside air is the key for having students in a classroom during this pandemic. So it's certainly the right way to go, but we are monitoring to make sure we don't create a separate problem." 
But some educators, who wished to remain anonymous, expressed concerns that mold issues aren't strictly tied to building closures related to the pandemic. They said mold had been an issue in the building for quite some time. Green said he hadn't heard from any of those educators directly. Ammann recalled an issue two years ago, as school was set to reopen from summer break.
"Whenever they've had these mold concerns, it was at the start of the school year, and once the custodians have cleaned it and once the systems were running, it took care of itself, and it was not recurring," said Ammann. 
Green reiterated those claims.
"It has been an issue at the beginning of the year in this particular school, but not ongoing per se," said Green. "In this particular instance, we're pulling in more fresh air as a result of the requirements of trying to make sure that we have proper ventilation within our buildings."
David Sulock, an environmental manager with Curren Environmental, confirmed his company has seen mold accumulation as a result of spaces being unoccupied for months at a time. 
"You could have a school, a house, an office that's been unoccupied, so you're going to have varying humidity and temperature variations, and it will create a conductive environment for mold to grow," he said. "These things like to grow on paper, sheetrock, a lot of the stuff that buildings are made of, so it's not uncommon when places aren't occupied that you're going to get some superficial growth on areas."
"In unoccupied spaces, it's not air conditioned, it's not heated, so on a hot day outside, it could also be hot inside so you have humidity and condensation occurring, and it just gives it time to grow, and if there's no one there to be like 'do I smell something,' it can have it's time and grow."
Despite all school buildings being closed since March, neither Ammann nor Green were aware of any other mold issues identified in other Red Clay buildings.
"It is something we're very much watching...as districts all other the state or the country have looked at how best to set up our HVAC systems because of COVID, the number one thing that all the experts recommend is to bring in as much outside air as possible, and that becomes a double-edged sword, because as much as you bring in outside air, you're bringing in whatever else is in that outside air. So if you have leaves that are outside and decomposing and there's high mold counts, mold spores in the air, that air is brought into the building," said Ammann.
While more Americans worked from home across the country during the pandemic, Sulock said there was likely less mold in residential areas.
"You had the a/c on all the time, you didn't change it because you never left. Same thing goes with the heat, so you had it at a nice constant temperature--you controlled the humidity--because you wanted to be comfortable. I guarantee these unoccupied spaces were not comfortable when they were unoccupied," he told WDEL.
Sulock said his company has worked every day since the start of the pandemic to clean and filtrate offices.
"We are finding in officers, people are coming back, and yes, they're finding growth. Some of it's dust, some areas absolutely are growth; we had an office where someone left a window cracked--some mold was growing around the window--because the air from the outside was coming in with the air inside and dropping out condensation, so it's definitely something you're going to see during COVID-19 when people start to re-occupy spaces."
Remediation, according to Sulock, includes HEPA vacuuming and wet wiping the surfaces.
"Some of these fungicides actually kill COVID too, and also like air scrubbing, which is kind of filtering the air in different rooms. It's really glorified cleaning...it's a housekeeping-type measure to address it," he said. "Whenever you have mold, your biggest concern, quite frankly, is what caused it. You can always remediate, but if you don't fix the problem, it's going to come back." 
Dehumidifers, like what Red Clay said it's installed, can also help control humidity levels.
"Typically, when you operate an HVAC system, you can control the humidity that way," said Sulock. "I like 50% [humidity levels], I think it's a reasonable measure to go by, and you kind of stunt the growth of mold," he said.
Exposure to mold can cause a variety of health effects or none at all, according to the CDC. Symptoms include stuffy nose, wheezing, red or itchy eyes and skin. Those with allergies to mold or those with asthma may see more severe reactions like fever and shortness of breath. People with immune suppression or underlying lung disease are at higher risk of infection due to mold exposure.
The Delaware Division of Public Health added infants and children as well as the elderly may be affected more severely by mold. DPH also recommends various measures be taken to combat mold.
As many as 71 percent of parents at Heritage Elementary opted for a return to in-person learning in a school district survey of parents in September.
Superintendent Green ensured educators and parents as they prepare to send their students back into Heritage that the building is safe and that the health, safety, and well-being of children and staff is of the utmost importance. Green's own daughter attends fifth grade at Heritage Elementary and is returning for in-person instruction next week.
"I wouldn't put my own child in this situation let alone someone else's child, so I do feel comfortable with what we're doing, how we're approaching it, the issues and steps that have been put in place," said Green.