The Wilmington Ethics Commission has filed an ethics complaint against Councilman Va'Shaun Turner after he's accused of threatening the city auditor's job.
The complaint, initially lodged on November 26, 2019, by city auditor Terence Williams stems from comments made during a public Community Development & Urban Planning Committee meeting held two weeks prior on November 14, 2019, broadcast on WITN.
At that meeting, Williams defended his decision not to conduct a forensic audit on the insolvent Wilmington Housing Partnership (WHP), despite the vote of council, in a resolution, directing him to do so. Auditor Williams claims the city's Law Department advised him not to conduct the audit, and previously advised then-Councilman Trippi Congo, who initially introduced the resolution for the audit, that the resolution was "unenforceable." The complaint claims the law department advised that the treasurer was not empowered under city charter to conduct a forensic audit of WHP and that council did not have the authority to direct the auditor to conduct the audit.
"Section 6-300(c) of the city charter allows such audits to be performed 'whenever in the judgment of the city auditor they appear necessary, and shall be made whenever the mayor shall call upon the city auditor to make them.' No similar grant of authority is given to the City Council," the complaint noted.
At the November 2019 meeting, Turner allegedly threatened to reduce the auditor's six-figure salary.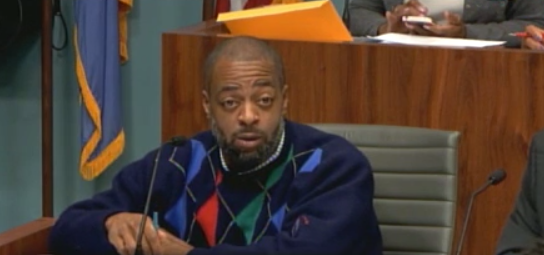 "But you're sitting here saying that you're not going to do it, and that depending on...the best interests of the taxpayers. We got voted in by the taxpayers, so just like we approved you, you need to sit down and do what you need to do in the best interest of what we already voted on, or what I'm going to say, what I'm going to do is put a resolution up--until you do what we say--put a resolution up to reduce your salary to $1.00, so if you don't want to do what the majority say, then we'll reduce your salary to a dollar, and see if that motivates you to do what we said."
Williams followed up that when council voted to approve him as auditor, they voted to allow him the independence to do his job in the best interest of the city.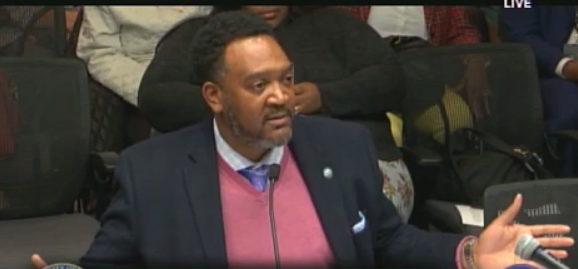 "Independently of city council, independently of the administration, and independently of everyone, so that I can do it without any conflicts of interest and I can do it in accordance with generally accepted government auditing standards," Williams said. "You can ask me to do things, but I do not have to do them. If I do not see where it's in the city's best interests, or if I don't have the bandwidth to do it, or I feel as though there are other steps that could or should be taken. With the resolution--that was not an order from council for me to do anything--it's a resolution; it wasn't the law."
Turner followed up on his alleged threats and directed city staff to draft a resolution to reduce the auditor's salary, the complaint claims.
"I'm going to tell staff to write me up a resolution for a $1.00 of your salary until we get it resolved. And we go ahead and move forward on what we need to move forward, so we all need to get to the table while you make a dollar, until we get it resolved, and then we'll put you back to the salary that needs to be done," Turner said at the meeting.
The ethics complaint alleges Turner's "repeated threats" to reduce the auditor's salary are a violation of Wilmington City Code Sec. 2-339(3) which states: 
"No city employee shall be penalized, disciplined or dismissed by any other city employee or appointed or elected officer for performing his or her duties in accordance with the City Charter, the city Code or established city policy. Any city employee who believes that he or she has been penalized, disciplined or dismissed as the result of the performance of his or her duties may seek redress through the city's personnel grievance and appeals process."
Williams, in an interview with WDEL, said he was "appalled by council's behavior" and their disregard of his professional opinion.
"I knew that they didn't have the authority to direct me to do anything, and I was trying to do what was in the citizens' best interest and not have a forensic audit done, which would have cost taxpayers a lot of money, which I thought was a waste," he said. "I figured, I'd let them know that the financial audit--once it was completed--I would take a look at the results...and then determine whether a forensic audit was necessary, but they were not trying to hear any of that...it was 'do this or else' and that's not the way you govern," said Williams.
He also found it disturbing that other council members supported this notion.
"I don't think council should be piling on...just a few people...it was unfortunate that they decided to attach their names to the legislation that Councilman Turner was trying to get passed forward," he said. "I mean to decrease someone's salary to a dollar--I mean really? It was embarrassing, and it was slander because they were questioning my judgement and integrity and almost saying [that] I was participating in a cover-up...that is ridiculous."
He said he's never dealt with anything like this before in his professional experience.
"The main thing I wanted to do was make sure that my voice was heard because the threats that he made impacted me drastically. My wife, my kids, they were watching this," he said. "It was very frustrating, for me, to have to deal with something like that...at the end of the day, I was just doing my job...no one should have to be put in that type of predicament because it's not professional."
The complaint, which was ultimately filed by attorney Steve Wood of McCarter English, who serves as special counsel to the commission on August 24, 2020, was filed nearly 10 months after it was first lodged by Williams.  
"The investigation was delayed by COVID," Wood told WDEL. "I made my recommendations in mid-July, and the ethics commission proceeded from there. My consideration of the matter and my recommendation did not take the primary election that is upcoming into account at all, it was irrelevant to me."  
The filing comes less than a month before Turner faces DaWayne Sims, the city's Small and Minority Business Development Manager, in the Democratic primary election for city treasurer. Turner, who was initially running for re-election to his 5th District council seat, flipped to run for city treasurer. He withdrew from the council race one day before filing for treasurer on deadline day. On deadline day, there was an unprecedented number of switch-ups in city races. In those final moments, city Treasurer Velda Jones-Potter decided not to run for re-election to her post and instead decided to run for mayor against her political rival, incumbent Mayor Mike Purzycki and former city councilman Justen Wright. 
It's unclear what penalties or sanctions, if any, Turner could face if the ethics commission determines there's a violation. Ethics commissions have no authority in Delaware to oust elected officials. 
"The main thing is that nobody else is going to be put in a compromising position because it's not right. We're here to do a job, and for me in particularly I have to e objective...and I can't be swayed one way or another and people have to accept the final conclusion--they may not like it--but they should respect it," said Williams.
In a text, Turner said he'd like to share his side of the story, but cited a medical condition that made him unable to participate in an interview prior to publication. In a follow-up email, he noted all questions regarding the ethics commissions need to go directly to the ethics commission due to "Confidentiality requirements"
Here's the full complaint: