After a years-long battle with New Castle County, the Glasgow Court Mobile Home Park, which notoriously had the highest sewer delinquency in the county, has avoided sheriff's sale—for now.
Around Christmastime, the trailer park and its owner Kelli DiSabatino won a second reduction to its outstanding sewer bill, which left the account as only the third-highest delinquency in the county.
Here's a list of the top 10 delinquent sewer accounts in New Castle County as of January 2, 2019:  
County officials accepted DiSabatino's claim that a water leak led to excessive billing and gave her a credit of $132,230.70, reducing Glasgow Court's outstanding sewer bill to $43,867.10. Prior to the credit, and most recently, the sewer bill stood at more than $174,000. The decision was a reverse of course for the county, which previously said, even if the property had a leak, that water would've still flowed from the sewer system. Chief Financial Officer David Gregor wrote on October 22, 2018:
"I cannot conclude that any reduction in water consumption were the result of the leak(s) being fixed. In summary, I cannot make any further adjustments to Glasgow's sewer account," he said in the letter obtained by WDEL in a Freedom of Information request.  
In that letter, Gregor gave Glasgow 10 days to pay or enter into a payment plan or threatened a monition, or sheriff's sale--but despite strong-worded threats from the county, the process to take possession of the property was never started.
Instead, further emails obtained by WDEL, show Glasgow was permitted one final attempt to submit sufficient documentation to prove its case, which Gregor determined the trailer park did.  
"What we basically said was: 'Look, you've made assertions, Glasgow, and those assertions don't have kind of comprehensive documentation'...we were basically getting puzzle pieces that you could say, it appears that there may be something here, but it's not our job to make their case for them; it's not our job to go out and research things, so we said: 'Look, it's an incomplete picture,'...now we have a complete picture that's organized, and we could test their calculations, and things of that nature," said Gregor in an interview with WDEL. 
The years-long saga included hundreds of pages of back-and-forth emails which included DiSabatino making counsel changes.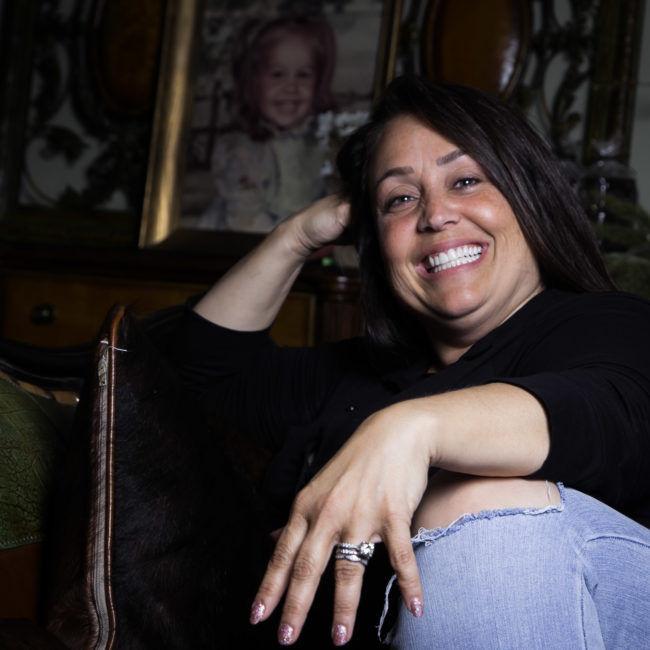 At times, those email showed attempts to influence the county's decision, and it wouldn't be the first time such attempts were made. WDEL discovered DiSabatino made several attempts to influence the matter over the years.
In the past, prior to hefty payments made, DiSabatino had requested a $300,000 credit, she asked for in-person meetings with the county executive and was persistent in follow-ups, stating she'd like to have the matter resolved so she could move forward with her plans. In June of 2017, DiSabatino wrote in an email seeking to "expeditiously" resolve the sewer matter:
"The beautiful part is I don't need money or county resources," she wrote. "Time is of the essence and [I] appreciate your consideration."
DiSabatino was permitted to file pre-exploratory plans on July 3, 2017, despite owing more than $300,000 in back sewer taxes--a violation of county code exposed by WDEL. The project, Crossings at Salem, which sought to dramatically alter the face of Glasgow Court Mobile Home Park, was halted from all further movement until all outstanding sewer and tax bills were paid on the property.  
The most recent attempt came in an email dated November 7, 2018, wherein assistant County Attorney Sanjay Bhatnagar wrote to Glasgow Court's latest attorney, Chris Koyste:  
"I am perplexed as to why you felt the need to call my supervisor on Friday evening not withstanding my email below. I find it ironic that you were the one giving me a lecture about the 'Delaware Way' last week with respect to an extension (although your request is not actually an extension and very different from the typical scenarios where attorneys have been retained)," he said. "I submit that your action was not consistent with the Delaware Way and please be advised that, as long as I am on the case, phone calls to the County Attorney or anyone else in the Executive Office will not help. A similar scenario happened just before Kelli's prior counsel was terminated/withdrew."
Less than an hour later, Koyste responded:
"Sanjay, I don't think there was anything wrong with speaking to a supervisor in the situation we had in which you could not get back to me with an answer by Friday; especially in light of what it meant that I had to do to 'theoretically protect' my client's interests if the County chose [to] argue a code provision in a matter that I don't think is correct. The Delaware Way I speak of is a courtesy to fellow counsel; not the Delaware Way in which certain insiders get a golden pathway approved for them, which is a Delaware Way that I firmly believe is in the past because we have a 'new and vastly improved' executive branch in New Castle County. I did not and still do not interpret my action of contact your supervisor, when put in context, of being disrespectful to you."
Despite the bickering, those emails state DiSabatino made a "good faith" payment of $20,000 on November 5, 2018.
Glasgow Court's outstanding sewer bill, at one point, had ballooned past half-million dollars with no regular payments for years before May of 2018.  WDEL first exposed the delinquency in November of 2017. 
WDEL, in a Freedom of Information request, obtained a letter dated November 5, 2018, from Koyste which requested a total credit, including waived penalties of $102,205.07.  That's on top of the prior credit Glasgow received in the amount of $8,954.92.
The letter references a forensic water analysis prepared by Steve Davies of Apex Engineering, who was involved in DiSabatino's plans to obtain a land use change to turn the trailer park into a mixed-use, higher-end community, and asserted the county over-billed Glasgow by $96,211,52.
To prove its case and seek further credit, Glasgow submitted decreased occupancy rates which they said would coincide with water reduction--not an increase in consumption, as indicated by billing. Glasgow Court alleged only a water leak could account for that discrepancy.
The report, Glasgow Court claims, shows "by clear and convincing evidence that the decreased water consumption as Glasgow Court was attributable to Glasgow's repair of the water lines under the property, not its occupancy levels."
Davies asserts the county acknowledged Glasgow Court had a leak, in a letter sent from former Chief Financial Officer Brian Maxwell on June 6, 2017, which cited a careful review of records. He said Artesian water meter readings show water usage declining every year with a major drop in 2016, when water main repairs took place. Davies asserts the leak started sometime prior to 2014.
Supplementary documentation was sent over on December 5, 2018.
"This [documentation] was organized and professional, and you can see that there was care and due diligence that they performed," Gregor said. 
Gregor told WDEL the county agreed a leak had occurred and re-calibrated what the bills would have been while examining what's been paid to give the trailer park a credit of more than $130,000.    
"To the extent that the leak eliminated penalties, we allowed that to happen, but we didn't say, 'Oh there's no penalties at all.' There was a period of late payments and underpayments for quite awhile, and that's independent of the leak, so we walked through it, and gave them a very substantial reduction in the overall bill. The leaks were nearly $100,000 worth of billing," he said.  
The reduction is less than what Glasgow had requested, according to Gregor.  A Freedom of Information request is pending for emails between December 5, 2018 and December 31, 2018, which allegedly will show their request went above the initial $102,205.07 ask.    
To date, as of January 2, 2019, Glasgow Court has not paid the sewer balance. Gregor called this the county's final offer and said negotiations will not be ongoing.  
"This is where we are now; we've gone through, we've accepted their analysis," he said. "When we got something to which we could react and confirm, we felt a lot more confident, made the adjustments, and this is where we stand now."
The balance, according to the county, is due immediately. 
"If we continue to agree to disagree, we would take the initial steps toward sheriff's sale," Gregor said.  
Neither DiSabatino nor her attorney returned requests for comment.
A WDEL investigation revealed DiSabatino still owes hundreds of thousands of dollars in back taxes on dozens of properties she also owns. 
In the Sparrow Run community, she owns several blocks of properties, listed under owner Fortis Familia LLC--which uses Glasgow Court Mobile Home Park as its registered address, according to property records. Combined, on those properties, she owes $181,959.96 in school and county taxes, as well as sewer tax.  
According to county tax records, DiSabatino owes more than $15,000 in back county and sewer taxes on two other properties registered to her home address.  
It's unclear whether back taxes owed on other properties, owned by DiSabatino, could continue the halting of plans to transform Glasgow Court.