UPDATE:  New Castle County Police gave the all-clear Monday afternoon at the Siegel Jewish Community Center, which was evacuated for the third time this month over a bomb threat.  
The threat could be connected to threats made against several Jewish centers in a variety of states. 
The telephoned threat came in late morning on Monday, February 27, 2017. and just a day after it was discovered early in the morning Sunday that more than 100 gravestones had been toppled at the Mount Carmel Jewish cemetery in Philadelphia. 
"The continued bomb threats to Siegel JCC must stop," said Governor John Carney in a statement issued Monday afternoon. "These hateful actions place a shadow over our state and country. Our law enforcement officials will continue to work diligently to find the individuals responsible and hold them accountable."
New Castle County Police said their K9s swept the building and the perimeter and found no evidence of a credible threat. The center was reopened to the public just after 1:30 p.m. Monday.
At the time of the evacuation, Senator Tom Carper was inside the building. 
"Today, I met with leadership of the Jewish Federation of Delaware and Jewish Community Services at the Siegel JCC in Wilmington to talk about threats and violence toward the Jewish community here and around the nation," said U.S. Senator Tom Carper (D). "The community center was among many around the country that has received multiple bomb threats in the past several months that have put the entire community on edge, and today, while we were talking about this very subject there, another bomb threat was called in. It is heartbreaking for such a flash of fear to overtake a place of strong community and joy that brings together people of all ages under one roof - from the babies in the daycare center to the senior citizens taking part in exercise classes. These acts must end."
 In a Facebook post, the JCC said everyone was safely removed from the building along Garden of Eden Road.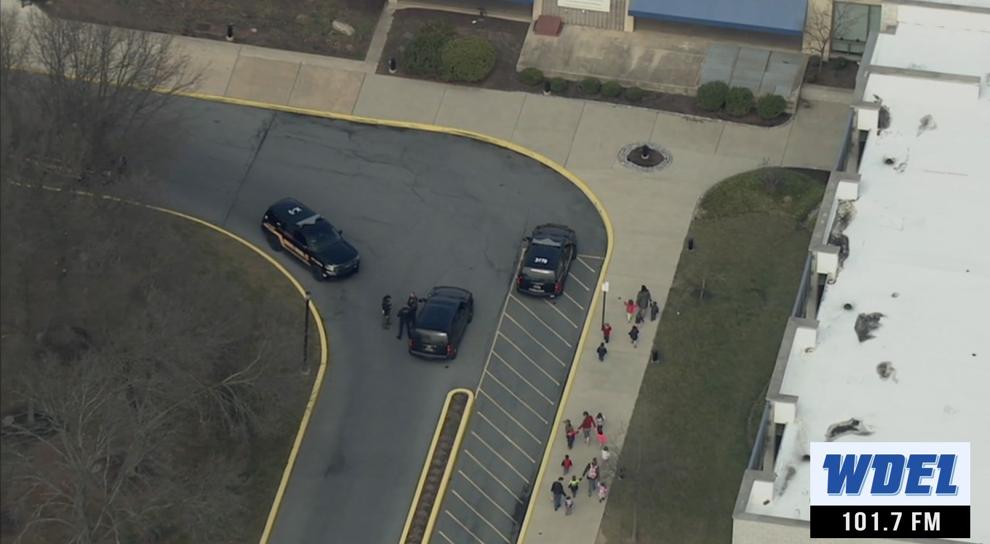 New Castle County Police told WDEL just after 10:30 a.m. that officers were heading to the scene to fully investigate the threat; it's the third threat the Siegel JCC has received over the course of a month.
We are responding to a bomb threat at the Jewish Community Center on Garden of Eden Rd. Please avoid the area.

— NewCastleCountyPD (@NCCPD_DE) February 27, 2017
The Katz Community Center in Cherry Hill also confirmed via Twitter that it had received threats and evacuated as a precaution. 
The JCC has been safely evacuated. Cherry Hill Twp police have arrived. We will update you with more information as soon as possible.

— Katz JCC Cherry Hill (@KatzJCC) February 27, 2017
Threats were not limited to this area, either. Three centers in Staten Island, New York, were evacuated, as were centers in North Carolina and Florida, the Ann Arbor JCC, Birmingham, Alabama's Levite JCC, the York JCC in Pennsylvania, and a school in Maryland. 
CONFIRMED #bombthreats: #JCC in Asheville, NC & upper school of Charles E. Smith Jewish Day School in Rockville, MD

— ADL (@ADL_National) February 27, 2017
ATTENTION: David Posnack Jewish Day School received a bomb threat and both the day school and the JCC have safely evacuated.

— David Posnack JCC (@DPJCC) February 27, 2017
Bomb threat reported at Jewish Community Center in Ann Arbor https://t.co/ASGDjNTOgL

— The Ann Arbor News (@annarbornews) February 27, 2017
LJCC Exec. Director: Call this morning indicated there was a bomb in the building, but police have not found anything suspicious yet pic.twitter.com/7OtphYqGDA

— Ivana Hrynkiw (@IvanaSuzette) February 27, 2017
Due to an emergency situation, the JCC is closed. Further information will follow.

— York JCC (@JCCYork) February 27, 2017
Perelman Hebrew School on the Kaiserman JCC campus in Wynnewood, PA just got all clear from police after bomb threat called in. @WDEL #netde

— Yossi Goldstein (@TheYossiG) February 27, 2017
Twice in January--in just over one week--the center was evacuated for threats that appear to be happening nationwide, targeting Jewish community centers and synagogues. Just a week ago, a similar attack on headstones occurred at a Missouri cemetery, where 150 were knocked over. 
"Our law enforcement agencies have been doing a great job of working with the JCC to help them respond to these threats, but we must find the person or people behind these horrific acts and bring them to justice," Carper added, in his released statement. "We have seen a shameful trend across the country of increased acts of anti-Semitism and racism. We must put an end to it and we cannot let the perpetrators go unpunished. I will do all that I can to ensure our state, local and federal law enforcement agencies are doing everything they can to get to the bottom of these acts."
Israeli foreign ministry spokesman Emmanuel Nahshon called the report "shocking and a source of worry."