A Tropical Storm Warning for Kent and Sussex counties in Delaware was issued at 5 o'clock Monday morning, August 3, 2020, as Tropical Storm Isaias is expected to race up the east coast during the first half of the week.
A Tropical Storm Warning means tropical storm-force winds are expected somewhere within this area within the next 36 hours. The National Weather Service is forecasting 35-45 m.p.h winds as Isaias approaches the area on Tuesday.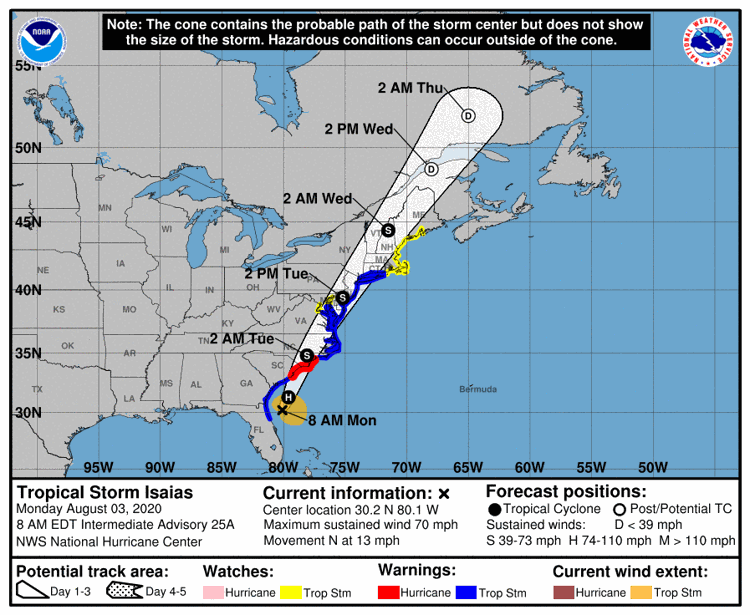 Perhaps more important than the wind, 4-6 inches of rain is expected as Isaias sweeps past ground that has had some thunderstorms hit over the past week.
As of the 8 a.m. National Hurricane Center's advisory, Isaias is located about 250 miles south-southwest of Myrtle Beach, South Carolina, with maximum sustained winds of 70 mph.
The center of the forecast track takes Isaias to a landfall near the North Carolina-South Carolina border at around 2 a.m. Tuesday morning, and then races him through North Carolina and the tidewater of Virginia, exiting in the southern mouth of Chesapeake Bay.
The current track would then have Isaias cross the southern part of Delmarva, including perhaps Kent and Sussex counties in Delaware, before going through Delaware Bay and into South Jersey.
The cone of uncertainty still puts the western track into the Washington D.C.-Baltimore region, while the eastern side would remain off of the Mid-Atlantic coast after a landfall on the Outer Banks.