They're called "forever chemicals."
Per- and polyfluoroalkyl substances, better known as PFAS, PFOS, and PFOA, are man-made chemicals that are all around us. It's expected that the average person has some exposure to the chemicals in their lifetimes whether its through food containers or the water we drink.
The Environmental Protection Agency has linked exposure to certain levels of PFOA and PFOS to cancer, liver and immune deficiencies as well as developmental effects to fetuses during pregnancy or breastfed infants.
But as more information comes out about just how harmful these chemicals are, military firefighters--who had daily exposure to the chemicals in AFFF foam--are starting to wonder if it's the source of their myriad of mysterious health problems.
LISTEN:  Fighting Fire with Fire Part 1
"We used foam...we'd walk in and splash in it," said Mitch Gauge, a retired Senior Master Sergeant with the Delaware Air National Guard.
Gauge, who now lives in Clayton, spent 22 years full-time and 10 years part-time in aircraft rescue and firefighting.
He remembers first being exposed to the dangerous chemicals in firefighting foam at Chanute Air Force Base in June of 1977. He recalled being exposed at least once at the Delaware State Fire School.
"They called it slippery water," he said. "If you got it on the paint, it peeled the paint off...you couldn't get it on you because if you got it on you, it caused dermatitis and other problems. Back then, maybe the light bulbs should've gone off."
Gauge wonders how long those in the military may have known about the dangers that long ago.
"No, we didn't get that information until, oh gosh, some time in the mid-nineties, maybe, they finally told it was an 'environmental hazard.'"
Steve Calzone, of Claymont, was active duty Air Force and remembers his first exposure also  being at Chanute Air Force Base outside Chicago, Illinois. He also remembers being exposed at Eglin Air Force Base in western Florida, as well Wurtsmith Air Force Base. Chanute has since been decommissioned and been dubbed an Environmental Protection Agency Superfund site.
"We weren't told that there was any risks involved in this, and yeah, we wore our gear...but we were filling the trucks with those buckets, and it would splash; I had it get in my eyes, I had it get in my mouth. We weren't wearing any facial protection because we weren't told we needed to," said Calzone. "It did burn...you're walking through this stuff on the ground, it just got everywhere, and we didn't know it was a hazard to us at that time."
Gauge remembers a time when a foam pump on a fire truck broke down.
"It just blew foam every place," he said.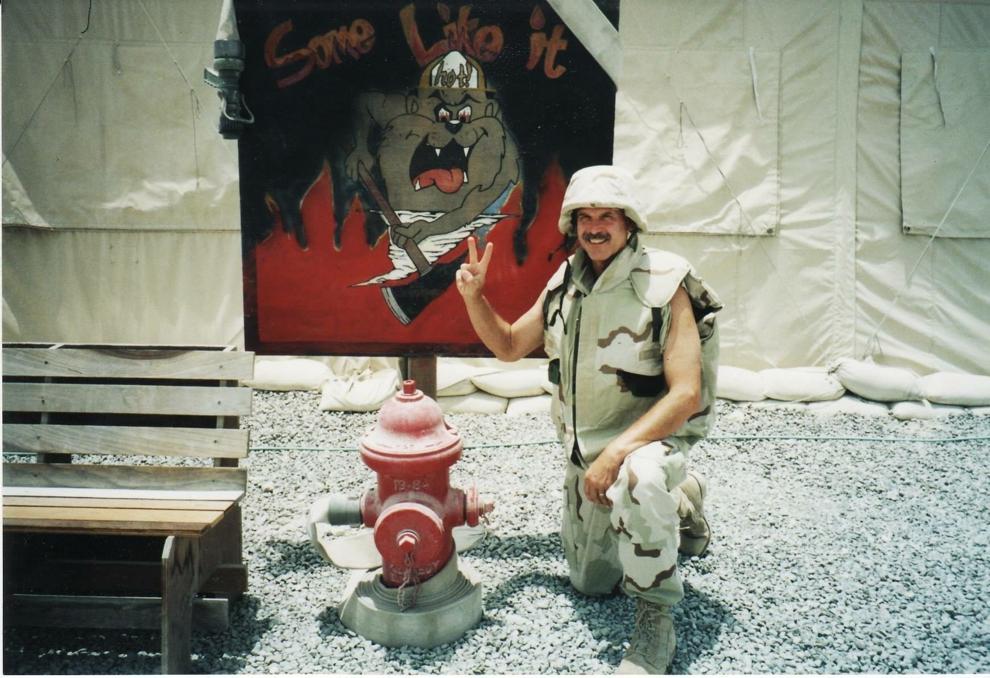 In 2005, two years after his deployment to Bahrain, Gauge said his health began to deteriorate.
"All my hair fell out...I went to a specialist, and he said it's an immune system disorder--your body is attacking your cells," he said. "And then, information I really didn't want to know, he told me, 'eventually it's going to attack your organs.' So far, on my skeletal structure, my neck is fused, my spine is fused...I have a new left shoulder, total shoulder replacement. I have metal in my right hand and right wrist."
Gauge, who's just 67, said his doctor told him, due to "advanced aging," he's more like in his eighties. He recently just had his knee replaced and also suffers from chronic pain.
"I'm one of those people that they talk about...the opiates. I tried one day, I tried to get off of them myself, and I found out why I'm on them," he told WDEL.
Calzone, who went into the Air Force in 1980 and also served in the National Guard, joined as a volunteer to the Claymont Fire Company at age 16. Now, at age 57, he suffers from issues similar to Gauge.
"I feel like an old man, but I'm not," he said. "I have two rods in my back from surgery. I have metal in my shoulder. Basically, my bones are deteriorating just like Mitchie's are. I need two new hips...For us to have a lot of the same, similar issues, we fought fires together side-by-side; we were in the same department."
Gauge suspects extensive exposure to PFAS chemicals may be to blame for his host of maladies. For now, Mitch's doctor has been unable to directly link his health problems to exposure to the foam. He linked him to post-anthrax shot syndrome.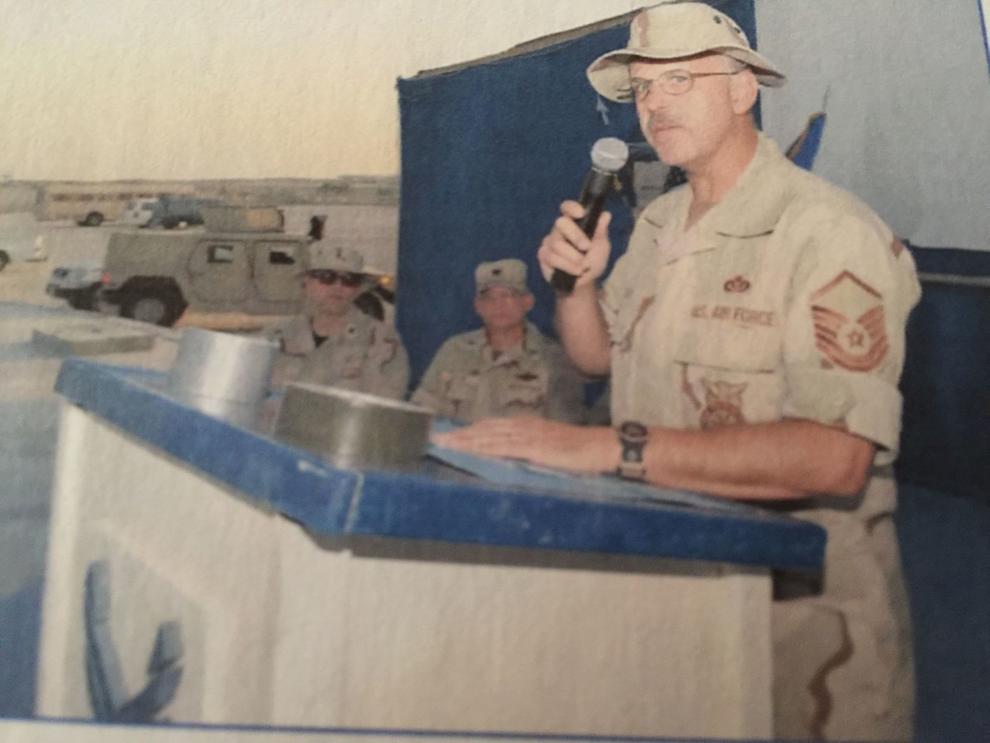 "Now, with all the information about the PFOAS and the PFAS, the side effects meet every problem I have, and that's why we're discussing this issue to find out, is that the link? Is that the missing link causing these problems? Because every problem I have is that."
"There's studies out there that's connecting it, is this the problem? And will the VA help us with that? Will the [Department of Defense] help us with that?"
Neither Mitch nor Steve have proof, but they'd like to find a link.
The Veterans Administration isn't currently treating Gauge for some of the issues he's experienced.
"Not at this time, because it's 'so new,' and what irritates me is it's not new. This stuff's been known since the seventies; the military knew about it back in the seventies--and never said anything--didn't tell us, and that's what irritates me. When I talk to the VA about it, they didn't know what to do."
The firefighting foam never breaks down. It's been linked to contamination of wells near Dover Air Force Base, which have tested positive for elevated levels of the chemicals. Contaminated groundwater from firefighting foam was also identified at New Castle Air National Guard Base.  
He wants to see the Veterans Administration open up a health study on the issue.
"I want to see the studies for veterans and Air Force firefighters exposed to this foam--and I'm talking about all the way up to now, to be tested, to have this study include backtracking all the way back to the seventies and make a correlation between what we have and what this stuff does to you," said Gauge.
There's a blood test he could take to determine his level of exposure, but it's very expensive.
"I found one place that actually does it up in Pennsylvania. Up at Willow Grove, they're having problems. There's actually a lab up there that they'll test for this--the civilians and the guard people are being tested for," he said. "I tracked it on my insurance, and it's not even listed there...we'd like to have that test covered so we can do it because a lot of us can't afford that stuff."
Currently, the VA does not recommend blood tests to find out levels of PFAS.
"This is because most people in the U.S. have measurable amounts of PFAS in their blood and normal ranges have not been established. Also, blood tests cannot be linked to current or future health conditions or guide medical treatment decisions," the agency said on its public health website.  

But Gauge feels that test could reveal the missing link.
"If it's in our system, then we're going to be able to hopefully connect it to our exposure," he said.
 ---
Thursday on WDEL: it's not just a problem for military firefighters. The toxic chemicals are found in career and volunteer firefighters' water-resistant turnout gear. More in Part 2 of "Fighting Fire with Fire."