The problem of toxic chemicals in firefighting foam isn't just affecting military firefighters. Career firefighters are at risk too, potentially, every single day.
LISTEN | Fighting Fire with Fire Part 2
"That realization came and hit us like a brick," said Diane Cotter.
The same firefighter gear that has saved Paul Cotter's life countless times in his career as a firefighter for the Worcester, Massachusetts, fire department, also nearly snatched his life away.
Paul was was a bodybuilder in great shape and great health when his wife, Diane, said they got the shock of their lives in September of 2015.
"I had to keep racking my brain on why it would be that he would get cancer," she said.
At age 55, Paul was diagnosed with prostate cancer, just one month after he was promoted to lieutenant.
"His career was over, and it was devastating," she said. "You don't know if you're going to live or die."
Diane knew firefighters were prone to cancer, but suspected more than smoke was to blame. She's sent thousands of emails...and her persistence paid off. She got a call from an environmentalist who inquired about her husband's firefighting gear.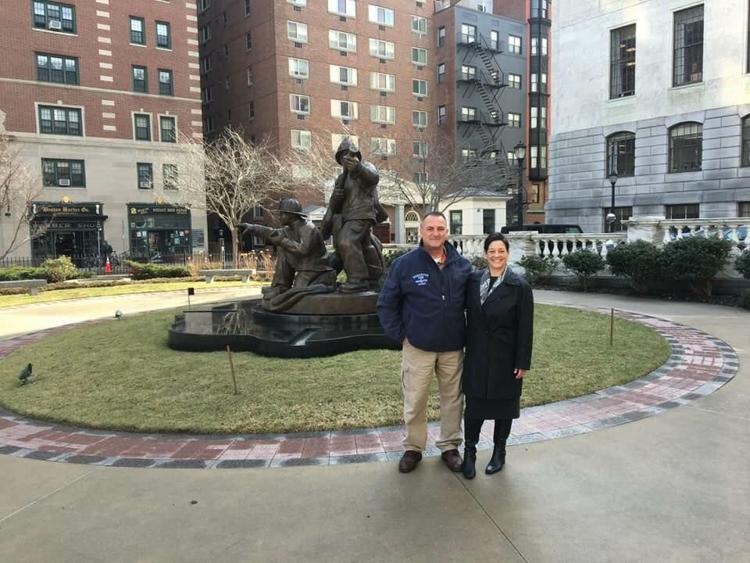 "She asked if the chemistry in the gear contained PFOA or PFAS, which I had never heard of, and that began the assault to look at the actual chemistry of the waterproof coatings [on turnout gear]."
Europe has banned the controversial chemicals dubbed "forever chemicals" because they never break down. Chemicals that could've ended up on Paul Cotter's body every day. The chemicals are also at the center of a massive drinking water contamination scandal at U.S. military bases, including those in Dover and New Castle.
"When you hear the affected communities talk about their water, they're talking about levels that are 11 parts per trillion. Well, we're talking about amounts on turnout gear that are in the hundreds of parts per million," she said. "The difference is staggering."
It's hard for Diane to realize that the same gear that saved him could been as harmful as it was helpful. But what's been harder for her:
"The reluctance and the inability of the fire service to take this on, and take it off of my hands.
Diane suspects it's because of how deeply DuPont is ingrained in the fire service. They and chemical company, 3M sponsored the International Firefighters Association's cancer summit.
When asked whether the gear is more harmful than helpful, the International Association of Firefighters responded:
"I think we don't know that yet."
Doug Stern, director of strategic campaigns and media relations for the IAFF, said the safety of firefighters is their biggest concern. He said the IAFF has partnered with the University of Oregon to study firefighters gear in a study paid for by the IAFF.
"That's why we're working with the university of Oregon, to make sure that that's not the case, and if it is, then we can start working on it."
Stern, who couldn't make University of Oregon researchers available to WDEL, said the study's results were due any day now, but said it aimed to study the gear's safety.
"To make sure it's as safe as possible from a perspective of providing protection not just from cancer and cancer-causing agents, but also that it's providing protection from the thermal problems that firefighters face, that it's still giving us the same protection so we can protect the community while it's also protecting us from the possible cancer exposures."
He added the Centers for Disease Control is also testing the blood of firefighters.
"To see if there's any transfer through, but they're also looking to see what exposures firefighters get from other things; any time we go into a house fire, we're surrounded by this toxic soup of smoke and carcinogens that's also putting out these PFAS that are providing potential cancer exposure to firefighters," said Stern.
The firefighters' allegedly tainted gear is now the subject of a nationwide, class-action lawsuit, filed in 2018 by Ohio attorney Rob Bilott. WDEL has reached out to Bilott for this story, but has not received a response. The New York Times has called Bilott "DuPont's worst nightmare" after he successfully sued the chemical giant over contaminated water in West Virginia. A film called Dark Waters, starring Mark Ruffalo and debuting November 22, details the Bilott/DuPont lawsuit. 
"In May of 2019, 3M and DuPont replied that they would not be willing to fund the health studies that Bilott is seeking because Bilott can't provide that [Glendale, Ohio, Fire Chief Kevin Hardwick's] cancer and PFOA levels came from their AFFF [firefighting foam] and their PFAS used in our turnout gear, yet these are the same people that...stand with us at the cancer summit," Diane Cotter said.
DuPont's Reputation and Media Relations Leader Dan Turner stressed that safety, health and protecting the planet are part of the company's core values.
"Today, DuPont does not manufacture PFAS, though we use some limited PFAS materials. We don't manufacture or sell firefighting foams. While we use foams at some of our sites, we have committed to eliminate the purchase and use of all firefighting foams made with PFAS at our sites by the end of 2021," he said. "Further, DuPont does not manufacture turnout gear for firefighters. DuPont manufacturers fibers that may be used by fabric and garment manufacturers to produce turnout gear. PFAS, including PFOA, is not used in the manufacturing process of these fibers."
In January of 2016, Paul Cotter, now 59, became cancer-free, but side effects from his surgery prevent him from doing his beloved work of being a firefighter. He and his wife were forced to downsize to a smaller home and now live in Rindge, New Hampshire.  
But despite what's been a mostly happy ending for the Cotter family, Diane is still left with a lot of questions surrounding who knew what, and when they knew it. She wants to see a congressional inquiry into the issue.
"They've gaslighted firefighters into thinking that their cancers only come from toxic smoke, when we've never looked at the toxic chemicals in the gear itself," she said. "We need real leadership to say...'We need replacement technology yesterday.'"
Diane Cotter said, had she and her husband known how dangerous the gear potentially was, and knowing that there's currently no replacement gear, he probably would have never become a firefighter.
"If someone had told me 27 years ago, that he's going to not only be exposing himself to toxic smokes and to the hazards of being a firefighter, but he also has to wear a carcinogen every day, no way. No way."
 ---
Friday on Delaware's Morning News on WDEL, a Notre Dame physicist whose work is on the front lines of research, reveals just how toxic firefighters' gear could be to their health in Part 3 of Fighting Fire with Fire.