The first nor'easter to move through the area this fall caused flooding at the Delaware beaches and the Jersey Shore.
South Bethany Beach Police reported flood waters of up to 10 inches in the York Beach area, making York Road impassable.
The west side of town was also flooded near Tamarack Drive, Cattail Road, the west end of Black Gum Drive (Cathill area), the south end of South Anchorage Drive and the area of York Road and Carlisle Drive, according to police on social media.
Dewey Beach bay side also saw flooding with the Rusty Rudder's parking lot under water.  
People living at the New Jersey shore also woke Friday morning to floodwaters washing over their roads, yards and docks. A second high tide hit Friday night.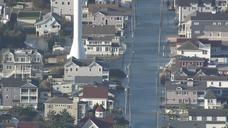 The flooding, which could reach 1 to 2 feet, is due not to rain but to high water driven by a storm off the East Coast north of our area. That storm became strong enough to be named Melissa shortly before 11 a.m. Friday.
At least four motels along Route 322 in Egg Harbor Township, Atlantic County, flooded overnight, with some water reaching up to the top of beds. Ocean City and Ventnor opened schools two hours late Friday to let flood waters subside before parents and school buses tried to navigate the roadways.
Wildwood closed a bridge into the city during the morning's high tide.
Sea Bright's fire department conducted numerous rescues of people who had become stranded in flood waters overnight in the particularly flood-prone community, which is wedged between the ocean and the Shrewsbury River.
Parts of Long Beach Boulevard, the main road through Long Beach Island, also were impassible Friday morning due to flooding.
More flooding was possible Friday night.