"When you undercount, we lose out."
Lt. Governor Bethany Hall Long stressed the importance of being counted during the U.S. Census at state official's weekly press conference regarding the response to the novel coronavirus COVID-19 pandemic. 
"Whether it's our schools, our infrastructure, with public health...we know that we need to have the funds, and part of Delaware's opportunity to have increased funding lies in all of us in this state, every one of us" she said. "Delaware counts. We have to count ourselves in the census."
Hall Long chairs the Census Complete Count Commission, designated by Gov. John Carney in Executive Order 23, and is tasked with getting as accurate a count for Delaware as possible, which includes efforts to count special populations and communities that are traditionally more difficult to count. 
She stressed it's particularly important Delaware is accurately counted as the state is facing significant financial challenges as a result of the pandemic. Census results can determine everything from federal funding to congressional representation.
"It really matters--when we're talking about COVID--in schools and roads and the problems that we're seeing now in our country and in our state," she said. "The census matters."
And it's doesn't matter what county a resident lives in, they will be affected by how Delaware is counted at the federal level. 
"We literally have 30 days, and we're hoping those who are listening...please, do the census. And why do these census data matter? Why? Because it really affects our political districts. It draws out how many individuals we get to send to Washington, D.C. We have our lone Congresswoman now," Hall Long said. "Then, also, distributing funds. The money matters. [These are] things from your lunch money, to your Medicaid, to your crop insurance. For those of you in Sussex, it matters. So we need to distribute the money and we're falling behind in the money that we are receiving, based on the fact that we haven't always been counted. And so it informs a lot."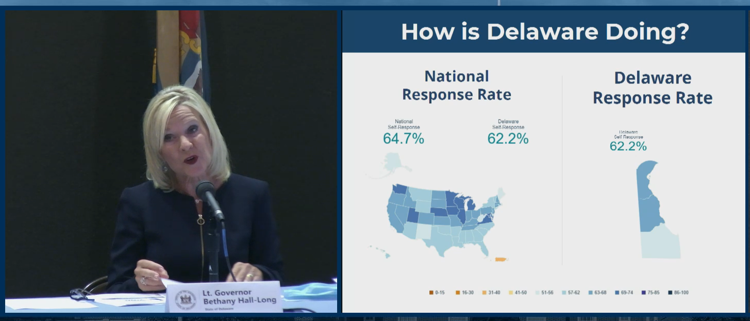 The lieutenant governor said the state has lost $10 million annually--cumulatively $100 million--since the last census do to undercounting of Delaware's population. Current response rates are around 62%, lagging behind the national average of 64%, and Hall Long wants to see that increase to around 80%.
Broken out by county, New Castle citizens are responding at higher rates than lower in the state at 67.5%, where Eastern Sussex has a return rate round 51%. However, in Wilmington specifically, there's still troubling data, with only a 52% return rate in certain districts. 
One of the main things her commission focused on was making it far easier for people to complete the census. Citizens can complete the census in "six minutes" on 10 questions presented at My2020Census.gov, and can be done on a laptop or phone. Responses are also private and confidential, she said. There won't be requests for social security numbers or citizenship status. 
"These have been very divided times. This is a way we can be united; the census unites us."