If you're looking for an opportunity to get the free COVID-19 vaccine, there are several opportunities in Wilmington this month.
CarePort MD's mobile vax machine will vaccinate anyone 16 and older at the city's Grazin' in the Grass music events this month.
The first opportunity is tomorrow in Elbert Park in Southbridd at Townsend and C streets from 6 p.m. to 8 p.m.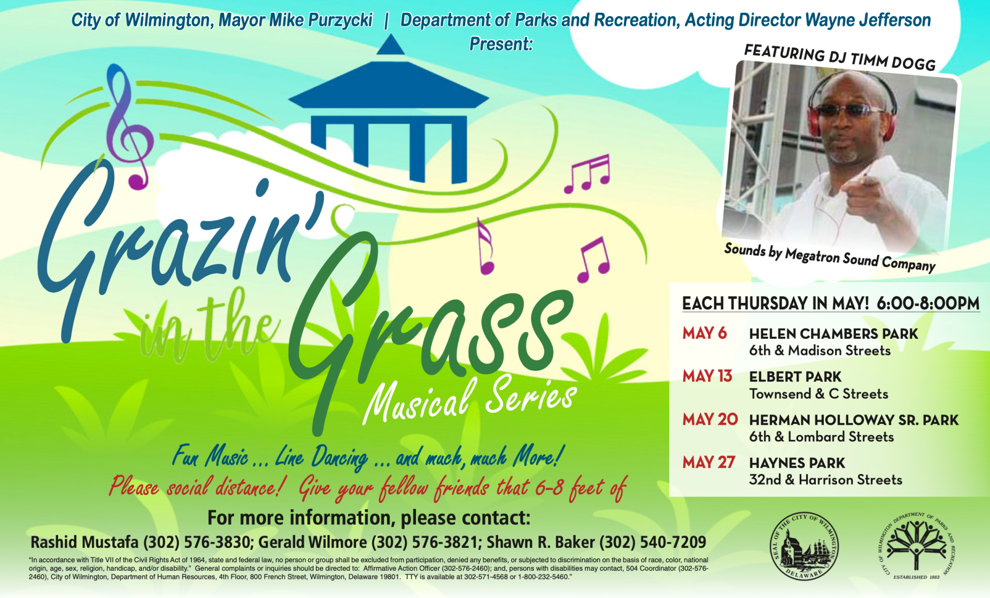 The vax machine will be at Herman Holloway park next Thursday, May 20,  and at Haynes Park on May 27, both from 6 p.m. to 8 p.m.
With the COVID-19 virus still being a concern, Wilmington Mayor Mike Purzycki is encouraging all residents to get vaccinated at their first opportunity. 
"The city will be able to move past the negative effects of the pandemic as more and more residents get vaccinated," he said. 
The state is also offering walk-up COVID-19 vaccinations at several state service centers and four standalone clinics in all four counties.
Here's a list of the state service centers, offering walk-up vaccinations from 8:30 a.m. to 11:30 a.m., and 1:15 p.m. to 4 p.m., Monday through Friday: 
New Castle County:
• Porter Public Health Clinic, 509 W. 8th St., 2nd floor, Wilmington
Kent County:
• Williams Public Health Clinic, 805 River Road, Dover
• Riverwalk Public Health Clinic, 253 NE Front St., Milford
Sussex County:
• Adams Public Health Clinic, 546 S. Bedford St., Georgetown
• Shipley Public Health Clinic, 350 Virginia Ave., Seaford
Here's a list of new standalone clinics offering walk-up vaccinations or vaccinations by appointment:
Canby Park
1946 Maryland Avenue
Wilmington, DE 19805
Oxford Plaza
256 Chapman Road, Suite 100
Newark, DE 19702
Blue Hen Corporate Center
655 S. Bay Road, Suite 1A
Dover, DE 19901
Georgetown Plaza
19 Georgetown Plaza
Georgetown, DE 19947
For more information, visit de.gov/getmyvaccine.