Delaware officials continue to try and vaccinate as many people as possible as the state continues with its vaccine roll out.
Tuesday, the state opened its waiting list to Delawareans 50 and older. On the first day, as many as 8,800 people, including Governor Carney, himself, signed up. Vaccinations also opened to state employees Tuesday.
"We are continuing to see some hesitancy, and I would encourage those who are a little bit hesitant, wait to see what happens with your neighbors, with other family members who are getting being vaccinated," Governor John Carney saod. "Remember, this is for you to protect your health and wellness. If you're younger, you may not feel as at-risk as our senior citizens--and you're not--but it's important that you get vaccinated to protect yourself from serious disease potential, for hospitalization, and to protect your loved ones, your family members around you."
Despite Carney's noticed hesitancy, the First State is still making pretty significant progress in getting needles into the arms of residents.  
"At this point, we have administered at least 385,000 doses of vaccine in the state of Delaware, which is extremely exciting to us," said Division of Public Health Director Karyl Rattay. "[The] number of people fully vaccinated, which means they received either two doses of Pfizer or Moderna or one dose of Johnson & Johnson, and that's over 135,000 individuals in our state." 
Another 121,000 individuals have received one of their two doses. Rattay said almost 127,000 senior citizens, about 72% of Delaware's senior population, have received at least one dose, with many having been totally vaccinated, and 28% of the remaining age-eligible population has been vaccinated, meaning those 16 and older for Pfizer, and 18 and older for Moderna and Johnson & Johnson. 
Still, a large chunk of the senior population remains unvaccinated. But Rattay said the state has done what's possible to reach out to the remainder of folks on the waiting list. While outreach will continue, Rattay said demand was a factor in the state's decision, last week, to move forward and open up the next phase of vaccinations.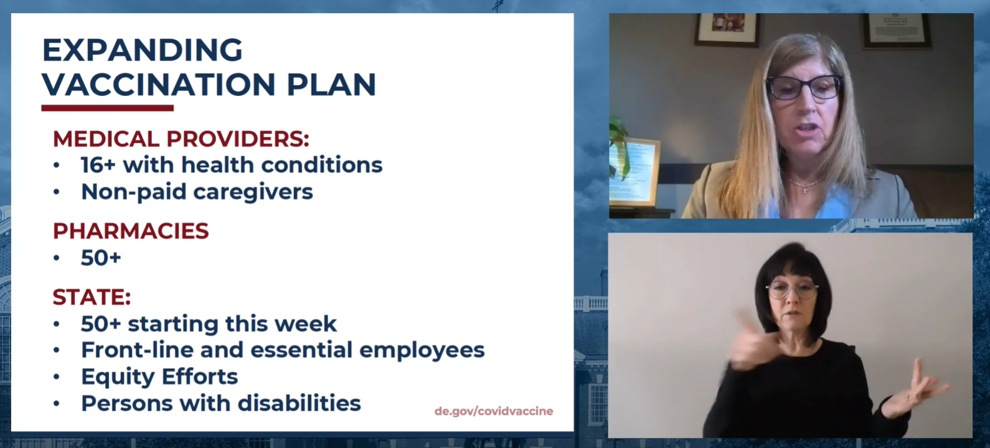 "We still wanted to make sure that seniors, especially those on our waiting list, had an opportunity to get vaccinated," Rattay said. "The reality is the demand was just clearly much lower for seniors. Now, that doesn't mean, obviously, that we've vaccinated everyone--Our data just told us that around 28% or so still need at least one vaccine--but we know that to reach many of those, we need to implement different strategies...But it's clear that it has been the right time to expand vaccination access."
An internal working group will also be conducting six targeted events over the next two weeks to vaccinate individuals with physical and behavioral disabilities and those who provide aide to individuals with such disabilities, an equity gap identified by the working group, Rattay said. 
With the expanded access to those who can receive a vaccination, Director for the Delaware Emergency Management Agency A.J. Schall said he knows people might be tempted to make several appointments through multiple avenues to try and receive a vaccination, but he urged everyone not to leave officials hanging with unused vaccine that's tied to an appointment for distribution. 
"We have seen, just in the last two weeks, a much higher no-show rate at some vaccinations by the time we get to Thursday and Friday events," Schall said. "We do know that people are booking for a state event and then finding something [at their] local community pharmacy, and we want to make sure we're as efficient as possible, we get people in as quick as possible, and open up that spot Friday, Saturday, Sunday to somebody else instead of pushing it off another day."
Delaware not easing restrictions yet
As to COVID-19 spread, Delaware officials said there's been a small uptick in cases following the St. Patrick's Day holiday, and Carney said he wasn't comfortable relaxing restrictions just yet because of that outbreak due to possible "undisciplined activity" in bars and restaurants as well as private parties. 
"[I'm] a little concerned about St. Patrick's Day, and the outcome of that frivolity," Carney said. "We should be seeing it now. We're over a week out. So we're just a little cautious there, expect to have something maybe this week, maybe next." 
Carney said that announcement would be made while Delaware monitors the actions being taken in Maryland, Pennsylvania, and New Jersey, and seeing how those surrounding states are handling both the spread and easing of restrictions.
New guidance for schools
Good news for K-12 schools from the CDC came when Rattay said the organization announced students, when present at school, seated, masked, and facing forward, are only required to be spaced three feet apart, meaning more bodies can attend classes. Check out the new guidance here.
Getting students into classrooms, however, remains a challenge. Rattay said even the three-foot spacing still prohibits more than 23 students on a bus in even optimal conditions. 
"While we will keep looking at this because we understand it is a barrier for getting more kids to school, we just aren't comfortable at this point going less than three feet distance for kids in school," Rattay said.