"I'm kind of excited. Nervous. It's a mix between the two," said Ellen Salome, standing in the atrium of Nemours | AI duPont Hospital for Children. "I don't know. Sometimes I'm good at pitching, and sometimes I'm kind of bad at pitching, so what if the ball doesn't make it there."
Salome, 11, is going to help the Philadelphia Phillies kick off their season by tossing out the first pitch on Opening Day Thursday, April 1, 2021. The reason the West Chester native was chosen to make her special appearance on the mound has everything to do with how far she's come since she first visited the children's hospital in Wilmington. 
In August 2019, Salome came home ill from a camping trip, and progressively fell sicker. She was rushed to Nemours, where they discovered she was having severe heart problems.
"I came back from a Girl Scout trip and my mom and I noticed that I was getting really sick, so we decided to go to the hospital," she said. "They did an echo and they saw there was something wrong with my heart, so I had to get a heart transplant."
Salome's flippant ease at describing the ordeal can give some pause. She explains it much in the same way someone might say they stopped at Wawa to get a hoagie. But Heart Transplant Cardiologist Dr. Adriana Prada-Ruiz provides more gravity describing Salome's condition. 
"Ellen was an interesting story because all the doctors, we were in our usual routine and we got a call from the ER to look at an echocardiogram, which is an ultrasound of the heart, and when we looked at her ultrasound, her heart was barely moving. It was extremely scary," Prada-Ruiz said. "Everyone went to the ICU, including the surgeons, in case [she went into] arrest. When she came in, I remember she had her sparkling Converse shoes and she was smiling. We could not believe it. Unfortunately, a few days later she was extremely worsening, despite all the medical support...She eventually had to be put on a ventilator."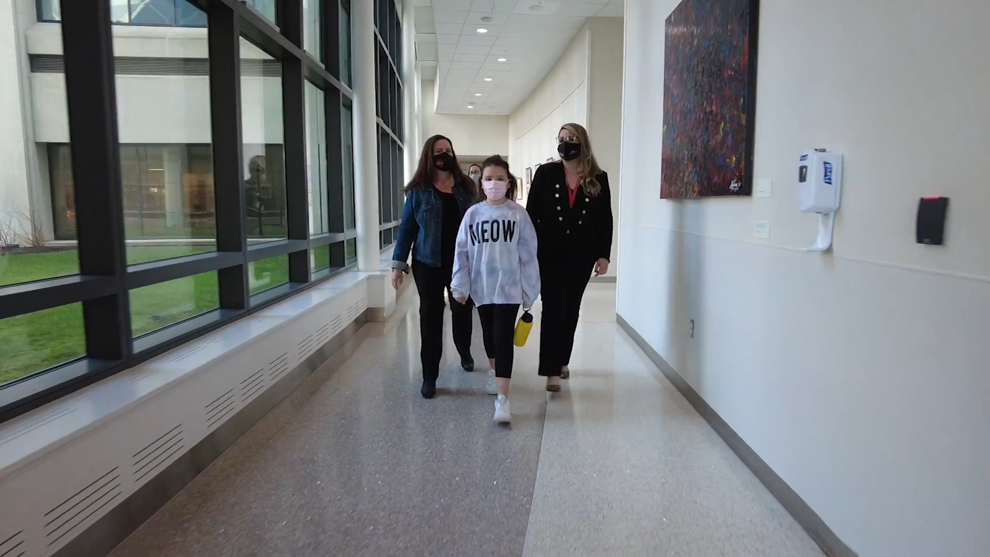 But the doctors at Nemours were able to turn things around for Salmone. 
"I think kids like her are always a miracle, but she was also extremely lucky to be able to be here at the right time because of how sick she was," Prada-Ruiz said. "We are very lucky because of technology and all the support, that we are able to have kids so sick looking like how she looks today and having a perfectly normal life."
Which brings her to the present, and Salome is ready to stride out onto Citizen's Bank Field just like any other sports-loving child and throw a strike right down the middle. Her mom, Trish Salome, knows she's going to knock it out of the park, so to speak. 
"She's going to do fine. She's got a really good arm and she's going to do great. But just the the fact that she's out there, sharing her story and giving hope. [It's] inspiring."
Trish Salome becomes understandably emotional thinking about her daughter's journey from needing a heart to getting a taste of the majors. 
"Don't give up. Don't ever give up. You don't know what your outcome is going to be. You don't know how your impact will affect others," Trish Salome said. "Today, she's standing here. She's going back to school during a pandemic...Now she's going to be throwing the first pitch. For everyone that's watching her like this, it's for everyone else, really. Hopefully, they're inspired by her story and it makes them happy."
The younger Salome confirmed, keeping your chin up in the face of adversity is the best path forward, even if you get a little nervous in the spotlight that follows. 
"I'm mostly back to normal life. There's some things I do differently than before I had my heart transplant, but it doesn't really make that big of a difference on my life right now," she said. "It will get better, and you're going to get through it, and it will be back to what feels like normal. It may not be really soon, but it will get back to normal."
The Fightin' Phils take the field at Citizen's Bank Park against the Atlanta Braves at 3 p.m. on April 1, 2021. For the first time in 18 months, the Phillies will be playing ball in front of a limited number of in-person fans in the stands. If you weren't able to grab tickets to the sold-out event, you can catch all the action on WDEL 101.7 FM | 1150 AM. 
 --- 
NBCPhiladelphia's Tim Furlong contributed to this report.