The director of Delaware's Division of Aging and Adults with Physical Abilities told WDEL they wanted to move residents out of Governor Bacon Health Center in Delaware to "get ahead" of the coronavirus pandemic.
Now, they're moving residents anyway even after one resident and three staff members have tested positive for COVID-19, WDEL has independently confirmed.
A letter from director Dava Newnam and Lisa Bond, director of the Division of Management Services, obtained by WDEL, stated that the first two floor units of residents will move, 25 miles away, to the Delaware Hospital for the Chronically Ill in Smyrna over the next few days, so that Governor Bacon can be used as an alternate care site amid the outbreak.
The letter said the Division of Management Services will clean the first floor to use as an alternate care site.
The North 2 Unit, where WDEL has independently confirmed one resident has tested positive for COVID-19, will be moved at a later date.
"Staff will be needed to care for the residents at DHCI. Staff will also be needed to remain to care for the residents on North 2 as well as assist with the patients coming into the alternate care site. Labor Relations will be working with staff over the next few days and weeks to determine where staff will report," the letter said."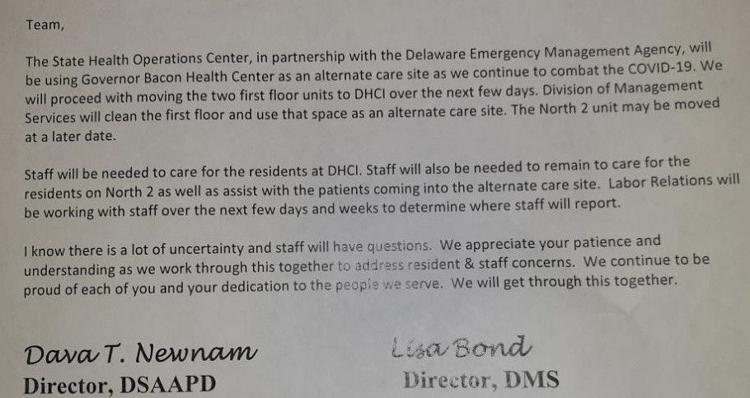 The Delaware Emergency Management Agency said residents from Governor Bacon will be placed in a separate unit at the DHCI campus, isolated from current residents of DHCI. If all transferred residents clear the 14-day quarantine period, they will be integrated with the current residents of DHCI, said DHSS Secretary Dr. Kara Odom Walker.
Last week, after learning of the positive infections, the move of residents had been halted indefinitely, according to an email obtained by WDEL.  
While moving residents for the purpose of using Governor Bacon as an alternate care site has been touted, WDEL learned that discussions about closing Governor Bacon for years. The facility hasn't accepted new residents either. Internal documents, obtained by WDEL, cite significant cost-savings as well as increased quality of care as main reasons for closing Governor Bacon and moving residents to the Delaware Hospital for the Chronically Ill.
Newnam did not return WDEL's request for comment.
Walker said residents' families have been notified this time.
"We are grateful to the families of the residents and the staff for understanding why we have to move the residents of Governor Bacon," Secretary Walker said. "Throughout this crisis, our top priority is the health and safety of our residents and also making sure that our staff who care for our residents are safe and healthy as well."
The first time the move was slated to happen, a few weeks ago, residents found out only after WDEL's inquiry.  
Once all residents are moved, there will be 75 additional bed for overflow patients, according to the state. Staffing to care for the potential overflow of patients is being developed.
A second alternate care site has been identified as Nemours A.I. duPont Hospital for Children in Rockland. Nemours will only accept non-COVID-19 positive adults. Its rehabilitation gym, on floor one, away from pediatric care, has been converted to an alternative care site with 38 beds. It could be expanded further, if needed. A medical intensive care unit will be situated across and separate from the pediatric intensive care unit and be comprised of 24 beds.   
Nemours' treatment sites can become operational this week, and will begin providing medical care only once capacity is exceeded within Delaware's community hospitals. Nemours' surge sites will remain operational until community hospitals can reabsorb these non-COVID-19 adult patients.
After searching multiple possible sites with the Army Corp of Engineers, the Nemours campus was identified as the location that would provide the most efficiencies, the state said.
The Nemours sites will be open operational as early as this week.
Alternate care sites for the southern part of the state are expected to be announced later this week