The coronavirus pandemic has led to a different way of life for many of us as required social distancing has created heartache for families during both times of sorrow and times of joy.
It's been particularly painful for high school seniors, who are missing out on memorable moments like prom, senior week, and in some cases, graduation.
"Everyone is experiencing the pandemic in a different way, and in our household, we have a senior so we're now feeling the effects of everything that should have been happening--going into May," said Mary Ellen Koval. 
Koval watched as her jam-packed personal calendar eventually became empty.
"It's disappointing. They're supposed to be spending these last few months together as classmates and friends before they go off to their next chapter in their life, so it's a little on the tough side."
Her daughter Caroline was scheduled to graduate from Brandywine High School this Sunday. She and other parents couldn't let the day go by without it being marked in some way.
She helped organize Graduates on Parade to celebrate the seniors in the Brandywine School District on what would have been their graduation day.
"Have them come together while social distancing, but feeling like they can have a special time on the day that should have been their graduation, they can get together...and have family, friends, and the community celebrate them."
Car parades kick off on various routes at 12 p.m., 2 p.m., and 4 p.m. on May 31--one for each high school--with a full schedule listed below. Each parade ends at the specific high school, where no one is urged to get out of their vehicles.
"We've asked our seniors...to come in their cap and gowns; each high school has a rally spot, where we ask the seniors to arrive; we ask them to be passengers in the car and have someone drive them and decorate their cars. Anything they wanted to put on their cars to celebrate them--their name, their school, etc.," she urged.
They're hoping for a sunny day and that members of the community come out, complete with their outdoor voices and their best arts and crafts displays.
"We're asking as many people as possible to come out on each high school's parade route and have balloons or just screaming and hollering in support of the seniors," she said. "We really need to get as much support from the community as possible, and I think it's a great morale booster for family, friends, and the community--as well as the seniors--I think...we all need a celebration like this."
Koval urged parents to have their kids make a poster as part of their online art class.
"The dollar store has a $1 poster, go out and make a poster, and anything that people can hold up when the seniors go by would be greatly appreciated," she said.
Each high school is doing something special for its seniors, including virtual award ceremonies and displays of yard signs on high school grounds with graduates' photographs. While not school sponsored, the car parade is considered a "bonus" to any activities the district may also put on for its seniors. Governor John Carney, earlier this week, paved the way for graduations, approving outdoor gatherings of 250 persons or less. Schools and districts can also apply to the Delaware Department of Education to hold larger outdoor celebrations.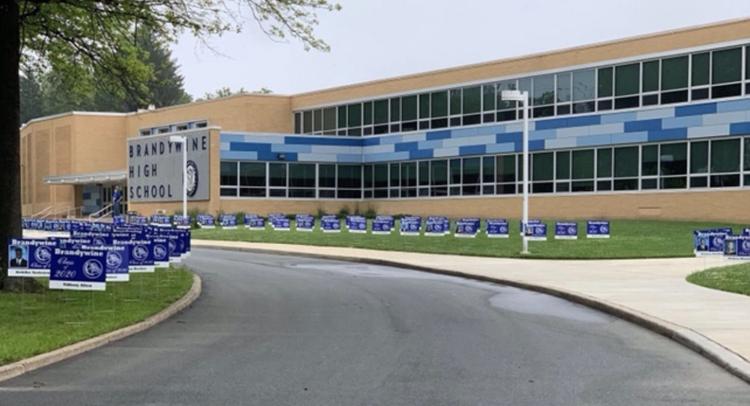 "It's almost like the senior day parade is a culmination of all these events, and I think the seniors are extremely excited, especially to put on their cap and gowns and to see their friends from afar...having something to look forward to is a very positive thing...to have something on the calendar that will be uplifting and supportive of our next generation...we are definitely hoping to have a huge crowd on each one of the high school's parade routes."
Schedule for BSD Graduates on Parade:
Mt. Pleasant High School  12 p.m. with kickoff at Mt. Pleasant Elementary
Concord High School 2 p.m. with kickoff at Springer Middle
Brandywine 4 p.m. with kickoff at Lombardy Elementary