If you haven't mailed your ballot back yet--it's too late. But don't worry, your vote in the 2020 election can still count.
Delaware is a ballot-in-hand state, meaning your ballot must be in the hands of state elections officials by 8 p.m. on Election Day. Postmarks don't count.
So skip the mail at this point and drop off your vote-by-mail ballot in-person at ballot drop boxes at elections offices in all three counties or there's an additional drop box in the lobby at the Carvel State Building in downtown Wilmington. Ballots cannot be dropped of at polling places on Election Day. Here's a full list of ballot drop box locations that are open Friday, Saturday, and Monday.
"I'm generally really happy with how it's gone," said Anthony Albence, state Elections Commissioner.
In battleground state, Pennsylvania votes cannot legally count votes until Election Day. But in Delaware volunteers and machinery are hard at work counting ballots. They received more than 87,402 vote-by-mail ballots in New Castle County, 23,657 in Kent County, and 41,469 in Sussex County. 
As of Friday, October 30, 2020, 22,220 vote-by-mail ballots were requested but not yet received in New Castle County. In Kent County, 4,196 ballots remain outstanding while in Sussex County 8,376 vote-by-mail ballots have yet to be returned, according to the Delaware Department of Elections.
"We don't do any tabulation until polls have closed; we don't know any of the results, nothing until polls have closed," said Albence. "The only kind of unknown is if we have a big influx of mail at the last minute on Election Day or late on Election Day."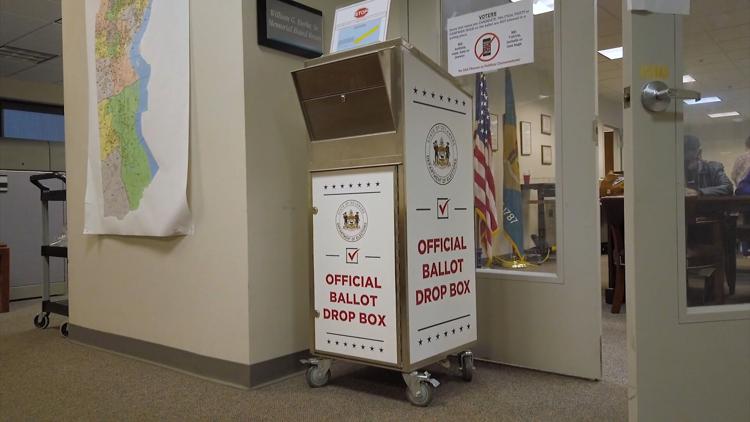 You can always vote in-person too--even if you've requested a vote-by-mail ballot so long as you haven't signed it, returned it, and it's been accepted. You can check whether your ballot's been accepted by clicking here.
On Election Day, all regular polling places are open from 7 a.m. to 8 p.m. Masks are strongly encouraged, but not required. To find your polling place, click here.
Ballot requests:
Kent: 27853
New Castle: 109622
Sussex: 49845
TOTAL: 187320
Ballots returned:
Kent: 23657
New Castle: 87402
Sussex: 41469
TOTAL: 152528